Steve Ackerman, trademark lawyer acting for Marvel Characters has registered a trademark with the US government for S.P.D.R. Bot, under the subject of…
Education and entertainment services
…as well as…
Toys, games and playthings; gymnastic and sporting articles (except clothing); hand-held units for playing electronic games for use with or without an external display screen or monitor; skins for covering and protecting apparatus; paper party favors; paper party hats; Christmas stockings; Christmas tree ornaments and decorations; snow globes.
Initially, I thought this was a direct reference to Peni Parker from Spider-Verse and her sp//dr giant robot suit. But it seems not – at least, not directly. Now, the new Marvel attractions at Disney California Adventure was announced at D23 Expo earlier this year at the Anaheim Convention Center. And this may involve the new Spider-Man attraction coming to Avengers Campus that will let riders spin virtual webs at escaped spider bots running amok.  The spider-like assembly droids find materials, deconstruct them and build new gear from the parts. Including a plasma cutter, circular saw, screwdriver and welder – and apparently S.P.D.R. stands for Scan, Procure, Deconstruct and Replicate.
The ride will debut in 2020, but it looks like Marvel may have more plans for their S.P.D.R. Bots. Probably too soon for this Christmas but for 2020? Computer games, paper hats and Christmas stockings, all with S.P.D.R. Bots in them…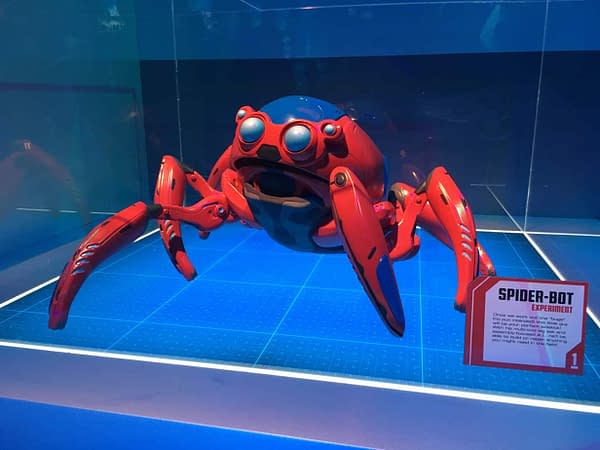 Enjoyed this article? Share it!