One of the great wrongs in comics has finally been righted! In 1990, Larry Hama took over Wolverine's ongoing for an epic run, beginning with a 2-year collaboration with penciller Marc Silvestri. Silvestri left to form Image in 1992, but not before leaving his mark on the character along with Hama. But on Marvel Unlimited, the first half of Hama and Silvestri's run has been notably absent, though the second half is available. But now, you can read it all, as Marvel has just added Wolverine #31-46 to Marvel Unlimited. Featuring the first appearances of characters like Albert and Elsie Die, and featuring the first time Wolverine returned from the dead.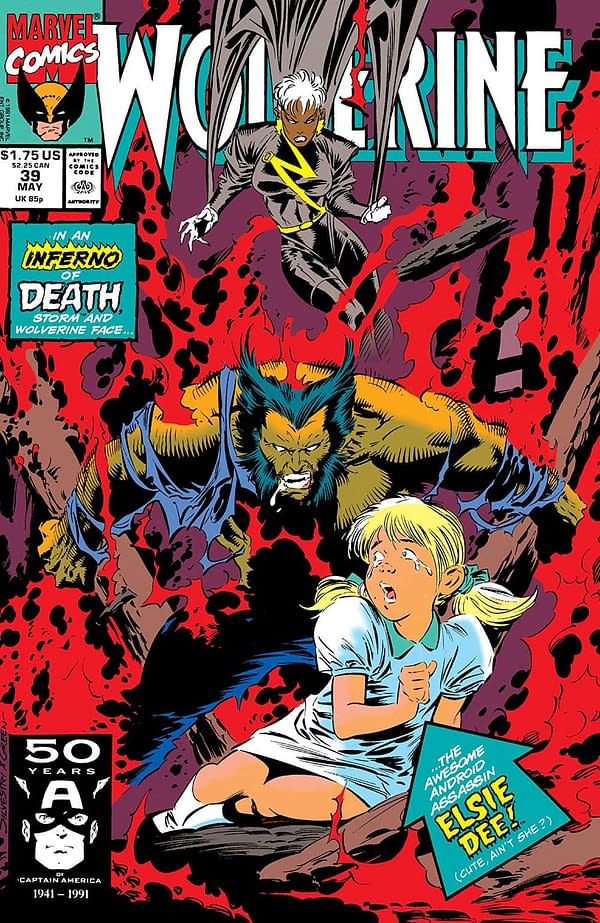 Other classic comics added to Marvel Unlimited this month incluse West Coast Avengers #17-41, X-Force #37-43 and #110-113, Warlock and the Infinity Watch #26-35, and Secret Defenders #1-14. For ten bucks a month and access to 20,000+ comics in Marvel's back catalog, it's hard to beat the value of Marvel Unlimited.
Check out the more recent titles being added this month below:
Week of 10/1
AVENGERS #686
BEN REILLY: SCARLET SPIDER #16
BLACK PANTHER #171
CHAMPIONS #18
DAMNATION: JOHNNY BLAZE – GHOST RIDER #1
DAMNATION TIE-IN! Johnny Blaze takes the fight to a different devil than he usually faces — Mephisto! But Mephisto will show Johnny his own brand of suffering — and give Johnny PLENTY of reasons for vengeance.
DAREDEVIL #600
DESPICABLE DEADPOOL #297
INVINCIBLE IRON MAN #598
JESSICA JONES #18 SERIES COMPLETE!
LEGION #3
LOCKJAW #2
MOON GIRL AND DEVIL DINOSAUR #29
MOON KNIGHT #193
OLD MAN HAWKEYE #3
OLD MAN LOGAN #37
PETER PARKER: THE SPECTACULAR SPIDER-MAN #302
SPIDER-MAN/DEADPOOL #30
STAR WARS: DOCTOR APHRA #18
X-MEN: BLUE #24
Week of 10/8
ALL-NEW WOLVERINE #33
AMAZING SPIDER-MAN #798
ASTONISHING X-MEN #10
AVENGERS #687
AVENGERS: BACK TO BASICS #3
AVENGERS: SHARDS OF INFINITY #1
EARTH'S – AND THE MOON'S – MIGHTIEST HEROES!? A new threat has emerged: An evil organization calling itself LUNAR has been secretly building a powerful weapon on the surface of the Earth's moon. BLACK WIDOW infiltrates the group to uncover an even more startling revelation: Their weapon is powered by shards of the COSMIC CUBE! Legendary creators Ralph Macchio and Andrea Di Vito bring CAPTAIN AMERICA, BLACK PANTHER, THE FALCON and BLACK WIDOW together for a cosmic thrill ride you won't want to miss – and new villains you won't want to mess with!
BLACK BOLT #12 SERIES COMPLETE!
IRON FIST #79
MARVEL 2-IN-ONE #5
MARVEL'S ANT-MAN AND THE WASP PRELUDE #2 SERIES COMPLETE!
NEW MUTANTS: DEAD SOULS #2
RISE OF THE BLACK PANTHER #4
ROGUE & GAMBIT #4
RUNAWAYS #8
SPIDER-MAN #239
STAR WARS #46
THANOS: THE INFINITY SIBLINGS OGN
Jim Starlin and Alan Davis return in the first volume of a new trilogy! The Mad Titan has everything he ever wanted — but satisfaction is not in Thanos' vocabulary. When a temporal distortion on Titan draws his attention, he finds the purpose he's been searching for: saving himself! An old enemy lurks in the far future, and it will take the combined wits of Thanos, his brother Eros and time-travel master Kang the Conqueror to stop it — and save the Multiverse. But there are other players in this cosmic chess game — and Thanos may find himself outmatched! What lies ahead for the so-called Avatar of Death?
THE PUNISHER #223
VENOM #164
VENOMIZED #1
The story that began in VENOMVERSE reaches its epic conclusion with VENOMIZED! The POISONS, a species that hungers for super-powered symbiotes and their hosts, have picked their next target…THE MARVEL UNIVERSE ITSELF! Their first objective? Put every superhuman in a Klyntar symbiote – and CONSUME THEM! But with VENOM and the X-MEN still missing after the events of "Poison-X," the planet and its heroes are defenseless!
X-MEN: GOLD #25
Week of 10/15
AVENGERS #688
BEN REILLY: SCARLET SPIDER #17
CAPTAIN AMERICA #700
CHAMPIONS #19
DARTH VADER #14
DESPICABLE DEADPOOL #298
DOCTOR STRANGE #388
DOMINO #1
Impossible curves. Impossible shots. Impossible targets. Marvel's #1 soldier of fortune is back in an explosive new ongoing series! The product of a failed super-soldier program, Neena Thurman always made her own luck as the sharpshooting mercenary known as Domino… but what happens when her own powers betray her? The hunter becomes the hunted as every mercenary in the game smells blood in the water! Plus: A pair of beloved Marvel characters return!
EXILES #1
DON'T BLINK – THE EXILES ARE BACK! Fan-favorite X-Man Blink once joined a team destined to save not just the world, but the entire Multiverse. And now, her teleporting talents are needed once again! When a mysterious threat begins eating away at the fabric of the Multiverse, the Unseen – the man once known as Nick Fury who now can only observe Earth from a lofty post on the moon – must recruit a champion to save it. But she can't do it alone. Who will join Blink's new team – and can they ever go home again?
FALCON #7
OLD MAN LOGAN #38
SPIDER-MAN/DEADPOOL #31
STAR WARS: THRAWN #3
THANOS #18 SERIES COMPLETE!
THE UNBEATABLE SQUIRREL GIRL #31
VENOMIZED #2
X-MEN: BLUE #25
X-MEN: RED #3
Week of 10/22
AMAZING SPIDER-MAN #799
AMAZING SPIDER-MAN: RENEW YOUR VOWS #18
AVENGERS #689
AVENGERS: BACK TO BASICS #4
BLACK PANTHER #172 SERIES COMPLETE!
CABLE #156
DAREDEVIL #601
INCREDIBLE HULK #715
INFINITY COUNTDOWN #2
IRON FIST #80 SERIES COMPLETE!
MARVEL SUPER HERO ADVENTURES: SPIDER-MAN AND THE STOLEN VIBRANIUM #1
SPIDER-MAN SWINGS INTO WAKANDA IN AN ADVENTURE FOR ALL AGES! Wakanda?! You mean the home of the Black Panther, one of the world's fiercest warriors and a member of the Avengers? That's right! When Spider-Man's archenemy Doctor Octopus goes on the hunt for the incredible metal Vibranium, it'll take the combined might of not one, but TWO beloved heroes to take him down! Can Spider-Man and Black Panther work together to keep Vibranium out of Doc Ock's eight hands — or will the villain turn the tide?
MS. MARVEL #29
STAR WARS: POE DAMERON #26
TALES OF SUSPENSE #104 SERIES COMPLETE!
VENOMIZED #3
WEAPON H #2
WEAPON X #16
X-MEN: GOLD #26
Week of 10/29
ALL-NEW WOLVERINE #34
AVENGERS #690 NO SURRENDER ENDS HERE!
DARTH VADER #15
DESPICABLE DEADPOOL #299
DOCTOR STRANGE #389
DOCTOR STRANGE: DAMNATION #4 SERIES COMPLETE!
EXILES #2
HUNT FOR WOLVERINE #1
The RETURN OF WOLVERINE begins here, providing the first piece of a mystery that will leave no corner of the Marvel Universe untouched. Just as the X-Men have finally come to terms with Logan's death, they learn a terrible secret. Old wounds will be re-opened, truths questioned, and an epic quest begun. The earliest clues to the mystery of Wolverine's return are laid down here… who will solve it first?
INVINCIBLE IRON MAN #599
LEGION #4
LOCKJAW #3
MIGHTY THOR #706 SERIES COMPLETE!
MOON GIRL AND DEVIL DINOSAUR #30
MOON KNIGHT #194
OLD MAN HAWKEYE #4
PETER PARKER: THE SPECTACULAR SPIDER-MAN #303
SPIDER-GWEN #31
STAR WARS: DOCTOR APHRA #19
THANOS ANNUAL #1
Thanos is likely the most evil being in the universe…and if anyone would know, it's the all-new Cosmic Ghost Rider. Let the spirit of vengeance be your guide on a tour through the worst of the worst, as he reveals the most heinous deeds ever perpetrated by the Mad Titan…or by anyone else!
VENOM #165 SERIES COMPLETE!
VENOMIZED #4
X-MEN: BLUE #26
Enjoyed this article? Share it!