Marvel's X-Men Have A Very Different Take On Black History Month
X-Men comics were retrofitted to be about racial politics and civil rights - but what if they had been that way from the beginning?
---
The character of Bishop first appeared in Uncanny X-Men #282 in 1991, a time-travelling mutant from the future with a mission. Portacio stated that he was specifically inspired by pool/snooker/billiards player Efren 'Bata' Reyes when he was creating the character. When asked to create someone who could go up against Wolverine, he picked a person who could represent Wolverine's behaviour, tendencies and habits – or ugali. "Efren 'Bata' Reyes would go up against these big American guys and give them this look. That's who Bishop was. He was born with the skills and the DNA to fight and survive. In the daytime he would fight off Sentinels, save other mutants, and then he would go underground at the end of the day and ask 'Saan ba yung next party? Saan ba yung handa?' (Where's the party at now? When's it ready?)" Portacio stated that then0 X-Men editor and former Marvel and DC EIC, Bob Harras, asked Portacio if Bishop could be black, as there were so many African-American kids sending in X-Men fan mail, and Harras wanted a hero who could also inspire these young readers."Understanding as a minority, I couldn't say no. I was already operating in the mood of being Pinoy, diba? Learning about our ugali. And that's another part of it. Pagbigyan, diba? (give it up, right?) there's always another time.
Bishop gained new fame in the X-Men Adventures Saturday morning cartoon in the nineties, and has remained popular since, appearing in X-Men: Days Of Future Past played by Omar Sy. And today, published to coincide with Black History month, Marvel Comics is publishing Bishop: War College #1, set in the mutant island of Krakoa with training a new young defence force for the island, featuring mutants from across the X-Men titles. And also bringing in literal Nazis as the bad guys making their way onto Krakoa. Spoilers ahead.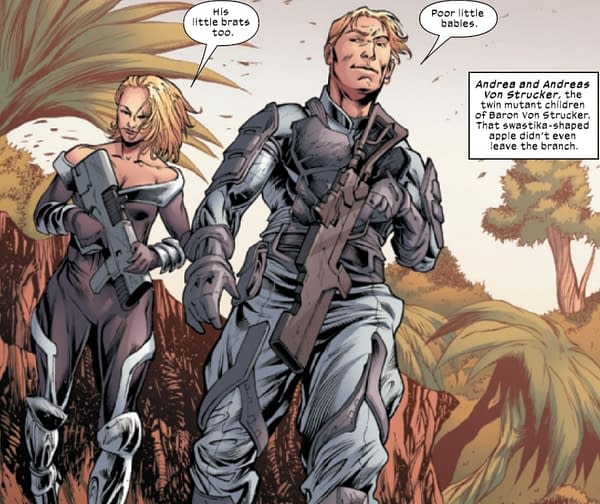 But it seems that we may be getting an unexpected rewritten or parallel history, as Tempo gets hit in the assault and something goes wrong with Bishop.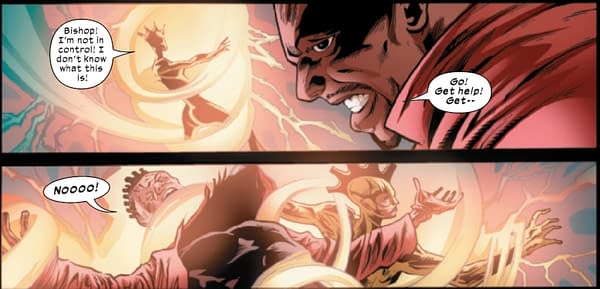 Finding himself back in the timestream, or something similar to it, and making another trip across time. Away from Krakoa…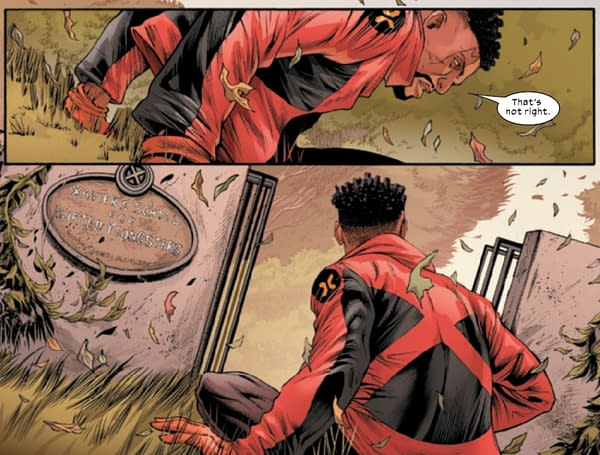 …and back to the X-Men Westchester Mansion School For Gifted Individuals, with X-Men who look very much like the nineties costume versions designed by Jim Lee and that became famous internationally with the X-Men cartoon, but with one notable difference.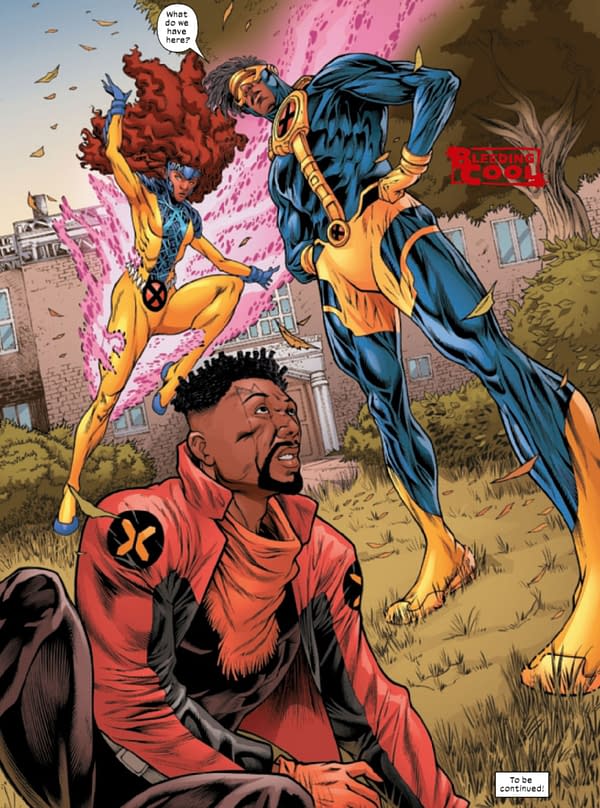 We have black X-Men, with Scott Summers and Jean Grey and, from this cover, the intent appears to be that this will be widespread.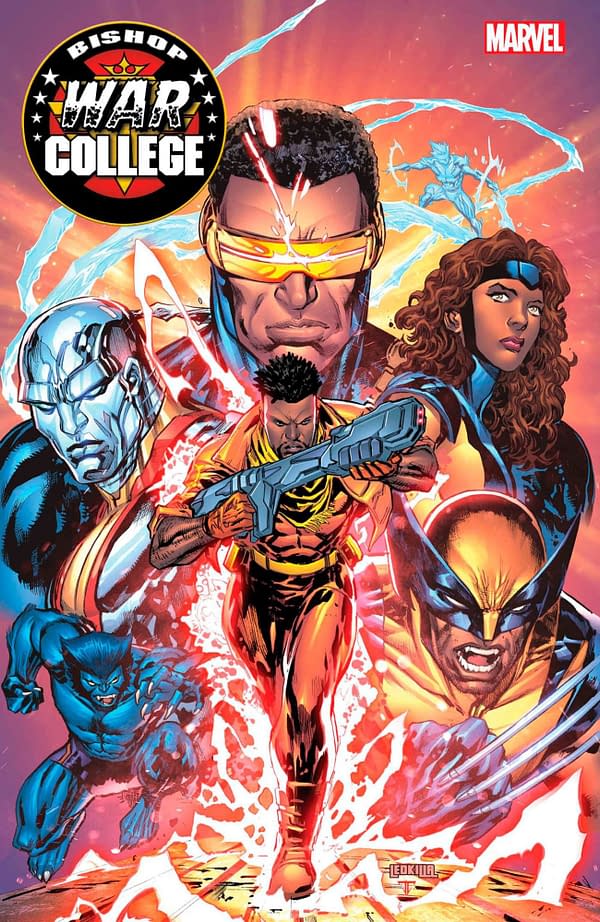 The X-Men was retrofitted years after its creation by Stan Lee and Jack Kirby to be about American Civil Rights in the sixties, with Professor Xavier reinterpreted as playing a Martin Luther King role, to Magneto's Malcolm X, as allegory over minorities, racial, religious and sexual orientation became a central plank of the Marvel mutant story over the years, though recently the allegory has been swapped in favour of actual representation. So what twist in time will have led to an all-Black X-Men? How will American Black History have been rewritten? Cloak & Dagger/Jessica Jones TV writer J. Holtham will reveal all with artist Sean Damien Hill in a month's time…
BISHOP WAR COLLEGE #1
MARVEL COMICS
NOV220912
(W) J Holtham (A) Sean Damien Hill (CA) Ken Lashley
THE ALL-NEW, ALL-GREAT X-MEN DEBUT!
Krakoa is an island paradise, and it's a vulnerable one… but not with Lucas Bishop on the case! Armor, Surge, Cam Long, Aura Charles, Amass – these are his students. Their course objective: Get strong. Defend the island. Keep mutantkind safe. What does any of that have to do with an all-Black X-Men team? Find out here! Celebrated TV writer J. Holtham (Cloak and Dagger, Jessica Jones) joins forces with artist Sean Damien Hill for a blockbuster brawl with the fate of all Krakoa at stake!
Rated T+In Shops: Feb 08, 2023
SRP: $4.99
BISHOP WAR COLLEGE #2
MARVEL COMICS
JAN230857
(W) J Holtham (A) Duarte, Alberto Foche, Sean Hill (CA) Ken Lashley
BISHOP FACES OFF AGAINST…THE X-MEN? What's a Bishop story without time travel? Shunted to a strange future, Lucas discovers familiar faces who will permanently alter his worldview. Meanwhile his students are in danger, and not just of failing his course. Helped by shocking allies, the anti-mutant organization Orchis has finally found a way onto Krakoa. Is this the end of the island? Rated T+In Shops: Mar 15, 2023 SRP: $3.99
BISHOP WAR COLLEGE #3
MARVEL COMICS
FEB230769
(W) J Holtham (A) Duarte, Alberto Foche, Sean Hill (CA) Ken Lashley
TWO BISHOPS, TWO PASTS – AND ONLY ONE LEADS TO THE FUTURE!
Back on Krakoa, Blightswill is sweeping the island, poisoning mutantkind's sentient paradise.
The trainees Bishop left behind are outnumbered and outpowered. Trapped underground and leaderless, can they band together to save their home, or is Orchis? long game finally about to pay off? Rated T+In Shops: Apr 19, 2023 SRP: $3.99