David Blake Lucarelli writes;
Last weekend, as NYCC was busy establishing itself as the East Coast equivalent of San Diego Comic-Con, the Alternative Press Expo, the 3rd and by far tiniest in size convention put on by the fine folk of SDCC (they also do WonderCon) was celebrating its 20th anniversary.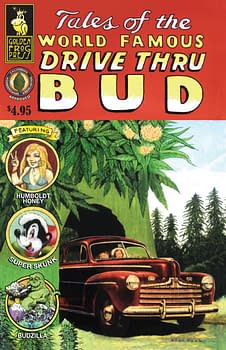 Imagine a convention with zero Hollywood presence. Nobody promoting the latest and greatest blockbuster, or hit TV show. No cosplayers. I think I saw one person in a mask. Not only did neither of "Big Two," comics publishers not have booths, they weren't there at all. None of the "Big 5" for that matter. So…what does that leave? Imagine a small press and Independent Publishers area (and really, it's a fine line between the two) that stretches on and on to fill up an entire former train station, along with a smattering of comics retailers. With about 400 exhibitors and guestimated attendance (based on last years) of about 5500, APE has a very high exhibitor to attendant ratio that allows for lots of one on one time between creators and fans. Granted, not all of those retailers were selling comics. Many were selling prints, art books, shirts, buttons, art supplies, and other artistic nick-nacks, but for the fan looking to discover the newest comics and graphic novels on the ground floor, there was a wide variety to go around. Here's a small sampling of some of the material you might have found: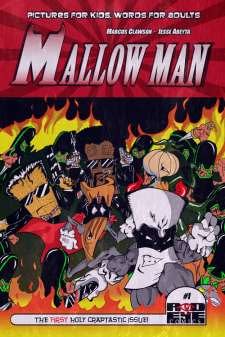 For those seeking a direct connection to the kind of underground comix that sprang largely out of the San Francisco scene in the late 60's and early 70's, you needed to look no further than "Tales of the World Famous Drive Thru Bud"," written and drawn by Pat Ryan from Golden Frog Press. It features a half a dozen light-hearted pot centric tales that are the direct descendants of the kinds of comix you'd expect to find in a head shop in the Haight 40 odd years ago.
Also showing its underground influence is issue 1 of the Kickstarter project "Mallow Man," written and illustrated by Marcus Clawson, featuring the heroic adventures of a sort of Marshmallow man fighting the a flaming twig known as Inferno, hell bent on "petty larceny and world domination."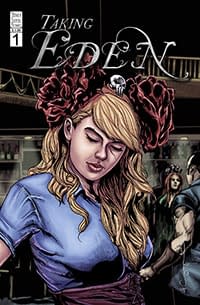 "Taking Eden," from Never Static Pictures created and written by Jason Beckwith and Malcolm Johnson with art by Niño Harn Cajayon is an ongoing 18 issue series, with issues 1-4 on sale at APE, that features the intriguing premise of a small town girl coming to the big city and getting lost in the underworld of the Gothic club and drug scene. The drug in question, "Eden," is distilled from the stolen innocence of the victims of club owner and sorcerer, Sky.
Also from Never Static Pictures is "The Tool," written by Kyle Spiker and Jason Beckwith with art also by the aforementioned Mr. Cajayon. It's an espionage book set in college with some surprising twists and turns.
From Ferric Press there was "Gevaudan" #1 written by Chris Williamson, with art by Emonic Gonzales, inspired by the legend of the Beast of Gévaudan, a series of attacks by large man eating wolf like creatures in late 18th century France. Told entirely in rhyme, the effect is that of a well illustrated tale of werewolves, straight out of the Canterbury tales.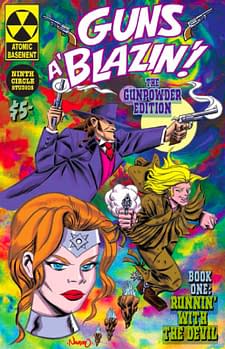 The same artistic team is responsible for issue 1 of "Ferrous Bloom," a dystopian futuristic sc-fi comic remincicent of Blade Runner featuring the anti-hero named in the title.
"Guns A'Blazin!" from Atomic Basement, written by Mike Wellman and illustrated by Rafael Navarro, is an action-packed and colorful comic that features two time traveling cowboy protagonists who bear more than a striking resemblance to the comic's creators. In issue one, they escape a fight with some Indians and a mysterious futuristic looking woman to travel back in time to caveman days. There they discover that when you run from the present and hide in the past, the future has a way of sneaking right back up on you.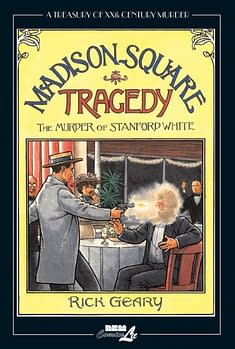 Last and certainly not least living national treasure Rick Geary was there debuting the latest in his Treasure of Murder graphic novel series "Madison Square Tragedy, The Murder of Stanford White." Not a who-doe-it, the no less fascinating novel takes a historic look at an underage New York Theater "It" girl of the early 1900's who was wooed by multiple depraved millionaires, all under the guise of being her protector and benefactor. If you ever tire of the spandex and superhero books, Rick's work is meticulously researched, exquisitely illustrated, and wryly delivered. It's all worth checking out!
Panels? Over a dozen, featuring some top indie talent, but no need to camp out overnight, or stab someone in the eye to get a seat. Also featured was the same Comic Creator Connection found at Wondercon and SDCC, a sort of 5 minute pitch and switch "speed dating," between writers and artists, that for whatever reason always ends up writer heavy.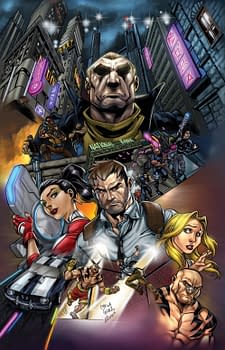 From the perspective of exhibitors how was the con? I sold exactly the same amount I did at Long Beach Comic Expo on a per day basis, and my neighbors sales to either side of me were comparable. None of us "made our tables," that is, sold in the number of books what we spent to Exhibit there, but we all felt pretty good about exposing our books to a lot of new people that had never seen them before. The location provided free electricity, which was a nice perk, although the Con will be moving elsewhere next year. As well run and well organized as both Comic Con, and WonderCon, on Sunday they featured a program where exhibitors could display signs in their booths to sell directly to comics shops. It's a great idea, but in actual practice, neither I, nor any of my neighbors was ever even approached. As for San Francisco itself, it's a beautiful and artistic city (The city hall lit purple at night to offset it's gold trimming is particularly majestic), with fabulous restaurants. On the downside, the hotels aren't cheap, and I speak from personal experience when I say that a "rock and roll hotel," may sound great in theory, but in actual practice, it means a loud thumping dance party that reverberates throughout all the rooms, and is not at all conducive to the kind of sleep a comics exhibitor needs to pimp his comics to the multitudes with the appropriate level of energy.
David Lucarelli is the writer of The Children's Vampire Hunting Brigade comic book. Issue #1 can be found on Comixology, and he will next be appearing at The Comic Bug in Manhattan Beach selling all four issues of the mini-series on Saturday October 26th from 12-3pm, as part of the Comic Bug's Halloween Celebration.

Enjoyed this article? Share it!