Mirka Andolfo's Contro Natura, Translated as Unnatural, Announced at #ImageExpo
Mirka Adolfo may have travelled the longest for the Image Comics presentation. The Italian creator was there to announce that her comic Unnatural was to be translated and published by Image Comics.
Set in the future, Unnatural is set in a world of segregation, where only people of the same race and groups can be together. Where your perfect partner is selected for you at 25. And where children born from other non-approved unions are the number one enemy and many enter fake marriages to avoid persecution. And her lead character, a 'pig girl' lives with her best friend, a mouse girl…
The first of 12 issues from Image will be in July — the Italian publication is almost done.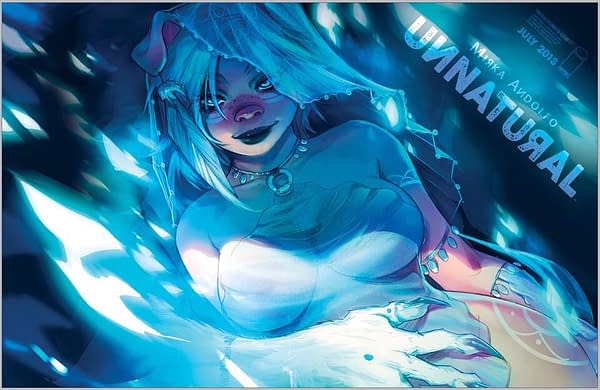 UNNATURAL by Mirka Andolfo
Mirka Andolfo brings hit Italian comic title, Contro Natura, to Image Comics in an English translated fantasy erotica title, UNNATURAL.

Leslie is a simple pig girl, she loves sushi and she is trapped in a job that she hates. She lives with Trish, her best friend. In her world, which is full of anthropomorphic creatures, the government interferes in the personal lives of its citizens, up to the point of allowing only relationships between individuals of the same race. The transgressors are punished. They are accused of being… unnatural! Leslie dreams of something different for herself. But these dreams are becoming dangerous, especially because they feature a mysterious wolf. And, when she wakes up, she thinks that she is being watched…

The series will launch in July 2018.