Miss Meow #2 Comic Gets Squid Game Cover Variant
A Squid Game comic book? Not quite, but to be honest I am surprised it took this long. But the cheesecake comic Miss Meow from publisher Merc Magazine created by comics cover artist Jamie Tyndall. Merc Magazine was initially a fictional magazine he created to appear in his anti-heroes covers. Now, it's an actual publisher. And Miss Meow is the first of a line of comic books told in magazine form, the first issue containing 25 pages of comic interiors, fictional ads, and an interview with the character, created by Murphey, Jamie Tyndall and Shawn Hudachko and funded through Kickstarter.
You are introduced to our hero at the year's biggest event, the Merc Gala! With Kit and Kat at her side, Miss Meow's plan unfolds to steal something of great importance to her rivals. Miss Meow is the best of the best of Merc celebrities. Her empire was started with the creation of "Katnip" technology which was an instant and extremely profitable success. Now, she runs the second largest Merc corporation second only to the Spartans. Her nemesis, Katfight, works tirelessly alongside the Spartans to stop Miss Meow from taking the spot as the world's greatest Mercenary. Merc Con is quickly approaching. Whoever shows up with the greatest loot has a chance to dethrone the Spartan Empire!
Let's hope they also don't get defeated by the lawyers. Because they have launched a series of variant covers, featuring increasing degrees of nudity with Miss Meow in, and out of, a Squid Game Pink Soldiers costume for Miss Meow #2.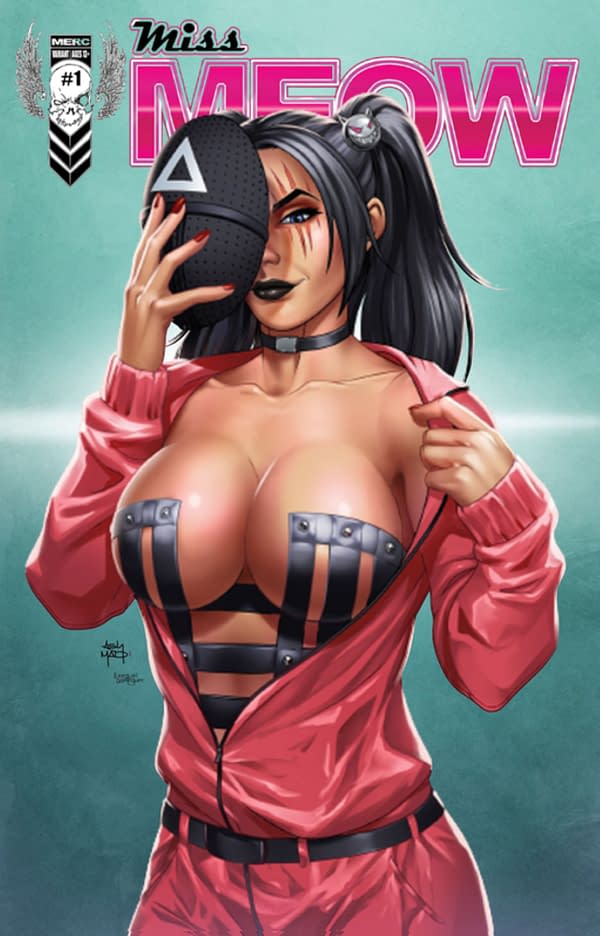 And here's a preview of the comic in question. "Miss Meow #2 picks up in Area 51 where Miss Meow is searching for the true helmet of Leonidas, but she's not alone in her hunt. Katfight watches the events unfold from her mansion. When the opportunity arises for her to take Miss Meow unaware, she must take the chance."