Of late, we have had an uptake in superheroic children of superheroes. At DC Comics of course. Fantastic Four really began this with Franklin, but there was a theory that the fans didn't want superheroes as father fiugures, when they could be more directly relateable. And so such activities were relegated to minor characters or potential future worlds.
Batman has Damian Wayne as the new Robin, who has only died once. Superman has Jonathan Kent as Superboy, who has grown up ever so fast. Animal Man had been there before, of course, but now it seems like the done thing.
And today we get a couple more. One in the future/alternateversefashion and one… not. Justice League #19 shows us the promised future Justice League, in which the Maryian Manhunter and Hawkgirl are a couple with a kid of their own. Who knew Martians and Thnagarians were compatible that way? Well, I suppose, he is a shapeshifter. As well as a Superman who spent years elsewhere away from his own child and wife, but never mind that unmentioned aspect…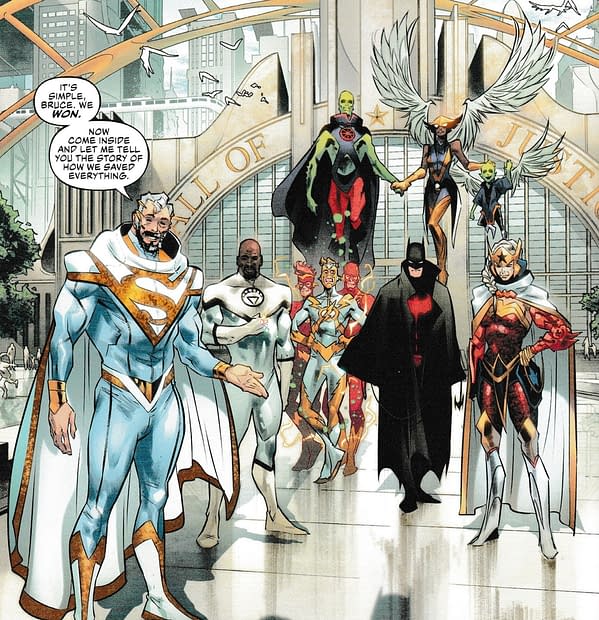 If that is, of course him. And then over in Young Justice #3, Conner Kent may be young but on Gemworld it looked like he had to man up fairly early on.And I don't just mean the stubble…
Welcome, DC Universe, to a new Superbaby.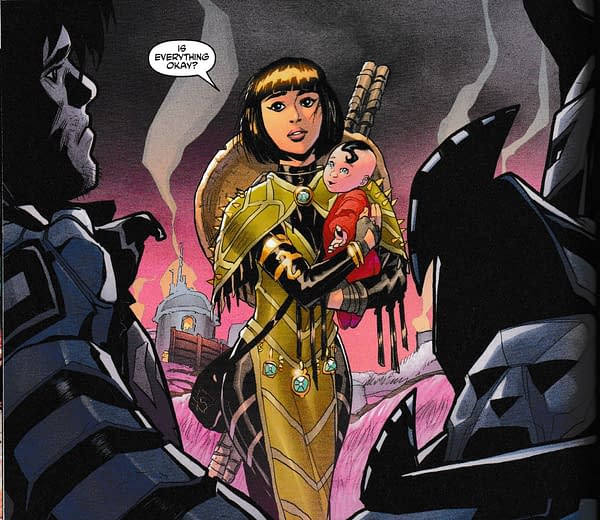 Oh look, he's got his grandclonefather's spitcurl.
So, is Superman a grandfather now? Is that how this works with clones? He is crtainly looking the part in Justice League... on and in the Mad Magazine DC Superhero parodies running today, why Wonder Woman might not want to go in that direction any time soon…
JUSTICE LEAGUE #19
(W) Scott Snyder, Jorge Jimenez (A/CA) Jorge Jimenez
"The Sixth Dimension" part one! At last, the Justice League has the map to the Sixth Dimension in hand-and with it, they have the key to saving the Multiverse from utter destruction! But things aren't as simple as they seem, because they still need to get to the doorway-and to do that, they'll have to go through the only being in all of existence who can get them there: Mr. Mxyzptlk! In Shops: Mar 06, 2019 SRP: $3.99

YOUNG JUSTICE #3
(W) Brian Michael Bendis (A) Viktor Bogdanovic (A/CA) Patrick Gleason
Young Justice is back, baby! Bendis and Gleason reunite all your favorites in one place! Robin (Tim Drake-the best Robin) and Amethyst (best Princess of Gemworld!) team with Wonder Girl, Jinny Hex and the new Teen Lantern (not even close to the best Green Lantern) to take back the mysterious Gemworld from the evil forces of dark Opal. Meanwhile, the reunited Impulse and Superboy have a lot of explaining to do. Also in this issue, find out where Connor Kent has been all this time. This is a big issue for Superboy fans! In Shops: Mar 06, 2019 SRP: $3.99
Enjoyed this article? Share it!