The Never-Made Justice League Musical From 1972, Revealed
Once upon a time, DC Comics was going to produce a musical stage show starring the Justice League Of America aimed at the student college circuit. This is how it looked in 1972 as the show was offered to college venue buyers.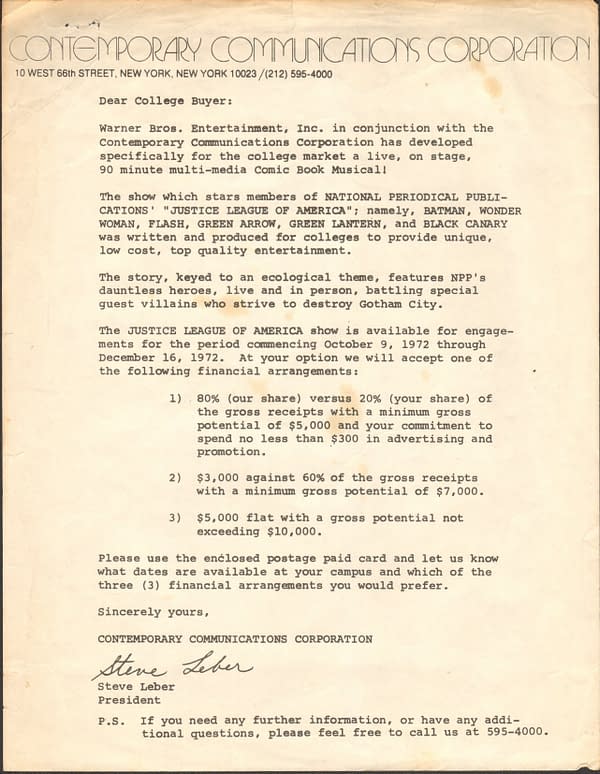 To avoid your squints, and from a time when DC Comics was still National Periodical Publications, it reads;
Dear College Buyer,

Warner Bros. Entertainment, Inc. in conjunction with the Contemporary Communications Corporation has developed specifically for the college market a live, on stage, 90 minute multi-media Comic Book Musical!

The show Which stars members of NATIONAL PERIODICAL PUBLICATIONS' "JUSTICE LEAGUE OF AMERICA"; namely, BATMAN, WONDER WOMAN, FLASH, GREEN ARROW, GREEN LANTERN, and BLACK CANARY was written and produced for colleges to provide unique, low cost, top quality entertainment.

The story, keyed to an ecological theme, features NPP's dauntless heroes, live and in person, battling special guest villains who strive to destroy Gotham City.

The JUSTICE LEAGUE OF AMERICA show is available for engagements for the period commencing October 9, 1972 through December 16, 1972. At your option we will accept one of the following financial arrangements:

1) 80% (our share) versus 20% (your share) of the gross receipts with a minimum gross potential of $5,000 and your commitment to spend no less than $300 in advertising and promotion.

2) $3,000 against 60% of the gross receipts with a minimum gross potential of $7,000.

3) $5,000 flat with a gross potential not exceeding $10,000.

Please use the enclosed postage paid card and let us know what dates are available at your campus and which of the three (3) financial arrangements you would prefer.

Sincerely yours,

CONTEMPORARY COMMUNICATIONS CORPORATION

Steve Leber

President

P.S. If you need any further information, or have any additional questions, please feel free to call us at 595-4000.
Thanks to producer Michael Uslan and the letter's owner Shaun Clancy for permission to publish this. Uslan tells us;
First, this is all subject to the best of my recollection and, these days, years begin to blend. I first met Steve Leber, who was partnered with David Krebs, circa 1971. It was around the time I started working at DC Comics, I think. Steve was a brilliant young entrepreneur who loved rock music, comic books and pop culture. He was a rock manager and was an agent at William Morris topping the music department. He was ahead of his time and a bold innovator. When he left the agency, he and David formed Contemporary Communications. He was close to at least some of The Beatles and brought the hit play, "Beatlemania" to Broadway in the later 1970's, which put these boys on the map. He also was involved in George Harrison's Concert for Bangladesh. In fact, I think it was through Steve I was able to get two very good tickets for that historic show. I think he also was involved with John Lennon and Yoko Ono in their Plastic Ono Band. But in the early 70's, these guys were everywhere I went: They made an option deal with Marvel President, Jim Galton, and Sr. VP, Joe Calamari, to develop a Broadway musical based on The Marvel Super-Heroes; They made a deal with Archie Comics to develop an Archie live action movie; and they made a deal with Jay Emmett at Licensing Corporation of America, the merchandising arm of DC Comics and Warner Communications, for a traveling DC super-heroes musical play. As I recall, none of the three comic book related projects ever actually materialized. There's a later part of this story as it relates to Archie that I will save for the next time.
Remember, this also followed the big It's a Bird… It's a Plane… It's Superman 1966 musical composed by Charles Strouse, with lyrics by Lee Adams and book by David Newman and Robert Benton. While the show's original Broadway was well-reviewed, it did not catch on with audiences. Closing after three and a half months and costing an unprecedented $600,000, the show was at the time Broadway's biggest flop. It was later adapted and shown on ABC in 1975.
.