New Judges For Dwayne McDuffie Award for Diversity in Comics 2020
After a brief delay, the 2020 Dwayne McDuffie Award for Diversity in Comics is now officially accepting submissions for it's september Award. They also welcome two new Selection Committee Members, A Distant Soil creator and Sandman artist, Colleen Doran and co-creator of Blade, Cyborg, Deathstroke, Nightwing and Black Cat, Marv Wolfman.
The 6th annual Dwayne McDuffie Award for Diversity in Comics will once again honour five finalists whose commitment to excellence and inclusion, both on the page as well as behind the scenes, exemplifies the late Dwayne McDuffie's own career producing entertainment that reflects a wide scope of human experience, created by an equally wide scope of human beings.
The winner will be announced via video later this year by returning Master of Ceremonies, actor Phil LaMarr, who voiced both heroes Static/Virgil and John Stewart/Green Lantern in the animated Warner Bros.' series Static Shock and Justice League Unlimited written by McDuffie.
LaMarr states "It is important right now to acknowledge and reward artists who strive to tell the stories of diverse experiences and points of view. When you know someone's story, you cannot dehumanize them."
The motto of the Dwayne McDuffie Award for Diversity in Comics is from Dwayne's own words, "From invisible to inevitable." The deadline for completed submissions to be received at dwaynemcduffie.com by 11:59pm PST on September 1st, 2020.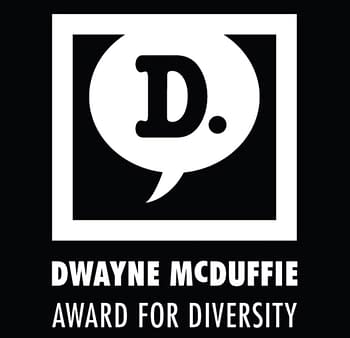 List of past winners:
2019 – Archival Quality, written by Ivy Noelle Weir & illustrated by Christian "Steenz" Stewart (Oni Press)
2018 – Leon: Protector of the Playground, written & illustrated by Jamar Nicholas (Kids Love Comics)
2017 – Upgrade Soul, written & illustrated by Ezra Claytan Daniels
2016 – Ms. Marvel, written by G. Willow Wilson & illustrated by Adrian Alphona (Marvel Entertainment)
2015 – M.F.K. written & illustrated by Nilah Magruder (www.mfkcomic.com)
Dwayne's widow, Charlotte (Fullerton) McDuffie tells us "Given our initial Covid delay this Spring and now the current timing, we've done a lot of soul-searching about launching a 'pop culture' contest amidst such serious civil unrest– whether it would seem frivolous at best, opportunistic at worst. We decided that Dwayne would have been resoundingly, unquestionably on the side of having this inclusive award in his name not only be continued uninterrupted despite all the events so far in 2020, but that it be announced right now, during this impressive worldwide demand for long-overdue change. We as a society, as human beings, as beings who are all human, desperately need more diverse voices and content in our collective media. We have always needed this. If not now, when? Dwayne used to say, 'If you can see it, you can be it.' Representation matters. 'Don't start none, won't be none.' ('None' here meaning REPRESENTATION IN THE MEDIA!) I'm calling on all diverse creators to submit their work. Please. The world needs your voices. 'From invisible to inevitable.'"
Director, Will J. Watkins tells us "If Dwayne were still with us, what might he say to diverse creators given the world's current state of affairs? A global pandemic disproportionately causing the deaths of African Americans, an economic crises considered the worst since the Great Depression, and an ever-growing list of unarmed, African American men killed by police officers. Just one of these horrific situations might prove too daunting for the greatest superhero, but Dwayne knew how to face any challenge with integrity, ingenuity and innovation. Hearing his creative voice in the present wilderness would certainly make it easier to bear. Dwayne's no longer with us, but as we enter the 6th year of this award in his name, its significance and impact has never been more important. So what might Dwayne say in the midst of such unsettling times? I believe the same thing he's still saying through this award—he'd encourage diverse creators that their art, their voices, and their lives do matter."
The Dwayne McDuffie Award for Diversity in Comics' Selection Committee consists of prominent comics and animation industry professionals who have themselves demonstrated a commitment to McDuffie's vision of inclusiveness in their own lives and work.
This year's judges are:
Colleen Doran is a writer/artist, film conceptual artist and cartoonist. She has illustrated hundreds of comic books, graphic novels, book and magazines, and dozens of stories and articles. Her award-winning work has appeared in The Sandman, Wonder Woman, Legion of Superheroes, Teen Titans, Walt Disney's Beauty and the Beast, and her own fantasy series, A Distant Soil.
Jamal Igle is the writer/artist/Creator of Molly Danger for Action Lab Entertainment and the penciller of the critically acclaimed series, BLACK from Black Mask Studios, as well as many titles for DC, Marvel and Dark Horse. He's been a storyboard artist for Sony Animation and is also a popular guest lecturer on the subjects of comics and animation.

Joe Illidge is a veteran of the comic book industry who is currently co-managing editor for Heavy Metal. He's also a columnist for Comic Book Resources and The Shadow League, and the co-writer of "Solarman" for Scout Comics. He's previously been a top editor for Valiant Entertainment, Lion Forge Comics, Archaia Press and DC Comics, and began his editorial career at Milestone Media, Inc.
Heidi MacDonald is the editor-in-chief of ComicsBeat.com and a former editor for Disney and DC Comics. She can be heard on Publishers Weekly's weekly podcast More To Come and The Beat podcast Three Women in a Hotel Room.
Kevin Rubio is a writer/producer who has contributed to Justice League Action, Avengers Assemble, Thunderbirds Are Go!, Green Lantern: The Animated Series and My Little Pony: Friendship Is Magic. He is also the creator and writer of the Star Wars graphic novel, Tag & Bink Were Here and Red 5 Publication's Abyss Vol. I & II. He is an inaugural recipient of the George Lucas Film Award for his Star Wars short film, TROOPS, a Promax Award winner, and Emmy nominee.
Geoffrey Thorne is the writer/Creator of MOSAIC for Marvel Comics, PRODIGAL for Genre 19 and JOURNEYMEN for Dark Horse Comics. He is also the head writer and Showrunner of Marvel's Avengers Black Panther's Quest as well as a writer-producer on such hit series as LEVERAGE, LAW & ORDER: CRIMINAL INTENT and THE LIBRARIANS.
Will J. Watkins (Director of the DWAYNE McDUFFIE AWARD for DIVERSITY in COMICS) is a freelance TV and animation writer who is also comic book story/world-building consultant on The Protectors graphic novel published by Athlita Comics. He had a stint as an assistant editor at DC Comics, and before moving to L.A. he co-owned Chicago's first African American-owned comic book store. He's currently a staff writer on a cool Freeform show he can't talk about yet, but that deserves to be made into a comic book.
Matt Wayne has written on many highly-regarded animation projects including Niko and the Sword of Light, Cannon Busters, Transformers: Robots in Disguise, Avengers: Ultron Revolution, Thunderbirds Are Go! and the 2006 Biker Mice from Mars revival. He wrote the Emmy-nominated Hellboy Animated: Sword of Storms and was also a writer and Managing Editor at Milestone Media, Inc.
Marv Wolfman is the multi-award-winning writer who created Blade for Marvel Comics, The New Teen Titans for DC Comics, and legions of other iconic characters and stories. In addition to comic books, he's written for animation, videogames, novels and more. It's been said that he's created more characters who've made the jump to movies, TV shows, toys, games and animation than any other writer save Stan Lee.
About Dwayne McDuffie:
Dwayne Glenn McDuffie was born and raised in Detroit, Michigan. The middle son of Leroy McDuffie and Edna (Hawkins) McDuffie (now Gardner), Dwayne attended the prestigious Roeper School for gifted children before going on to earn undergraduate degrees in both English & Physics as well as a graduate degree in Physics, all at the University of Michigan. (Go, Blue!) He later also studied filmmaking at New York University's Tisch School of the Arts.
Dwayne first entered the comic book industry as an Editor at Marvel Comics, thanks to his NYU friend Greg Wright with whom he recreated the Deathlok character into the one in use today. With artist Ernie Colón, Dwayne also co-­created the comedic Marvel team book, Damage Control.
Frustrated by the lack of diversity of both characters and creators in comics, Dwayne—together with Derek Dingle, Denys Cowan, and Michael Davis ­­co-­founded Milestone Comics (later Milestone Media), the first African ­American owned comic book company in history, with a mission to provide a wide array of characters, content, and creators that more accurately represent the racial, ethnic, religious, gender, and physical diversity of real life. (Also? They were just outstandingly good books. Seriously. If you haven't read them, seek them out. Now. You won't believe what you've been missing!)
Static, Icon, Hardware, Xombi—to name just a few. Throughout his career in the comic book industry, Dwayne created or co­-created these and more than a dozen other series, in addition to writing stories for too many other titles to list but here are some highlights: Justice League of America, Fantastic Four, Spider­-Man, Batman: Legends of the Dark Knight, Captain Marvel, Avengers Spotlight, Hellraiser, Ultraman, even The Tick, and Back to The Future. Dwayne also co-­created The Road To Hell with fellow writer and Milestone editor, Matt Wayne, the inaugural Director of the Dwayne McDuffie Award for Diversity in Comics, established posthumously by Dwayne's widow, Charlotte (Fullerton) McDuffie, with the invaluable assistance of writer, Neo Edmund.
Dwayne transitioned into the animation industry as a Story Editor and Writer on the Emmy­-winning Kids WB series, Static Shock, which he co-­created and for which he won the 2003 Humanitas Prize. Dwayne was also a Producer, Story Editor, and Writer on Cartoon Network's Justice League and Justice League Unlimited animated series, for which he received a 2004 Writers Guild nomination.
With artist/producer Glen Murakami, Dwayne redeveloped Man of Action's Ben 10 animated series into Ben 10: Alien Force then Ben 10: Ultimate Alien—98 episodes of what became the global blockbuster franchise for Cartoon Network (350 ­episodes ­and­ counting!) Dwayne also wrote the animated features Justice League: Crisis on Two Earths, All Star Superman, and Justice League: Doom, as well as episodes of What's New, Scooby Doo? and Teen Titans, all for Warner Bros. For his indelible work in animation, Dwayne was posthumously presented with the Writers Guild Of America's 2011 Animation Writing Award, the first African ­American in history to be so honored.
The winner of 3 Eisner Awards for his work in comic books, 11 Parents' Choice Awards, 6 "Best Editor" awards, the 2009 Inkpot Award presented by Comic-­Con International, and a Golden Apple Award from his alma mater for his "use of popular art to promote and enhance human dignity," Dwayne McDuffie's life's work exemplified both diversity and excellence.
Mr. McDuffie's belongings are currently being curated by the Smithsonian for inclusion in the Nationak Museum of African American History and Culture in Washington, D.C.
He led by example while presciently stating, "From invisible to inevitable"­­– now the motto of the Dwayne McDuffie Award for Diversity in Comics. The man may be gone, but his mission lives on.

About Charlotte (Fullerton) McDuffie:
Dwayne's widow, Charlotte (Fullerton) McDuffie, is a twice Emmy­-nominated animation writer, best known by fans for her work on Hasbro's My Little Pony: Friendship Is Magic, Cartoon Network's Ben 10 franchise (its multiple TV series incarnations and accompanying videogames, chapter books, and comics), and the Star Wars' parody short film, Troops, aka the internet's very first viral video before there even was such a term for it. She is committed to continuing her late husband's legacy through this award and other endeavors made possible in part by The Dwayne McDuffie Fund
The 2020 Dwayne McDuffie Award for Diversity in Comics'final five nominees will be formally revealed to the press prior to the announcement of the winner later this year. Follow Dwayne McDuffie Award for Diversity in Comics on Facebook and Twitter