Today, We Welcome a New Member of the Justice League (#25 Spoilers)
Do you remember in Grant Morrison and Howard Porter's JLA run when suddenly they got Zauriel as a new member? An actual angel, from heaven, millions of years old who left heaven for Earth to become a superhero and join the League? It was weird then, it's just as weird now. Originally he was just meant to be Hawkman ,but the character was declared a no-go area for DC Comics due to his convoluted continuity. So instead Morrison made him one of God's angels and apparently that was fine. No issues wth continuity there.
I mention this because we had a similar moment today in Justice League #25. When, after being thoroughly defeated by Superman and the biggest punch he has ever thrown, the Forger of Worlds, sibling to the Monitor and Anti-Monitor, is invited to join the team.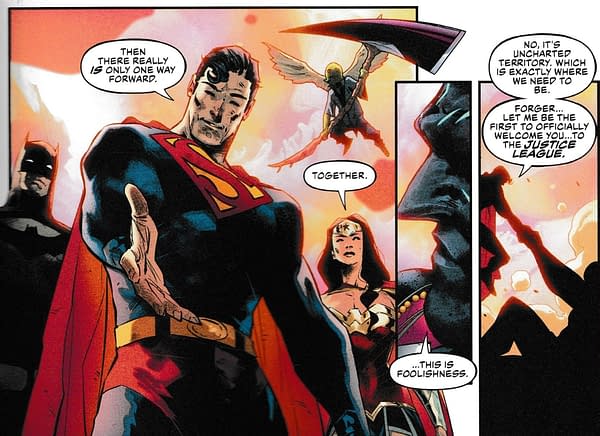 And discovers that a hand held out by Superman is far more rewarding than a punch.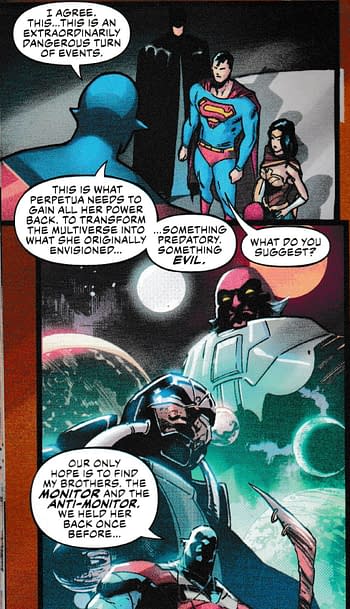 And it looks like they may be recruiting among the family.
Darkseid joining Justice League Odyssey, the Forger of Worlds joining the Justice League, say is there any chance that Young Justice might include Young Jesus? He would sit to fit in well right now… either way, the is a hell of a fun superhero comic book, I hope you are all enjoying it as much as I am.
JUSTICE LEAGUE #25 YEAR OT VILLAIN
(W) Scott Snyder, Jorge Jimenez, (A) Javi Fernandez (A/CA) Jorge Jimenez
The "Sixth Dimension" storyline wraps up in this oversize issue as Superman faces down the World Forger to save the Justice League! Can Superman withstand the might of a being that can create worlds from nothing?! Plus, with the Justice League away, Mr. Mxyzptlk's been wreaking havoc! Can anyone on Earth stand up to the fifth-dimensional menace?
RATED T+In Shops: Jun 05, 2019
SRP: $4.99