Sam Humphries and Bernard Chang will take over Nightwing in December.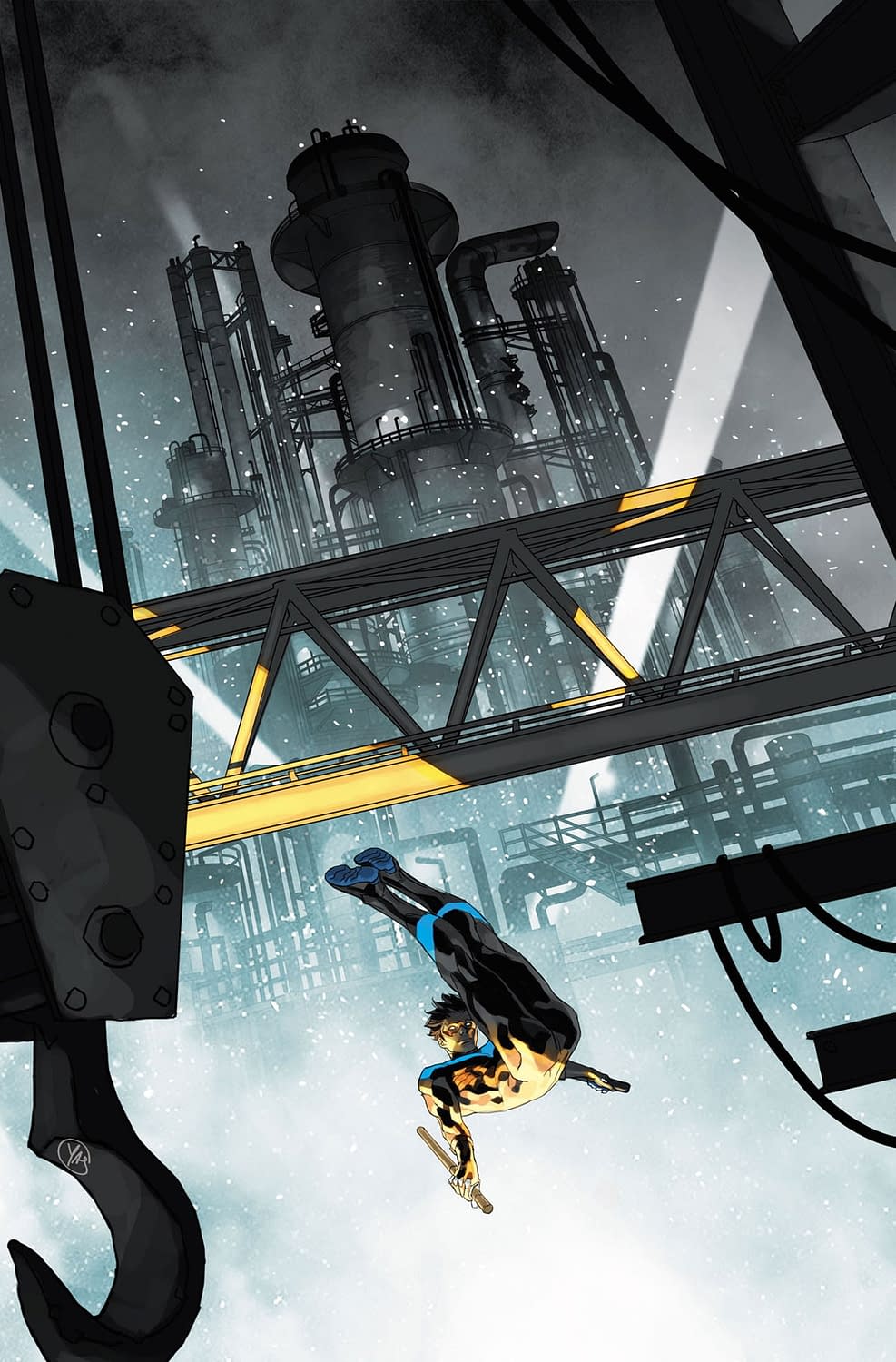 Tim Seeley may have believed he had gotten the better of Sam Humphries when it was announced he was taking over Green Lanterns from the writer, but it's Humphries that has gotten the last laugh. Humphries will take over Nightwing, ending Seeley's long run on the title, along with artist Bernard Chang.
The news was revealed in an interview on CBR, where Humphries rubbed it in by praising Seeley's work on the book.
"One of my favorite things from the run is, Tim understood that Nightwing is a great hero in his own right," said Humphries, clearly taunting his colleague. "He needs his own top shelf villains, supporting cast, and city environment."
"Bernard and I are keeping that tradition alive," Humphries continued. "We've got a new bad guy, we'll be developing his supporting cast (both friendly and unpleasant), and we'll be exploring the past and present of Blüdhaven. 'Nightwing The Untouchable' is gonna be filled with crazy ideas and big street-level action, all threatening to collapse on our star character, Dick Grayson."
But Seeley appeared unphased, tweeting of his Nightwing run:
https://twitter.com/HackinTimSeeley/status/908725259725131776
Humphries and Chang take over Nightwing in December with Nightwing #35. Check out the solicit below:
NIGHTWING #35
Written by SAM HUMPHRIES
Art by BERNARD CHANG
Cover by YASMINE PUTRI
Variant cover by CASEY JONES
"THE UNTOUCHABLE: HUNTERS!" Nightwing finally feels like he's got his life in Blüdhaven under control. But the one thing he wasn't expecting was for a case from his past in Gotham City to rear its head here—a murderer he never set eyes on, but whose unmistakable signature has arrived in his new city! How many people will die before he's stopped this time? Or worse than that…what if Dick can't stop him? Incoming creative team Sam Humphries and Bernard Chang kick off a story that will take Nightwing back to his days as Robin and force him to question his future as well!
On sale DECEMBER 20 • 32 pg, FC, $2.99 US • RATED T
Enjoyed this article? Share it!