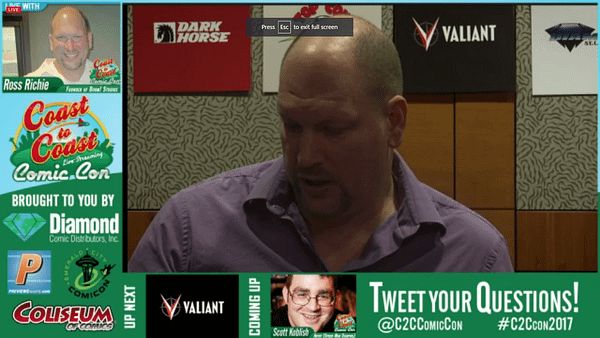 Ross Richie, CEO of Boom! Studios has been praising the Coast-To-Coast Comic-Con, as the only comic convention that happens in a comic shop.
He's been praising how comics has been rediscovering a wider audience, women, kids, everyone. And how comic stores saved the comic book medium from collapse – but in the process saved it for themselves and no one else.
Now, with the films and TVs, everyone is curious. "our secret club is no longer a secret anymore."
How Boom's director's mother-in-law was interested in her first comic book when they announced a work based on the life of Jane Eyre.
Ross asks readers not to hand their friends a superhero comic, but something else. If everyone got one more person to read a comic book, the popularity of comics would change overnight.
And if you do so, he asks you to use the hashtag #DiscoverComicBooks.
Would you?
He says that there's never been a better time with a greater richness of comic books available for people to read and buy. He also talks about how merchandise has expanded the market. How graphic novels have been key in attracting a greater female readership.
And you can keep up to date with Bleeding Cool's other Coast To Coast Comic Con coverage right here.
Enjoyed this article? Share it!