Now Everything You Know About… Okay, These Marvel Teasers Are Getting Ridiculous
Following up on plans to rewrite the history of the origin of the Fantastic Four, rewrite the history of Spider-Man No More, and rewrite the history of The Avengers finding Captain America in the ice, Marvel has predictably released yet another teaser for their "Marvel History Is Destroyed" event coming in March 2019.
This teaser threatens to rewrite the history of Quicksilver and the Scarlet Witch again, even though the pairs parentage was just changed back in 2014 during the Avengers & X-Men AXIS super-mega-crossover event. In that, Marvel retconned the previous retcon, revealing that Magneto was actually not the father of the siblings, for the purpose of making the characters not-mutants so they could appear in the Avengers film franchise despite Fox owning their movie writes.
That rewrite was largely a failure, forcing Marvel to cancel Fantastic Four and stop promoting X-Men comics, but it was actually better than their original plan to screw with Fox, which was to retcon the parentage of Quicksilver and Scarlet Witch to make it so that Magneto had inter-species sex with Wanda and Pietro's nursemaid, Bova, a humanoid cow genetically engineered by the High Evolutionary, producing the half-mutant, half-cow offspring. While this scenario would have left both characters mutants, and thus still under the purview of Fox's X-Men cinematic universe, it would have stained the reputation of the franchise's most popular villain.
But all of that is water under the bridge now, with a Fox/Disney merger bring tensions to an end and even allowing for the return of a Fantastic Four comic book. But now the film rights to Magneto, Quicksilver, and Scarlet Witch are all firmly within the grasp of Marvel Studios' head Kevin Feige, the mortal enemy of Marvel Entertainment Chairman and Shadow Cabinet Secretary Ike Perlmutter. So it looks like it's time to break dust off that old story as Marvel's latest teaser certainly looks like it's going there again.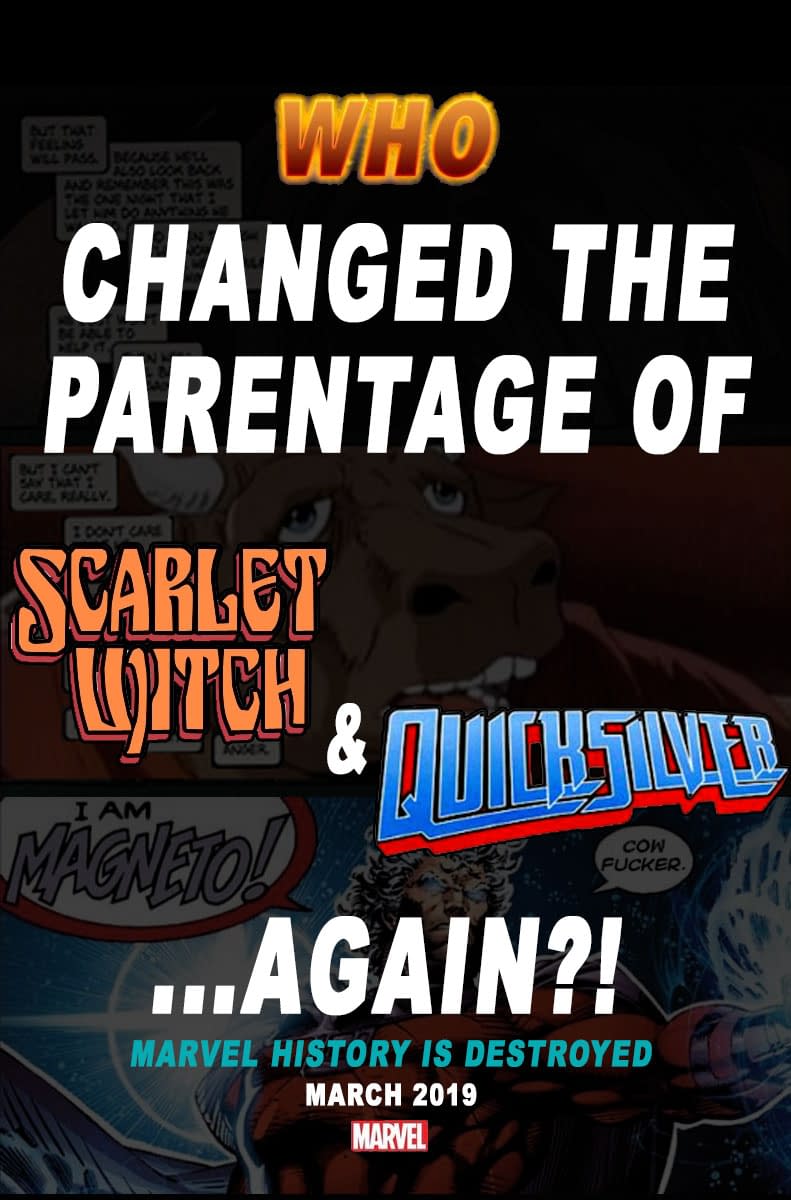 Will any classic moment in Marvel history left untouched by this event? Will any cow be left untouched by the sadistic Magneto? We'll have to find out in March, true believers!