Nuclear Man Has an Engagement Present for Carol Danvers in Captain Marvel #4
There's a momentous occasion coming to the Marvel Universe soon. Somebody is getting married in the pages of Captain Marvel. We don't know when the wedding issue will be, but Nuclear Man has already gotten a sweet wedding present for his bride-to-be in the pages of Captain Marvel. He's captured her old nemesis, Rogue, slapped a mind control collar on her, and brought her to Carol for her to finally kill, once and for all. And when Rogue appears to get the upper hand in this preview of next week's Captain Marvel #4, he even steps in to set things right.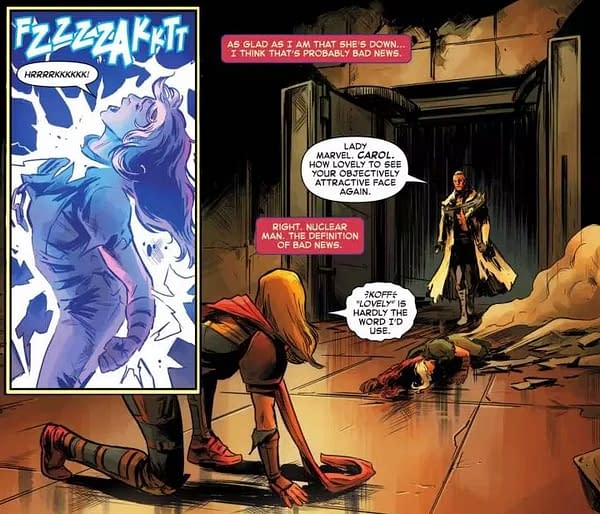 So why is she so ungrateful? Oh yeah, it's because Nuclear Man is a total misogynist dick, and also she never agreed to marry him.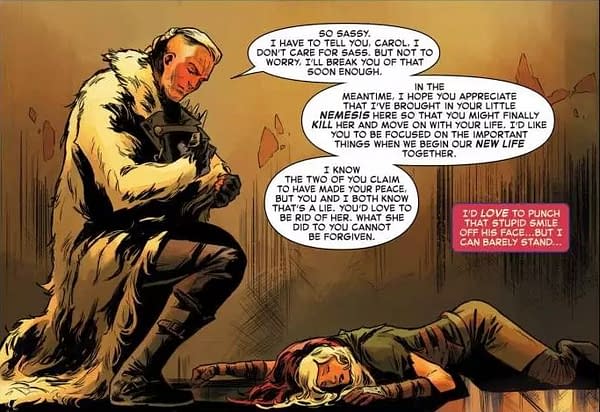 But Nuclear Man is oblivious to all of that.
Comeuppance will surely be had… perhaps when Captain Marvel #4 hits stores on Wednesday?
Marvel gifted this EX-X-XCLUSIVE preview to their media partners at The Beat, which is nearly as nice as the present Nuclear Man got Carol.
Captain Marvel #4
(W) Kelly Thompson (A) Carmen Nunez Carnero (CA) Amanda Conner, Paul Mounts
THE KNOCK-DOWN, DRAG-OUT FIGHT YOU CAN'T MISS!
Nuclear Man reveals his secret weapon: The X-Man ROGUE! It's been years since Rogue stole Carol's powers and memories in a fight that changed Carol forever. Though Carol and Rogue have become somewhat uneasy allies in the years since, a wound like that never fully heals. And now, isolated from her allies and facing her worst nightmare, how far will Carol go to stop history from repeating itself?
Rated T+
In Shops: Apr 10, 2019
SRP: $3.99