Yesterday, Bleeding Cool looked at the top 100 ordered comic and graphic novels through Diamond Comic Distributors to the direct market of comic books.
We noted that while Marvel Comics dominated the top 100 single comic books, Image dominated the graphic novel/collection charts with a total of 51 out of the top 100. Marvel and DC each trailed behind Image with 10 and 30 respectively, and the Big Two combined did not equal Image's impact on the graphic novels chart.
With such breakout hits as Paper Girls, Monstress, Saga, and The Walking Dead, Image Comics set the tone in the past decade as the publisher leading a sea change in the marketplace toward new, original content rather than a reliance on reboots of ageing IP and nostalgia. It is notable that DC's bestselling titles such as Watchmen, Killing Joke, V For Vendetta, the Dark Knight Returns all hail from the eighties, and almost all of the titles were from series or characters launched in the first two thirds of the twentieth century.
However, all of Image Comics' titles were of the twenty-first century. In an industry where nostalgia often rules with a heavy hand, Image has illustrated again and again over the last 10 years that "new" often has a stronger allure.
Image seems to be on a roll with this past year's Eisner awards nominations also beating out both Marvel, DC, and every other publisher at a whopping 30 total—sweeping the entire Best New Series category.
2020 will bring Mirka Andolfo's English adaptation Mercy coming up after her top-selling Unnatural series, which also topped the charts in Italy through Panini. Marvel seems to have primed the pump for Image's March with House Of X fans looking forward to Jonathan Hickman and Mike Huddleston's Image offering Decorum hitting soon. Netflix properties in motion for Mark Millar's line of work-for-hire comics, and Robert Kirkman back with an OGN, FCBD title, and new ongoing series in Fire Power. And, from NYCC last year, a list of creators with work being lined up for 2020… including the return of of The Goddamned, DieDieDie, Low, Nailbiter and, yes, Saga…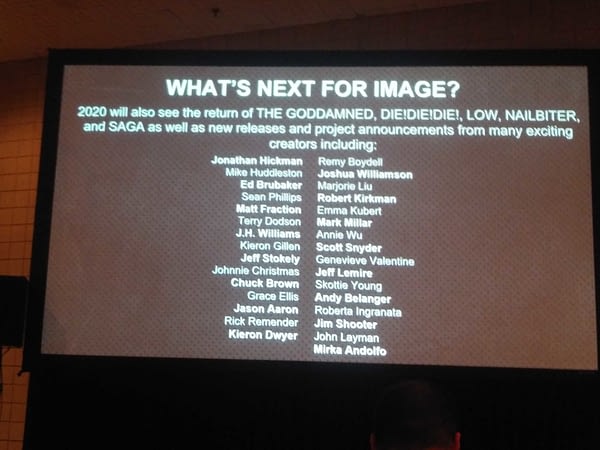 Enjoyed this article? Share it!