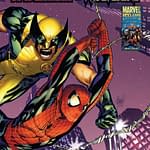 I've had this idea in my head for the last year of a perfect Spider-Man/Wolverine oneshot. One issue, nothing more. Something I'm surprised has never been done with the pair before and full of genius moments. But it feels so obvious.
So when Astonishing Spider-Man & Wolverine was announced I thought "Damn, I bet they do that idea".
Well they haven't. Not in the preview at least. I'm just hoping it stays that way. Maybe one day.
Enjoyed this article? Share it!