Publishers, Looking For A Fully Formed Romance Anthlogy Comic? Janelle Asselin Will Have That Conversation…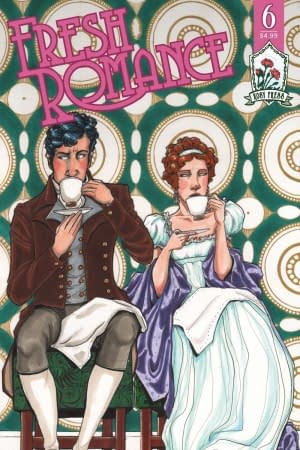 Fresh Romance is a new self published digital comic book anthology from comic book editor, writer and critic Janelle Asselin, funded on Kickstarter, with its sixth issue currently available through her Rosy Press publisher and given star billing and a print version of the first issue by ComiXology Submit.
But its future is troubled. And it's an all-too familiar story,
I love Fresh Romance, and I'm so lucky to have gotten a chance to make something that was entirely what I wanted to be working on. But running a business comes with a lot of stress, obviously. I knew that going in. What I didn't expect was to be a critical darling that everyone said they loved, but with actual monthly sales post-Kickstarter going too slowly to sustain the business long-term. That's really common in small businesses during the first year, especially in publishing, and especially especially in comics, but I think our critical success has led to the false impression that we don't need as much support as other indie comics. I'm sure given the way Fresh Romance is talked about that everyone thinks I'm rolling in money, but the truth is that I haven't been able to pay myself a salary, and only barely could afford one month to give myself a tiny paycheck when I absolutely had to. Thus, I've had to take on additional work in some way or another so that I can survive.
So for now, it's coming to an end.
This is probably the time for any interested publishers to get in touch. Janelle says that she would have that conversation. And she is committed to publishing the collections of the stories so far…
Also, she's looking for a day job to pay for her medical bills…