On a scale of one to punk as @#$%, excessive variant covers definitely rank somewhere around an 8 or a 9, so it's no surprise that Valiant Entertainment is churning out as many of these as possible for the launch of Punk Mambo, the new mini-series by Cullen Bunn and Adam Gorham. How, you ask, are variant covers punk rock? Well, if comics publishers continue to churn out more variant covers than they do do actual comics, there will surely be no future for the industry. That's the kind of nihilism that epitomizes the punk rock ethos, if you ask us. Or, as the Stiff Little Fingers once said, "78… variant covers per issue, 78… variant covers per issue, 78… variant covers per issue now!"
Dan Brereton is behind this latest "flocked" variant cover for Punk Mambo #1, which a press release describes as "a textured flocked treatment that will offer a unique, tactile experience rarely seen—or felt—in comics!" We know that whenever we think of punk rock, we think of the fake snow on our Christmas tree, so this is definitely the sort of approach that just makes sense for this title.
Valiant Senior Editorial Director Robert "Chaos" Meyers agrees, saying in the press release:
We were brainstorming ideas for a variant on PUNK MAMBO #1, and the idea for the flocked cover hit me like a bolt of pink lightning. We'd been tossing around ideas like a leather jacket cover, or a having Flexi-disc bound in, and it came to me: SHE NEEDS FUZZY HAIR.

Flocked paper has a velvety, fuzzy texture. As a paper nerd, I'm super excited about this one. It's not every day you get to do something new in comics.
It's like Chaotic Dischord once said in their iconic 1984 track, Anarchy in Midtown Comics:
Went into Midtown Comics
To buy some Punk Mambo
A bloke came up and said "Hey, check out the velvety feel of this paper!"
What did he do? He said "Check out the velvety feel of this paper!"
How many times? 2 3 4!
Said Valiant Publisher Fred "Bad Boy" Pierce:
Valiant loves having fun and the flocked cover is just another in a never-ending series of surprises from us.
Never-ending is definitely an accurate way to describe the number of variants Valiant is producing for this book. Punk Mambo #1 hits stores in April. Some more info from the press release:
From celebrated writer Cullen Bunn (Venom) and badass artist Adam Gorham (Black Panther) comes the hilariously horrifying PUNK MAMBO, about a hard-living voodoo priestess who grew up in London, relocates to the Bayou, and becomes a mystical mercenary for hire. In her first-ever solo series, Punk Mambo investigates a series of abductions in the New Orleans Gutter Punk scene, stumbling upon a deadlier mystery that takes her to the haunted shores of Haiti.

PUNK MAMBO #1 debuts in comic shops on Wednesday, April 24th. Along with the flocked Punk Variant cover, PUNK MAMBO #1 features a main cover by Brereton and additional shelf covers by Zu Orzu (X-O MANOWAR) and Cris Delara (Aspen Visions: Fathom: Spinning Our Fate). A Pre-order Edition cover by Gorham and a blank cover are also available.

Retailers should note that they can obtain one copy of the PUNK MAMBO #1 Punk Variant for every qualifying order of 100 copies of PUNK MAMBO #1. There is no limit per store—100 copies ordered will net one Punk Variant, 200 will net two Punk Variants, and so forth. Final orders are due to Diamond Comics by Monday, April 1st. Details can be found on the Diamond Comics retailer website. For any questions, please contact Valiant's dedicated sales team at sales@valiantentertainment.com.

Fans wishing to obtain a PUNK MAMBO #1 Punk Variant should check with their local comic shop about availability.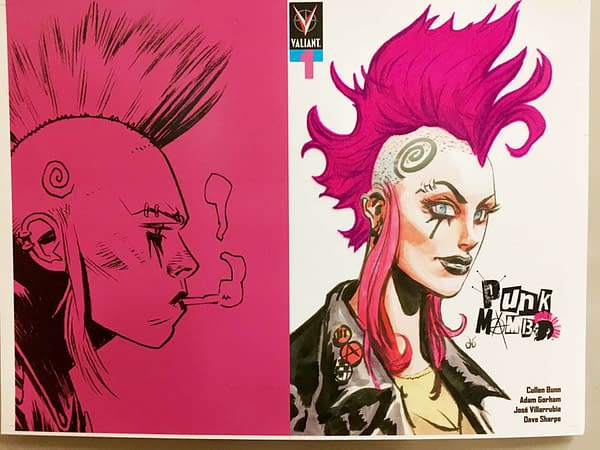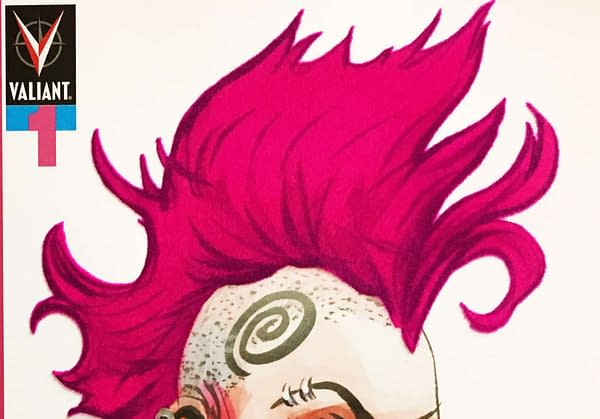 Enjoyed this article? Share it!