[rwp_box id="0"]
In 2001, Bruce Jones began writing The Incredible Hulk – and took the Hulk out. Instead we had a Bruce Banner, shocked to discover what may or may not have happened in his wake, travelling from diner to gas station in the great empty stretches of America with a series of artists, such as Mike Deodato and Lee Weeks who emphasised the mighty shadow that The Hulk had cast. Jones was inspired by those earliest issues of the Hulk by Lee and Kirby from the sixties and gave us a horror story, Return Of The Monster.
Well, Al Ewing has also been inspired by those early issues and has found a very similar execution, again, the empty stretches of road, with motels, gas stations and diners dotted across, small towns that serve the traveller and a place for terrible people to hide. With Joe Bennett, Ruy Jose and Paul Morris's dark pools of shadow to hide that multitude of sins. The tone is very similar to those Bruce Jones stories, slow, dark, tortured, though with more Hulk up front. And something of the Peter David line about Bruce Banner putting a gun in his mouth, firing, and someone else spitting the bullet out. This is a Hulk of nightmares, huge, blotting out the page, covering the moon that summons him from the grave. And a figure embodying revenge. He talks a complicated language, and he knows what you have done. He is the devil and your sins will find you out.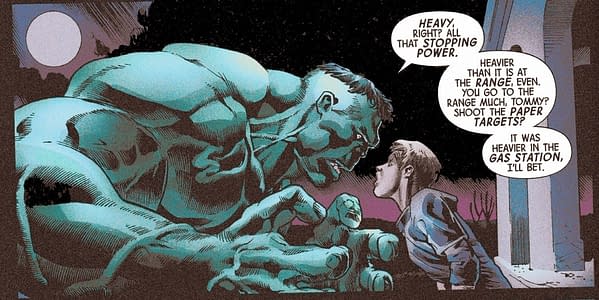 It is notable that the Hulk has followed Freudian psychoanalysis, with the multiple personalities of the Hulk reflecting the ego, superhero and id. But right from the beginning, Ewing is following a different model, Jungian psychology, which talks of the archetype of the Shadow, something that the Hulk fits rather well – though there are other Jungian aspects to his role as well, especially considering the power he brings to this comic.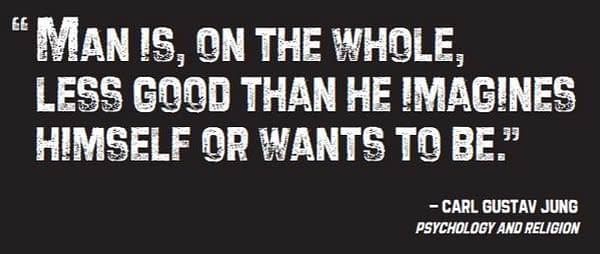 Here, the Shadow can survive the death of the individual – and even preserve it and heal it. It's all sorts of psychological subtext made green flesh and it's a grand start. I enjoyed the multiple personalities of the Bill Mantlo and Peter David runs immensely, as I did Bruce Jones haunting run. It looks as if Al Ewing and Joe Bennett's run as The Immortal Hulk is fit to join them…
Immortal Hulk #1 is published tomorrow by Marvel Comics.
IMMORTAL HULK #1
(W) Al Ewing (A) Joe Bennett (CA) Alex Ross
HORROR HAS A NAME.
You'd never notice the man. He doesn't like to be noticed. He's quiet. Calm. Never complains. If someone were to walk up and shoot him in the head… all he'd do is die.
Until night falls. And someone else gets up again.
The man's name is Banner.
The horror is THE IMMORTAL HULK.
Rated T+In Shops: Jun 06, 2018
SRP: $4.99
[rwp-review-ratings id="0"]
[rwp-review-form id="0"]
Enjoyed this article? Share it!