BAT Cons 2014 – Amazing Las Vegas Con Survival Plus Photogalleries
By B. Alex Thompson Vegas, baby!
Yes, only a few weeks after the Long Beach Comic Expo comes the Amazing Las Vegas Comic Con! No rest for the weary, convention season is definitely in full swing now! This was show #5 of 2014. ALVCC gains the honor of being my first Las Vegas show. How did this maiden voyage go? Let's jump right on in!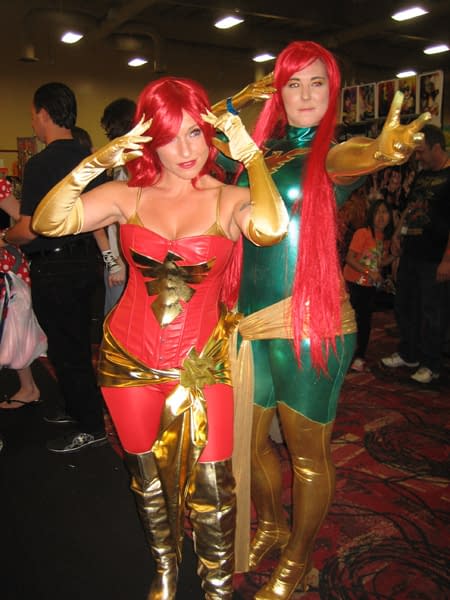 THURSDAY
Wanting to ease our way into the show, Denise and I came in a day early with plans to set up the booth and then enjoy the Vegas nightlife. ALVCC takes place within the South Point Hotel & Casino, so that's where we were staying for the weekend.
This is where disaster struck.
Most of the hotels we stay or visit have very good ventilation to draw out the cigarette smoke and/or decent ways around the highest polluted areas. Not here. We had to make our way through the thick of it all to make our way to check in. Then there was the long trek through the smog to make it to the hotel room.
Needless to say there was no enjoyment to be had Thursday night. Sick as a dog and oh, so miserable.
We hoped things would improve somehow Friday, but all seemed lost.
FRIDAY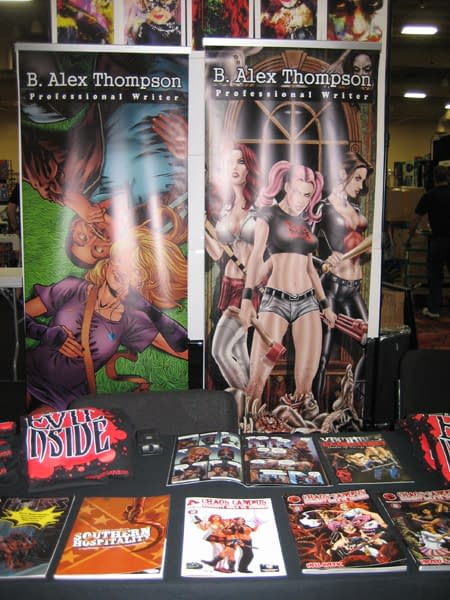 Up early-ish to set up (and still very green around the gills), I went up to grab my badges where I met the ever helpful Holly Jensen (ALVCC Director of Operations). Badges went without a hitch, so this seemed like a sign for better days to come.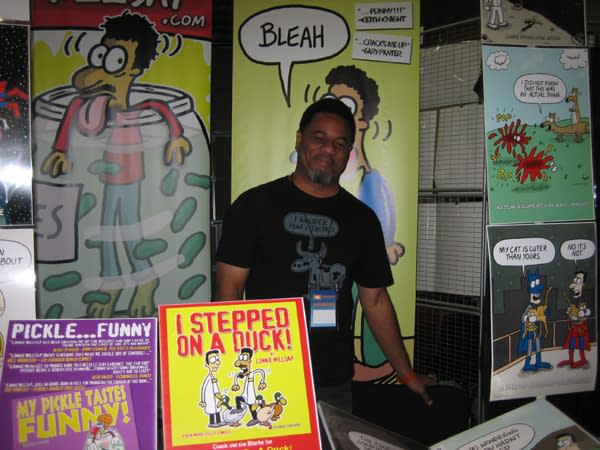 Inside the venue I ran into friend and cartoonist extraordinaire, Lonnie Millsap. We chatted a bit and he was able to direct me to where I could load everything in directly from the parking garage.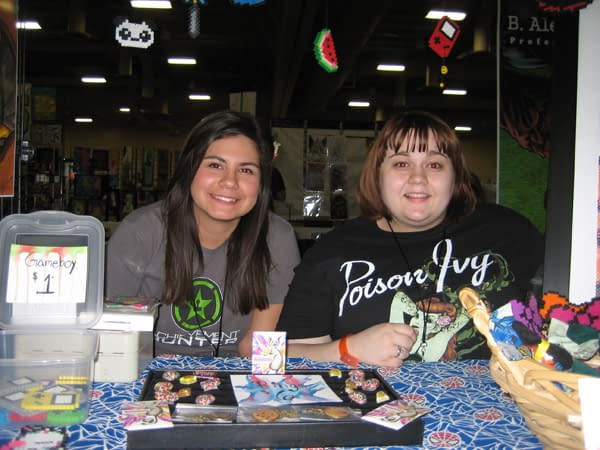 Denise and I were able to load everything in without too much hassle into our booth. Downside, the booth was in the very rear of the show. Upside, it was a corner booth. Unsure side, it was right across from a concession stand that may or may not open. From here we met our wonderful neighbors Ivette Zaragoza and Cayla Denney who were a delight.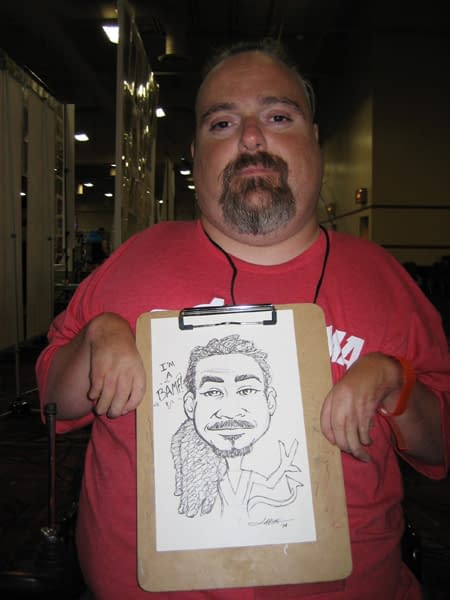 Before the show started I got a few moments to chat with friend and talented storyteller, Larime Taylor. He was going to do commission sketches during the show and he used my likeness as an example piece! Very cool!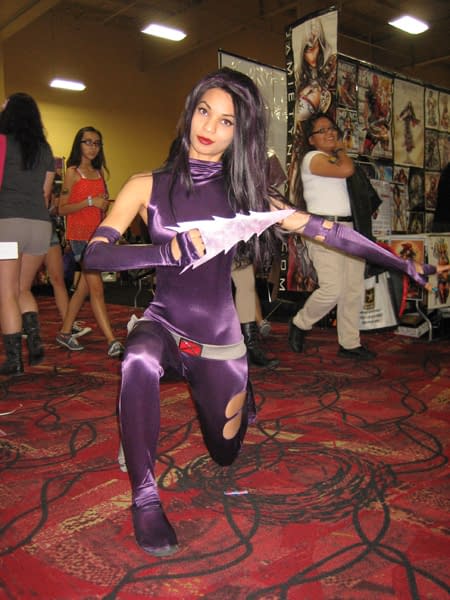 The concession stand did open up and most of the day there was a long line in the vertical aisle most of the day. Thankfully traffic was still able to maneuver through the horizontal aisle and we did okay for the first day of a show. Mostly we passed out promotional postcards to everyone just checking everything out and taking the first day of the show in.
Though we were starting to find alternate routes around the heavy polluted areas, a lot more recovery was needed. So another night in with Steak & Shake (one of the few places to get food far enough from the massive cloud of secondhand smoke).
SATURDAY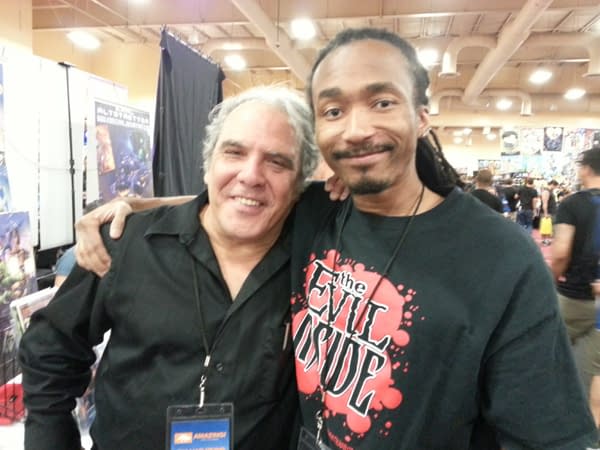 Saturday ended up being very busy. Early on I was able to shoot the breeze with the ever awesome Jim Valentino. He rarely does shows anymore, so I hope to make it to each of the few he attends. I always learn so much from the man each time we talk. On the way back to the booth I was able to give in to my weakness for heavily discounted TPBs and graphic novels.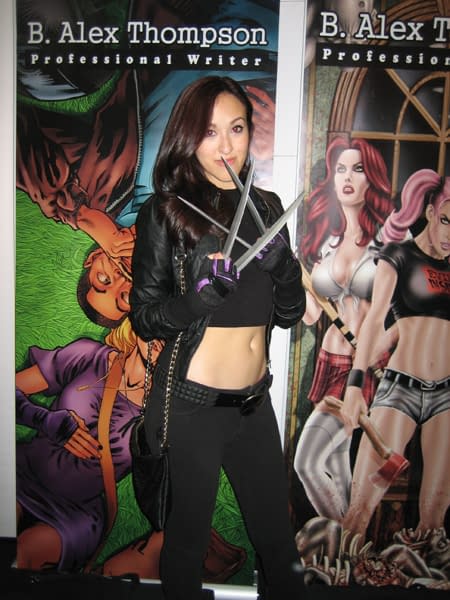 This day of the show brought in a lot of foot traffic and sales. Because of the large amount of people going and coming in all different directions, the line to the concession stand filed against the far wall as it should've been the whole time. Better late than never, right?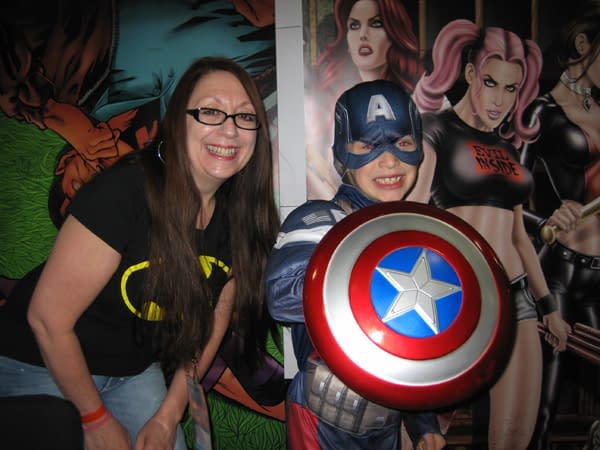 The only downside of the day was a cosplay contest at 6pm that took about 85% of the patrons from the show floor. It was pretty barren and during this time I was able to walk around and talk to more of the creators (Creators like Chris & Chrissy Callahan that go to as many shows as Denise and I do). A cosplay contest is a good idea, but not during the last hour of the show. Maybe it could've been done as an after show thing when the show floor closed?
By this night our alternate paths around the casino were paying off and we were recovered enough to actually enjoy our time outside of the safe smoke free confines of the convention floor and our hotel room. During the show we were invited out to see Evil Dead: The Musical, so we were determined to venture out to see that. After a few relaxing hours in the Jacuzzi we ventured out to the show (in line we ran into Andy & Chipp) and it was hysterical. It is highly recommended and probably a show we'll see every time we come to Vegas.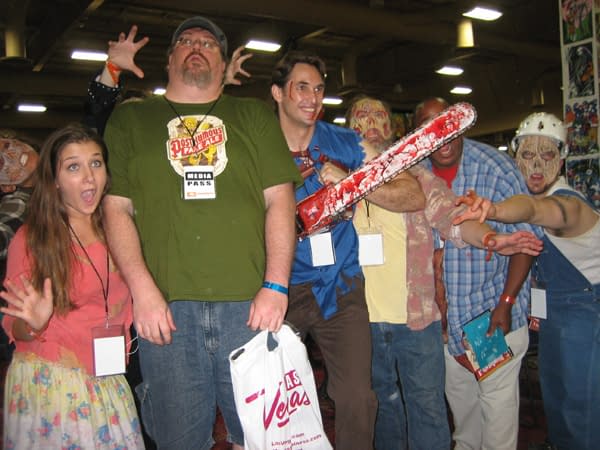 SUNDAY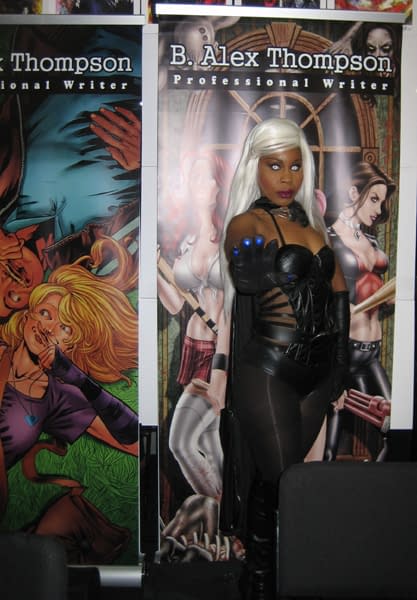 Like most shows, Sunday was very chill and laid back. This gave me room to check out more heavily discounted TPBs along with talking with old creator pals and meeting new cool people. People like Shannon Denton, Rachel & Dave, Terry Huddleston, Allen Carter, Marat Mychaels, Tone Rodriguez, Cynthia Vespia, & Ted Shambaris (make sure to check out their stuff and show some indy love their way, too).
I ended up making a few trades and sales before the day was done. Overall the Amazing Las Vegas Comic Con experience was a good one. Though there is a lot of room to grow, this show was very well prepared and brought in a very nice crowd eager to buy comics and enjoy themselves (especially Saturday). The only downsides I could find to the show were 1. The venue's layout and lack of ventilation for major sections of the lobby, 2. The slight snafu with the cosplay contest the last hour of the busiest day for venders, 3. Not controlling the concessions line Friday and Sunday to keep it out of the main aisles. Looking towards the future, it would be nice if the Artist Alley section could be placed in a more prime location. Again, people will find the larger vendors with more mainstream properties no matter where they are placed. The indie creators could use as much visibility as possible to gain new attention.
That said, I'm interested in returning next year. Los Angeles born and Midwest raised, B. Alex Thompson is a comic book writer, screenwriter, and letterer who has done work for Alias Enterprises, Approbation Comics, Arcana Studios, Lion Forge Comics, and Graphic Planet. Thompson is mostly known for his experimental humor/horror title Chaos Campus: Sorority Girls vs. Zombies which has over twenty-five issues released and more in the works. Discover more via www.AlexThompsonWriter.com and Tweet him directly @ApproBAT