By Dylan Gonzalez
Wine: Zinzilla
Winery: McNab Ridge Wine Company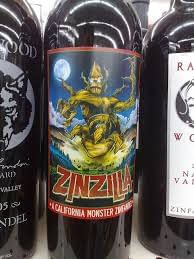 Breaking format a little bit here. Typically, Booze Geek is reserved for geek-themed beer, but today I am reviewing something different. Zinzilla immediately caught my eye, for a couple of reasons. The first thing was certainly the artwork. I mean, yes, it is very good and I love the name but…that is Groot right? A giant tree-monster (a grapevine monster?) emerging from the California dirt to wreck havoc on all inferior wineries? Yes, I think that is what that is.
Anyway, onto the wine itself. Zinzilla is a zinfandel and dark red in color. It produced scents of dark fruit, notably blackberry, raspberry and cherry. Flavor wise, I found the raspberry and blackberry characters most notable as well as some peppery spice and chocolate in the finish. It was very easy to drink and enjoy, though.
Overall, I really dug this wine, especially for the price I was buying it at.
What to Drink This To: While the name suggests a Godzilla movie, I just can't bring my eyes away from that Groot-looking thing on the label. So, I am going to recommend not Guardians of the Galaxy the film (I already did that), but rather Dan Abnett and Andy Lanning's epic run of the title (including the Annihilation series), which reintroduced Groot to the Marvel Universe as the heroic tree-man we all love him as.
Dylan Gonzalez happens to love beer and comic books and luckily found a place to write about both because he has no idea how to actually make money in the real world. He lives in a cave in New Jersey.
Tweet him at @BeardedPickle, follow his own beer blog at http://boozegeek.tumblr.com/or email him at dylan.gonzalez1990@gmail.com.
Enjoyed this article? Share it!