Fargo's Allison Tolman Moving to Hulu's 'Castle Rock' in Recurring Role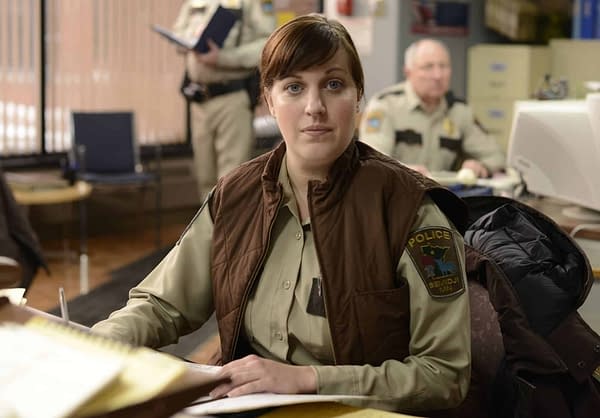 The population of Hulu's Castle Rock has grown by one more, with show creators/executive producers/writers Sam Shaw and Dustin Thomason revealing at Austin's ATX Television Festival that Fargo's Allison Tolman will have a recurring role as the sister to Melanie Lynskey's Molly Strand.
Spearheaded by J.J. Abrams, Stephen King, Shaw and Thomason, the series combines a number of King's works into a "shared universe" narrative based around the famed (and infamous) fictional town. Andre Holland, Bill Skarsgård, Sissy Spacek, Jane Levy, Scott Glenn, Terry O'Quinn and Chosen Jacobs also star in the ten-episode first season.
During an audience conversation following the screening of an exclusive clip at the festival, Thomason shared an interesting story about how Tolman's casting seems fated from the start:
"When Melanie was cast, there was a casting announcement and Allison saw the announcement and tweeted at Melanie and they did not know each other [at the time]. She tweeted at Melanie and said 'I'd love to play your sister.' But the weird thing was we knew she had a sister [Allison did not]. But as soon as she said that we thought Allison Tolman would be the perfect sister. It was a little creeping because we had just written the scene."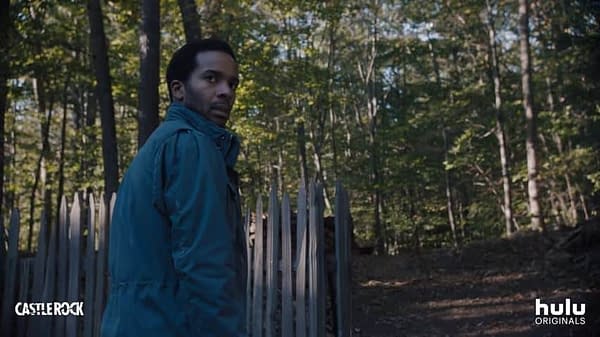 Here are some additional key points to keep in mind before next month's Castle Rock premiere on Hulu (thanks to the folks at Entertainment Weekly):
● At some point duirng the season finale, Holland's Henry Deaver will find himself rushing into the police station to…???
● Deaver's backstory: as a child, Henry was the sole suspect in his father's mysterious death – but with no memory of the incident, he fled Castle Rock after the townspeople turned on him. Now a death-row lawyer, Henry returns home after a mysterious inmate at Shawshank State Penitentiary (Skarsgård) whom he's never heard of before asks for him — and only him.
● Skarsgård's character — nicknamed "The Kid" — was discovered in a cage beneath Shawshank, and a long stretch in solitary confinement has left his sanity in question.
● Glenn's Sheriff Alan Pangborn is no longer Castle Rock's sheriff, but he's still a force to be reckoned with when it comes to protecting the people of Castle Rock.
https://youtu.be/H14tqKZYhgg
A psychological-horror series set in the Stephen King multiverse, Castle Rock combines the mythological scale and intimate character storytelling of King's best-loved works, weaving an epic saga of darkness and light, played out on a few square miles of Maine woodland. The fictional Maine town of Castle Rock has figured prominently in King's literary career: Cujo, The Dark Half, IT and Needful Things, as well as novella The Body and numerous short stories such as Rita Hayworth and The Shawshank Redemption are either set there or contain references to Castle Rock. Castle Rock is an original suspense/thriller — a first-of-its-kind reimagining that explores the themes and worlds uniting the entire King canon, while brushing up against some of his most iconic and beloved stories.

From J.J. Abrams' Bad Robot Productions (Star Wars: The Force Awakens, Lost), best-selling author Stephen King and executive producers/writers Sam Shaw and Dustin Thomason, Castle Rock stars André Holland (Moonlight), Melanie Lynskey (Togetherness), Bill Skarsgård (IT), Jane Levy (Suburgatory), Sissy Spacek (Carrie), Scott Glenn (The Right Stuff), Terry O'Quinn (Lost) and Chosen Jacobs (It).