Stephen Colbert, 'World's Best' Net Post-SuperBowl Spots; James Corden, Magum P.I. Post-AFC Championship
With the NFL's football season halfway over, the networks that own broadcast rights to the playoffs are putting together their post-game line-ups – and CBS is looking to highlight freshmen series and its late-night slate. Stephen Colbert's Late Show walks away the biggest winner, earning the coveted post-Super Bowl LII spot with a special episode on February 3. Colbert's show will air post-game after the premiere of the James Corden-hosted The World's Best and late local news.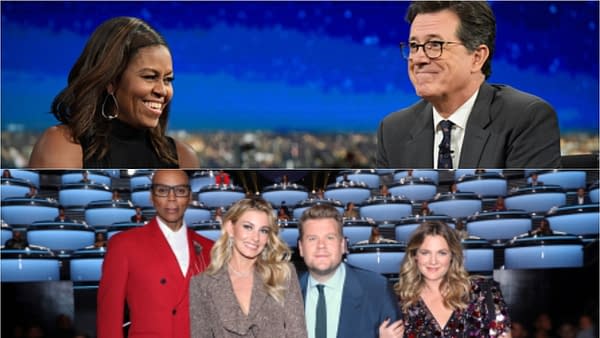 Speaking of Corden, his Late Late Show will air a special post-AFC Championship Game episode on Sunday, January 20. Corden's show will bow after a new episode of Magnum P.I. and late local news. Guest line-ups for both The Late Show and The Late Late Show are set to be announced closer to the respective games.
Reality competition series The World's Best is a global talent competition that features acts from every genre imaginable, from every corner of the planet. Contestants not only have to impress American judges, but also need to break through the "Wall of the World," featuring 50 of the world's most accomplished experts from every field of entertainment – with the winning act crowned The World's Best.
In addition to host Corden, the series features RuPaul Charles, Drew Barrymore, and Faith Hill as judges. Mike Darnell, Mark Burnett, James Corden, Ben Winston, Brooke Karzen, Dan Sacks, Alison Holloway, James Breen, and Barry Poznick will executive produce the series.
For some perspective on how important these timeslots are to networks, look no further than NBC. With the Super Bowl airing on the network last year, NBC aired a special post-game episode of hit drama series This Is Us. The airing would yield an an amazing 9.3 rating, with 27 million viewers total. Those ratings proved to be an increase of nearly 300% in the demographic, and an increase of nearly 200% in total viewers.