Deathstroke #11 Will Criticise Itself Over The Glamourisation Of Gun Violence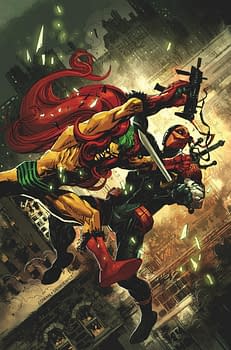 Bleeding Cool previously mentioned how Christopher Priest was to tackle the issue of gun violence at point blank range using the medium of DC Comics' most violent lead character, the assassin Deathstroke.
Bleeding Cool commentators at the time stated how this was the least appropriate character to do such a thing with. I thought it may be the most appropriate, if handled well. And Priest is one of the best in the business.
In tomorrow's Direct Currents magazine from DC Comics, it states that Deathstroke #11 by Priest, Milestone co-founder Denys Cowan and Bill Sienkiewicz will be telling the Chicago-set story, quoting Priest describing it as "an uncompromising gritty exploration of the culture of violence – which includes this publication."
Not so much biting the hand that feeds it, but placing the barrel up against the tonsils…
Catch up with the rest of our coverage of Direct Currents here.