Eastman And Laird's TMNT: The Last Ronin Comic Will Be an "Elseworlds-Type Story Set Sometime In The Future"
Two days ago, Bleeding Cool broke the news (or at least the inside cover page of Teenage Mutant Ninja Turtles #100) that showed TMNT creators Kevin Eastman and Peter Laird were returning to work on a new Teenage Mutant Ninja Turtles story. Called The Last Ronin, it will be published by IDW in the summer of 2020, with Turtles alumni Tom Waltz and Andy Kuhn.
But what is it? Well, The Last Ronin certainly reflects the samurai and ninja aspects of TMNT, and much of the original comic book was based on Frank Miller's Ronin for DC Comics. But on the Turtles fan boards The Technodrome, IDW and Turtles editor Bobby Curnow posted,
Not much I can say about Last Ronin at this time, but rest assured you will be hearing more about it in due time! I will say that it is an Elseworlds-type story set sometime in the future, not necessarily a part of any given continuity (but maybe it will turn out to be!)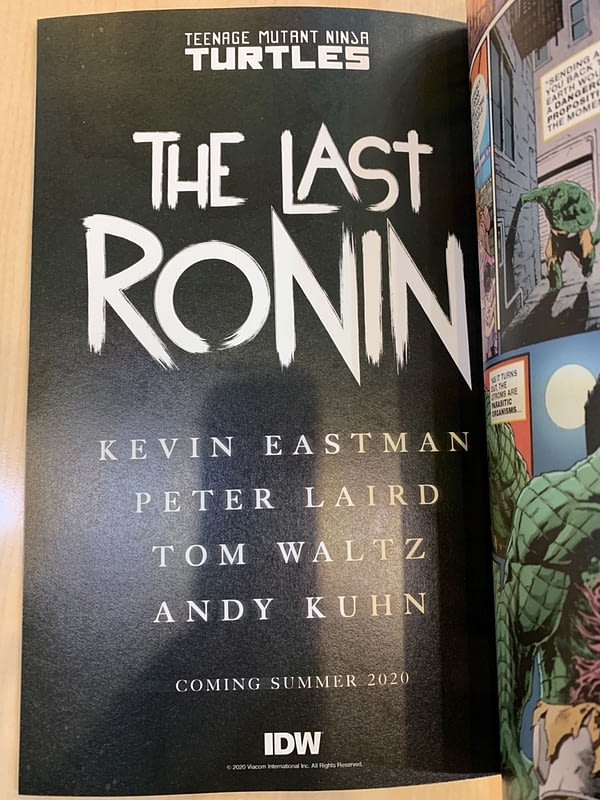 Will that do for now?