FREE: The Bulletproof Coffin #1 by David Hine and Shaky Kane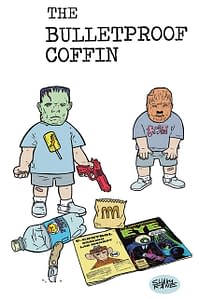 Earlier this month, Image Comics published The Bulletproof Coffin by David Hine and Shakey Kane, a much-heralded return to comics for the latter, with acclaim and an instant sell out.
With the second issue on the way from the pair, what better way to catch people up to speed than giving away that issue free, digitally? With a Flash Reader for added reading ease? Well folks, here it is.
And for those who spent their $3.99 – reader, comfort yourself with the knowledge that you have a genuine object of art!
This digitalness is mere ephemeral flim-flam after all.