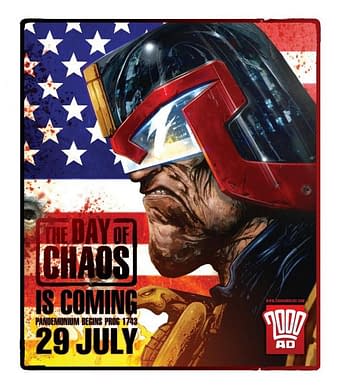 URLWatch: After yesterday's story about the malformed URL on the screencap at the end of the Green Lantern movie, DC have fixed it so that the URL now redirects to the page they wanted it to in the first place.
You're welcome.
MillarWatch: Mark Millar is looking for an "A List artist". And taking suggestions.
DreddWatch: Day Of Chaos is the new mega-series appearing in 2000AD by Dredd co-creator John Wagner with this teaser image by Clint Langley. It starts in the UK on the 29th of July and in US stores at the beginning of August.
FreeComicWatch: Starting today, June 16th, and until supplies run out at the theaters, everyone who purchases a ticket to see Green Lantern at Pacific Theatres in Winnetka 21 or Northridge Shopping Center will receive a limited Edition Green Lantern Secret Origin comic book, part of a limited run produced specially for Collector's Paradise. The comic book is branded with Collector's Paradise store information, and a coupon offer for a discount on DC Graphic Novels, to be redeemed at the Canoga Park and Pasadena stores.
TherapyWatch: How creating comic strips can help people deal with trauma.
CoverWatch: Two chances in New England to appear on the cover of Spider-Man #666 retailer editions. Larry's Comics are taking their store photo which will appear on their retailer variant on Wednesday June 22nd at 5pm. While Jetpack Comics are having theirs on Thursday June 23rd at 6.20pm.

PaulDVDPromoWatch: Simon Pegg and Nick Frost on their favourite comics.

This is Computo the Comic Link Conqueror speaking. I come for your women. But for now I merely collate comic-related bits and pieces online. One day I will rule. Until that day, read on.
They say I am a work in progress. The fools.
Human Torch's Killer Stops In Norfolk
Best local news headline for a store signing ever.
'Green Lantern' Easter Eggs: Five Things To Look For This Weekend!
here's a spoiler-free breakdown of five hidden (and not-so-hidden) things to look for when you check out "Green Lantern."
12 New Photos From Captain America: The First Avenger | Captain America | Movie & TV News | News | Marvel.com
It's your lucky day, Marvelites, because we've got 12 awesome new photos from "Captain America: The First Avenger" for you to celebrate the relaunch of the film's official site!
Riffing With Creators: 'Green Lantern' writer-producer GEOFF JOHNS waxes rhapsodic about Hollywood, Hal Jordan and his brightest days – Comic Riffs – The Washington Post
Johns has already finished his final Green Lantern book before the title is renumbered. He shares some details that Comic Riffs isn't at liberty to repeat, but suffice to say: Johns the storyteller, even in several sentences to describe this "last Lantern," beguiles with his soliloquy.
New Statesman – Alan Moore: "I've disproved the existence of death"
Then there's chapter 29, composed in the form of a stage play by Samuel Beckett, based around one of the times the playwright visited Northampton to take part in a cricket match. (I'm not making this up: the 1925 and 1926 matches appear in Wisden, which records that Beckett was "a useful, left-arm, medium-pace bowler".) While his team-mates took off in the evenings to patronise the city's pubs and prostitutes, Beckett decided instead to go on a "church crawl". It is this event that Moore is restaging.

Apart from these literary jeux d'esprit, the main thrust of the book explores Moore's belief that time doesn't work the way we think it does. "I've come to think that the universe is a four-dimensional site in which nothing is changing and nothing is moving. The only thing that is moving along the time axis is our consciousness. The past is still there, the future has always been here. Every moment that has existed or will ever exist is all part of this giant hyper-moment of space-time."
LX11: RoboCop Promo Art and Sales Sheet | Superhero Hype
We were handed some promo art and a sales sheet for MGM's RoboCop today at the Licensing International Expo in Las Vegas. The sales sheet says that the studio is targeting a 2013 release for the film, which will be directed by Jose Padilha.
Enjoyed this article? Share it!