Glorious SPX – Michael Kupperman and Sam Henderson Thrizzle and Whistle, But for How Long?
At Small Press Expo, Tim Hodler from The Comics Journal moderated a discussion between longtime friends Michael Kupperman (Tales Designed to Thrizzle) and Sam Henderson (The Magic Whistle) about their life and work, but Kupperman was late turning up to the show. Mark Twain filled in the gap by striding in white-suited and snowy-haired to liven up the audience and attempting to light up a massive cigar. For those who know Kupperman's recent book Mark Twain's Autobiography, the joke was apparent, and Kupperman's Twain voice was spot-on. As Henderson tried to dead-pan a discussion of his early work, Twain interjected with folksy, off-the-wall humor. "This hotel is a nice place, but the men's room smells like a toilet. Disgusting", he commented, then waxed philosophical: "Man is only different from the apes in that he walks upright, wears clothing, housing, transportation, scientific infrastructure…", at which point, he seemed to have lost his point. When he wasn't allowed to smoke his cigar in the auditorium, he assuaged his disappointment by indulging in a giant lollipop and then whipping free candy into the furthest seating areas, to applause. Kupperman's performance comedy yen is not only obvious but well-suited and it led to discussions later in the panel about the relationship between comics and stand-up.
While Henderson tried to describe his early career, producing mini comics since childhood, and his first issue of Magic Whistle at the age of 23, Kupperman-as-Twain launched into an impression over an impression, this time of Val Kilmer, with an eerily perfect Kilmer voice. A leather jacket over the white suit sufficed for costume.
Henderson too the reigns to show the audience a music video he helped storyboard and design for They Might Be Giants, "Flying V" from the kids' album, Here Come the ABCs.
Kupperman and Henderson had their shtick hammered out long ago, since they "came up together professionally in the 90's", and lived in the same neighborhood in Brooklyn. Both worked on Screw Magazine then, like many cartoonists in the area scraping a living together.
Kupperman's tendency to gradually unroll and provide hints about the significance of his jokes came to the fore when he showed the audience a film that his "alter ego made", the "Literary Musings with Mark Twain". The animated film was introduced by Kupperman-as-Twain before launching into animation of Mark Twain as an action hero, complete with white suit now James Bond-ish. "Books", said Twain, are "my favorite kind of garbage", and sifting through piles of trash, animated Twain proceeded to use trash piles as river-rafts to go on adventures.
When he finds Merlin hiding in a mysterious cave and the wizard only uses his powers to make Twain drop trousers, Twain comments, "Famous people are disappointing". Kupperman explained that the animation was purely an "experiment" for him artistically to see if he could make a cartoon on his computer without animation software, using only a sequence of images and Quicktime Pro. The results were obvious and distinctly Kupperman.
Both Kupperman and Henderson commented on the role of comedy in comics right now, and also, of course, on the financial struggle that comedic comic artists, particularly, deal with these days. Henderson said, "There's no money in comics. Artistically, comics are rewarding. Lucratively, animation's more rewarding". Henderson has his own animation Youtube Channel to post his work, and Kupperman's animated short made the audience wonder if he, too, would be delving further into animation.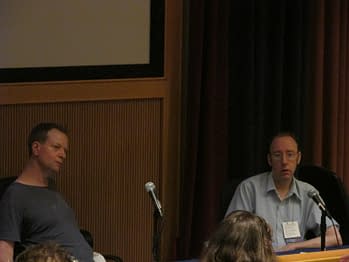 Hodler asked the two if comedy in comics is something that's essentially becoming eclipsed by other genres and Kupperman spoke frankly about the marketing aspects of comedy comics. "Right now, a lot of alternative comics are being aimed at librarians and educators", he said, "Humor is kind of out in the cold". But he also feels that prose humor books and humor films are also falling by the wayside right now in comparison to horror and fantasy genres which are making more money in comics, prose, and films right now.
An alternative for Kupperman seems to be looking toward the comedy community instead of the comics community for support. He says he has a "nice response from comics people" to his work, "but a really big response from comedy people". For both Kupperman and Henderson, these are people who read The Onion and watch The Daily Show, but may not be big time comics readers. Whichever audience the the two are hoping to engage, they've realized the value of social media and use Twitter, in particular, to try out and refine their jokes just like a stand up comedian might test out jokes in smaller venues.
Both Kupperman and Henderson have occasionally tried working in mainstream comics with strange results. When Kupperman worked for DC doing a Scooby Doo comic, he was told he couldn't use "Murderous Pete" as a villain's name because it was too extreme. Henderson, writing a Bizzarro story, was forbidden to use the word "dork" because it was "too geeky" despite the fact that Evan Dorkin, strangely, was also working on the comic.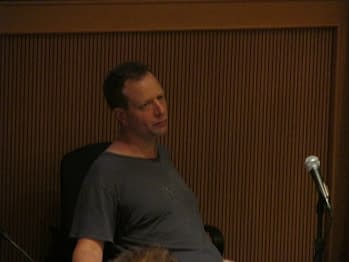 They also faced some misunderstanding from the arts community as students at The School of the Visual Arts in New York and struggled with finding their place. While Kupperman didn't turn to comics until a few years after his studies, Henderson was told that his work was "too stylized" by the comics department and the school of illustration said his work was "too cartoony", leaving comedy, as Kupperman said previously, "out in the cold".
It seems like a hard knock life for comedy in comics, and the final question for the panellists raised some interesting questions about their future plans. Hodler approached the question cautiously, asking if there would be more Tales Designed to Thrizzle from Kupperman in the long term. Surprisingly, he hesitated and explained that in the past he's done a lot of work for magazines, much of which was later anthologized in the "periodical comics" format for Thrizzle. But since he hasn't been doing magazine work in the same way recently, there is less to use in Thrizzle.
When Hodler asked more specifically if there would be more Thrizzle, Kupperman said he was looking toward "other projects" and would "see what happens". This sounds a little ominous for fans of the outrageous and highly entertaining mashup series.
Henderson, however, reassured the audience that he, for one, would be doing Magic Whistle, "until dead", and has no plans of abating his output.
Hannah Means-Shannon is senior New York Correspondent at Bleeding Cool, writes and blogs about comics for TRIP CITY and Sequart.org, and is currently working on books about Neil Gaiman and Alan Moore for Sequart. She is @hannahmenzies on Twitter and hannahmenziesblog on WordPress. Find her bio here.