Grandville Threequel To Be Called "Bete Noire"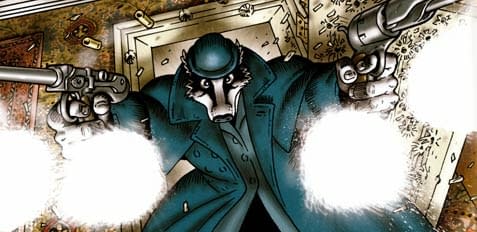 The first Grandville book, a steam punk romantic anthropormophic thriller, starring a badger halfway between Sherlock Holmes and James Bond, has been followed by Grandville Mon Amour, currently going through a "soft launch" and available in bookshops shortly.
But before most people get a chance to buy the second, Bryan Talbot has announced his third book in the series, Grandville Bête Noire.
The books are set in both England and France in a world where England was defeated in the Napoleonic Wars and is currently struggling with establishing its own independence, and is published by Jonathan Cape in the UK and Dark Horse Comics in the US.
As well as a French location in the books, Grandville was also the pen name of French caricaturist Jean Ignace Isadore Gérard who drew people as humanoid animal.
Bryan Talbot will be conducting a presentation of Grandville Mon Amour next Tuesday evening at the Coach House in Richmond-Upon-Thames.