'Harvey Birdman, Attorney General' Special Occupies Adult Swim This Fall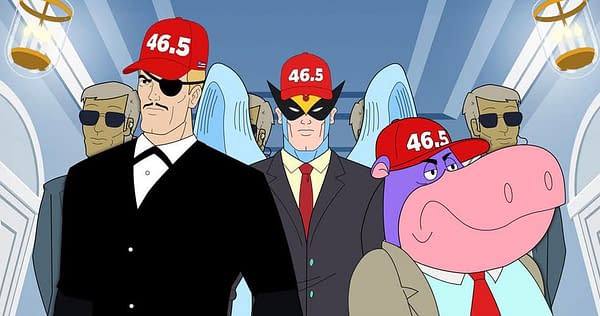 Some are born to greatness; others have greatness thrust upon them. And then there's Harvey Birdman, Attorney at Law, who appears to have spent the past decade stumbling his way into greatness — and back onto Adult Swim — with Harvey Birdman, Attorney General, a new half-hour animated special debuting this fall. Original series co-creators Erik Richter and Michael Ouweleen will serve as executive producers, alongside Richard Ferguson-Hull and Evan Adler, Deadline Hollywood reports.
"This is a great day for our country and for no one else." – Erik Richter
Harvey Birdman, Attorney General features Gary Cole reprising his role as the voice the titular hero; and Stephen Colbert returning to voice megalomaniac billionaire, Sebben & Sebben law firm co-founder and now President Phil Ken Sebben. President Sebben announces Birdman as the country's next Attorney General — seems like a smart move, right? Except it turns out that in his new role, Birdman must find a way to remove President Sebben from office before everyone starts to worry that it might just be more than the ridiculous plot to an animated show.
Joining Cole and Colbert on Harvey Birdman, Attorney General are John Michael Higgins as Mentok the Mindtaker; Paget Brewster as Birdgirl; Chris Edgerly as Peter Potamus; Peter MacNicol as X the Eliminator; and Phil LaMarr as Black Vulcan.
Airing four seasons from 2000-2007, Harvey Birdman, Attorney at Law recast the superhero from the short-lived Hanna-Barbera animated series Birdman and the Galaxy Trio as a lawyer who works with, against and alongside other 1960s and '70s cartoon characters.
In a 2006 interview with The A.V. Club, Colbert jokingly explained why Sebben is the animated character he identifies with the most:
"He's a high-status person who's actually kind of a fraud. Very fearful and insecure and vengeful to anyone who will question his authority. It's much like working for me."