IDW To Continue UK Transformers Continuity By Simon Furman And Andrew Wildman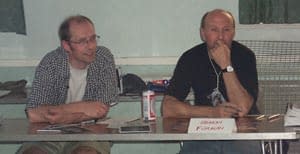 You can only go to so many panels at San Diego Comic Con. I've already written how I was the only comics reporter to cover new of the Uglies manga, because I was in the panel before the DCU panel, setting up.
So I missed the IDW Transformers panel. Where Simon Furman announced that, after fan pressure, IDW were to publish a continuance of the Marvel Transformers continuity that he ended up as the principle writer for, critically acclaimed and lauded over any other Transformers comics writing before of after.
This style was created when Transformers was a hit weekly British comic and having used up all the US material available to them, created their own stories.Dark, gritty, political, this Transformers was a different beat to the brighter colours, snazzier American counterparts. Writer Simon Furman was then picked up by the US Marvel series to write it in a similar style from issue 56, and brought in aspects of UK continuity until it finished with issue 80.
And through Dreamwave, through IDW, there has been pressure to bring back that version of that comic with IDW recently reprinting it.
And now, after fan pressure, it's going to continue, with writer Simon Furman and artist Andrew Wildman at the helm. There will be an issue 10.5 to catch new readers up, then issue #81 will be published next year, running to at least issue 100.
I have some old drinking friends who are going to very happy as a result of this news. In fact, I'll be in the pub with Furman later tonight (after quite literally currying favour with Si Spurrier) and although he's swearing himself to secrecy, I'll see if I can get something out of him…