By Julz Hendricks
I am head over heels in love with The Empty #1, out this past week from Image. Not only is is a fast read, but it ends on a cliff hanger so you will have to hold your breath until issue 2 comes out. Genius!
Tanoor the main character has been risking her life to provide untainted meat that has been poisoned by "The Roots". Tanoor seems to be the only one concerned that soon everything will be tainted, thus the end of human life. Her prayers are answered when a mysterious creature is floating in the water. Tanoor retrieves her, and after a little coaxing. communicates with her, showing her kindness. She has some questions for the stranger named Lila, as she wonders where she could have possibly came from. Lila remembers that she was cast away from her world, and where she is from everything is green. Each person has a job, and Lila was a common farmer. Tanoor is convinced that Lila can get rid of the toxic roots, after she made a tree bloom fruit with her bracelet. They make a plan to journey to the roots, but on the way Blan, the head honcho cuts down the bridge they are crossing, and Lila, and Tanoor are stuck with the Mools. Hideous creatures that look like they don't leave any morsels behind after dining.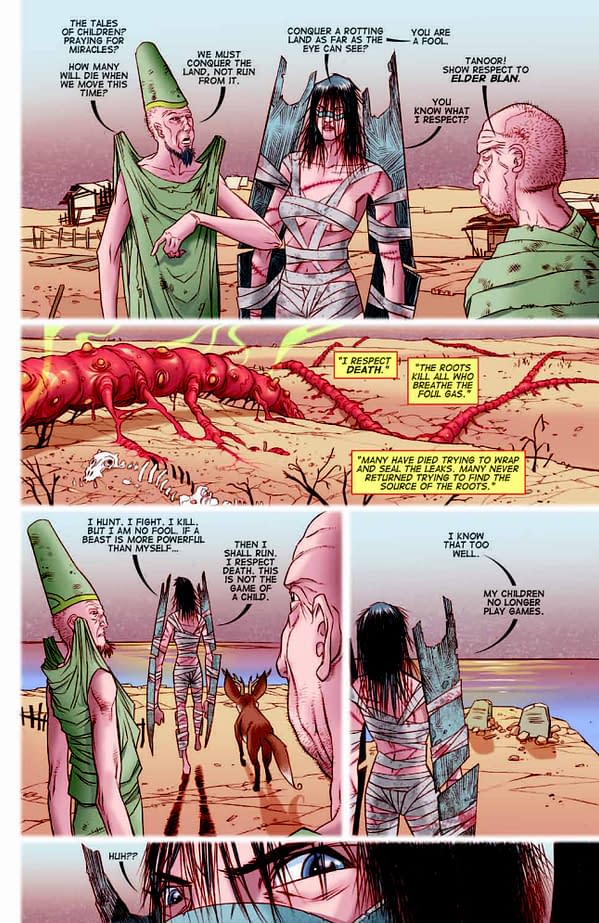 Jimmie Robinson not only wrote this awe-inspiring comic, but he colored, lettered and illustrated it. That in itself is an amazing feat. The story grabs your attention right from the beginning. It's also interesting to note the similarities between the characters. As Lila and Tanoor became outcasts at the end of this comic from Tanoor's world, Lila was already ostracized from her people. We are not sure the reason why Lila was, but I'm looking forward to the story behind it. I'm also happy that Tanoor is fierce, but kind. She's smart, and loyal as long as you are not trying to cross her. She has an interesting look to her. She is all bandaged up, and she has blades, like winged weapons attached to her arms, for hunting I assume. It's very practical construction, as it can also double as shields. She is not clothed, but the bandages cover her. Also, Lila is drawn so beautifully. Like an angel…which is kind of what she is. She has a long neck, and a kind innocent face. I am really interested and invested to see how these two are going to fare along with the monsters. Lila doesn't strike me as someone who has ever fought. She may surprise me though. One of my favorite visual aspects of this comic are the wide angled panels with silhouette figures.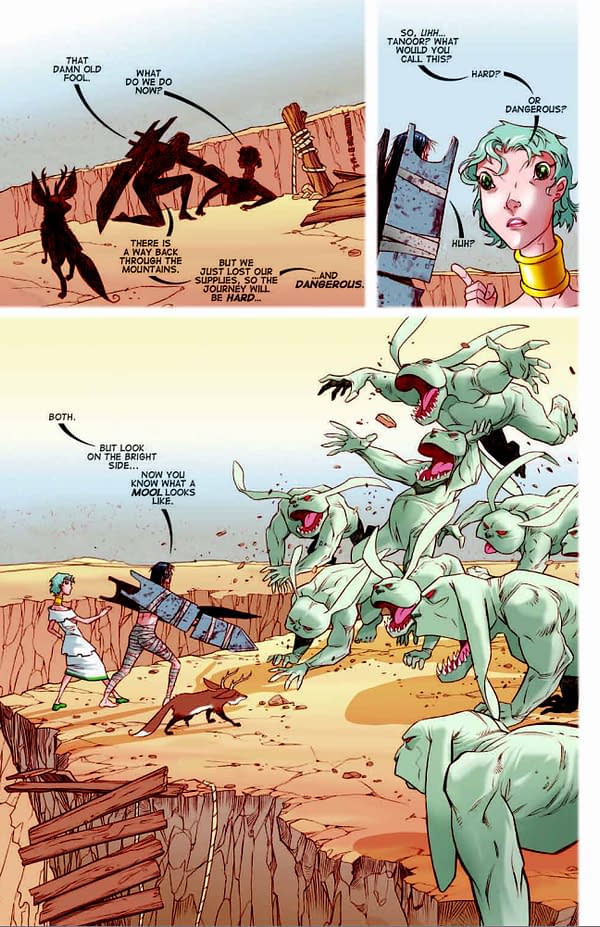 It's definitely a comic that I had no idea I needed, but I'm sure glad I checked it out. Robinson is extremely talented, and I truly appreciate all the work he has put into this comic, as it is then passed on to the reader leaving a lasting imprint.
Julz Hendricks is a co-host of the all female podcast Chickcast, as well as the We Be Geeks podcast (www.webegeeks.net)She is a huge advocate of kids' comics but reads a lot of different titles. You can find her on Twitter as @JulzHendricks.
Enjoyed this article? Share it!