Remember When Jesus Appeared in Comic Books and FOX News Never Made a Fuss?
Jesus is a Marvel Comics character and ties in with Marvel continuity. You can check it.
The Star Of Bethlehem that signalled his birth was either the Yazdi Gem in Tomb Of Dracula or the destruction of Asgard going through the cycle of Ragnarok in Thor. From the end of one set of gods to the birth of another. It was also seen as a star that foretold major events across the universe in Marvel Comics Presents, followed by aliens who also posed as the Magi. Marvel characters the Sphinx and the first vampire Varnae also knew Jesus.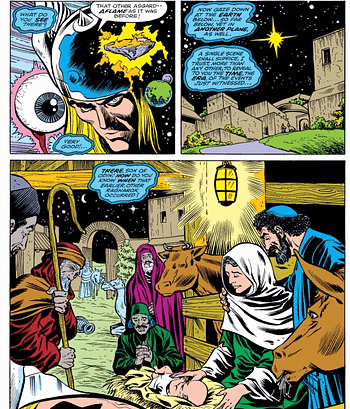 Artefacts he left behind also affected Marvel characters, the Spear Of Destiny wielded by Nazi in World War II was the spear used to kill Jesus by a Roman soldier, the Holy Grail turns up and Doctor Doom has splinters of the cross that crucified Jesus in his armour, to fight vampires with.
In Marvel Two-In-One, Miracle Man recreated the birth of Jesus Christ to raise himself to godhood and had to be defeated by Ghost Rider and the Thing.
While in Ghost Rider's own title, Mephisto manipulated Ghost Rider, creating a character called 'A Friend' who was believed to be Jesus. Originally that's who he was meant to be but the story was rewritten by Marvel executives.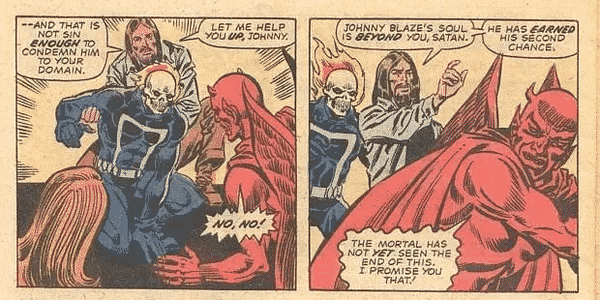 Oh and in Howard The Duck, God uses to drink as three entities in Job's Place bar in hell, and Jesus was left with Howard to pay the bill.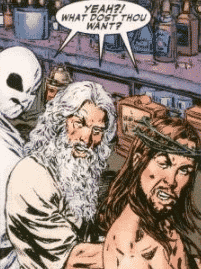 None of these appearances caused any outrage.
Over at DC Comics, one of the origins of the Phantom Stranger was that he was a man whose family was killed during the Massacre of the Innocents, and that caused him to harbour serious hatred against Jesus, and that he took the place of the Roman soldier, to kill Jesus on the cross. At other times, he would be revealed as Judas.
In Doctor Fate, we learnt that the vampire named Azzarene drank Christ's blood while he was on the cross
The religious Batman Azrael was involved in a story that disproved Christ's resurrection, with the Shroud of Turin proving he didn't die on the cross using DNA information and the Catholic Church guarding this secret for years, to protect their legacy and control the masses.
Though the new Phantom Stranger origin as Judas confirmed that Jesus died and was resurrected. The robe that Jesus wore was acquired by Judas, which transformed him into the Phantom Stranger.
DC also had the Spear Of Destiny used by Hitler and Nazis, with Hitler using a magical ritual to taint the weapon, corrupting any who wielded it to his greed and powerlust. Decades later, President Bill Clinton ordered Superman to confront the Spectre with it, but that tainted Superman and had a vision, which Superman rejected, of him taking over the world. The Spectre bound the Spear inside a rocky boulder with the ashes of Vlatava and cast it into Earth orbit. Captain Marvel would retrieve it to fight against the Day of Judgement, rogue angel Asmodel and the Spectre, as Hal Jordan become the new host for the Spectre and cast the Spear back into space. Later Crispus Allen as the Spectre wielding the Spear came to judge Renee Montoya, The Question. Reclaiming the Spear, the Radiant heals Huntress, but cannot heal the Question until it is purified of its taint, something that can only be accomplished by using it to heal a soul rather than destroying it. The Question does this by using the Spear to resurrect Jake Allen, the son of the Spectre's human host. The Spectre then uses the Spear's power to change the world to what it was.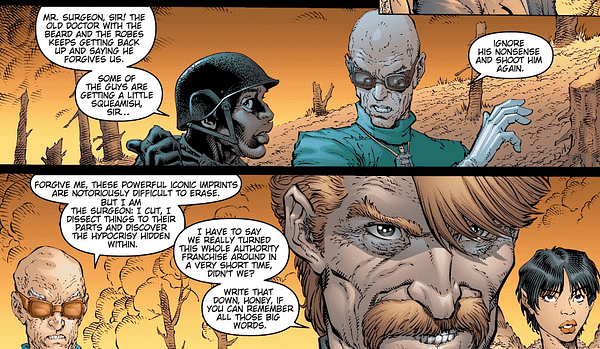 In The Authority, Jesus was also one of the "Doctors," an ancient legacy of shamans whose power was passed down through the ages.
In Hellblazer, Jesus is portrayed as the product of the rape of Mary by the angel Gabriel. Writer Garth Ennis would take a lot of these ideas when writing Preacher, which has Jesus not die, but drugged by his followers into a coma state while being crucified. After 3 days, he "resurrected" and took a wife called Mary, whom he had several children with. In order to preserve the divine lineage, the founders of The Grail hid the children in a secret place in the desert and allowed them to breed only with each other keeping their bloodline pure and inbred, giving us Preacher character Humperdoo.
None of this was published with any fuss. The only notable fuss was with Swamp Thing, a Rick Veitch storyline that had seen Swamp Thing travelling through time as part of his new power base, emerging at all manner of important historical points. One of which would have seen him manifest as the cross of Crucifixion, and would see Jesus, written as a White Wizard, aware of what Swamp Thing was and what he would be.
This story, approved at DC was then rejected by its President/Publisher Paul Levitz in mid-creation, causing Veitch to quit the title and creators who planned to take over the book such as Neil Gaiman, choose not to. It became quite a cause celebre at the time, but only within the comics industry.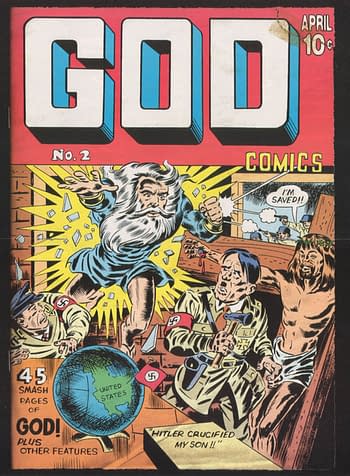 Erik Larsen had Jesus appear in Savage Dragon but only as an aside in God Comics, without anyone really noticing… even as he had a sweary God fight Satan.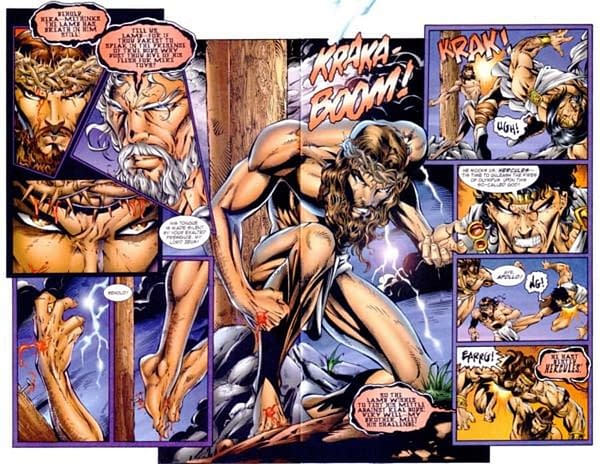 Rob Liefeld wrote Avengelyne/Glory which had Jesus Christ fight Greek gods…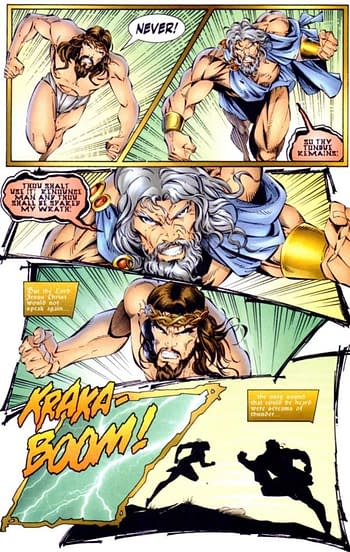 …and would later promise a comic, Zombie Jesus, that never came to fruition…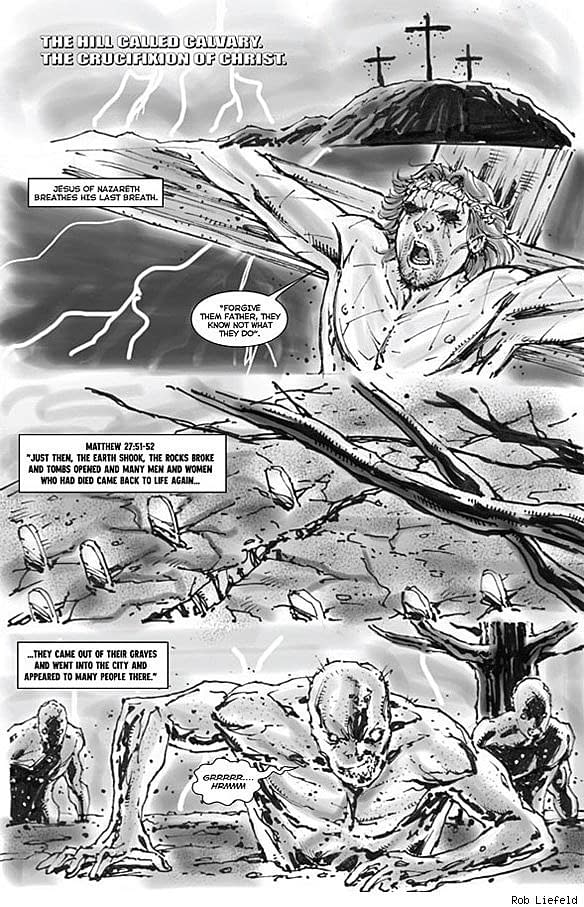 It was a theme picked up by Alterna Comics' as well Jesus Hates Zombies – which also span off Lincoln Hates Werewolves…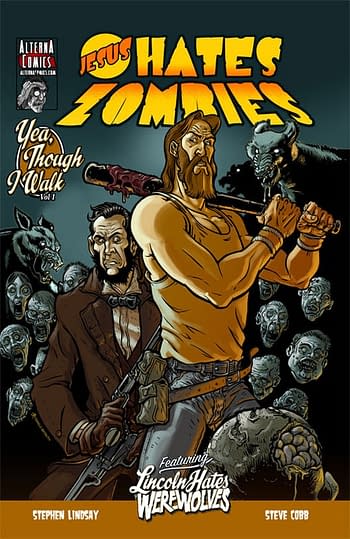 While Robert Kirkman and Tony Moore, creators of The Walking Dead, gave us Battle Pope, with Jesus as a Pope sidekick…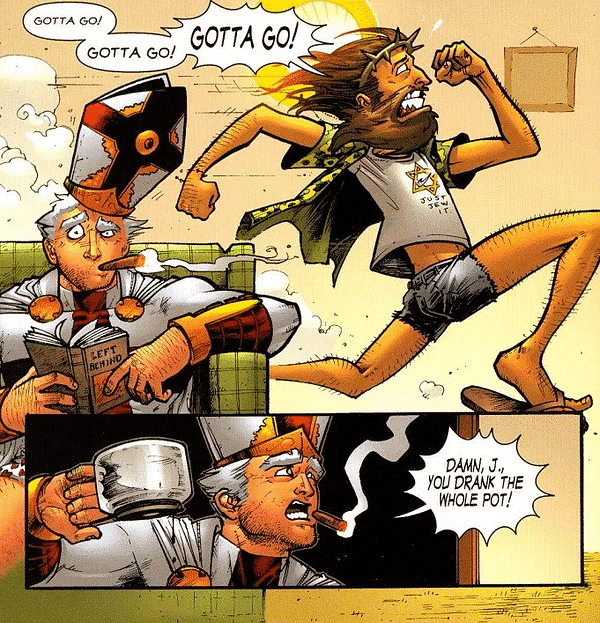 Garth Ennis and Jacen Burrows created Chronicles Of Wormwood with a returned Jesus making friends with the titular demon. It all got rather involved.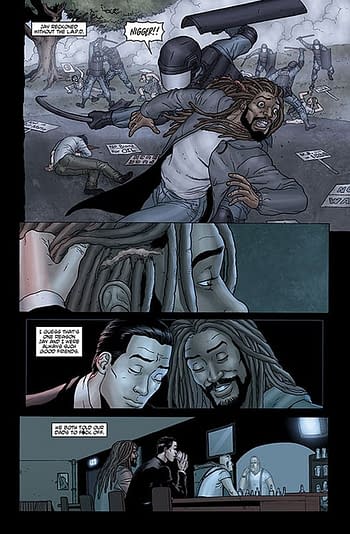 Before Axe Cop, Ethan Nicolle created Jesus Christ: In The Name Of The Gun, which sees Jesus killing the world after it has repeatedly messed up…
And Loaded Bible by Hack/Slash's Tim Seeley create a clone of Jesus to fight vampires with a big sword..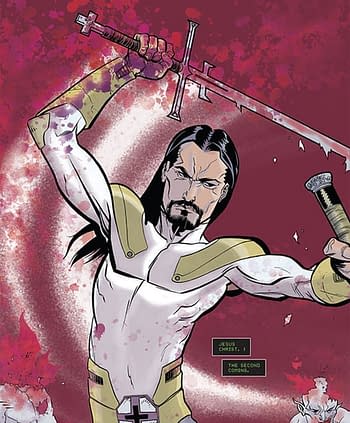 Saint Young Men is the famous manga that has Jesus on vacation in Tokyo, sharing an apartment with Buddha.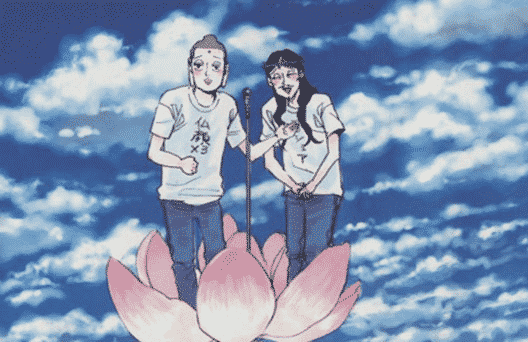 Supply Side Jesus by Senator Al Franken and Don Simpson gave us a free-market led Jesus….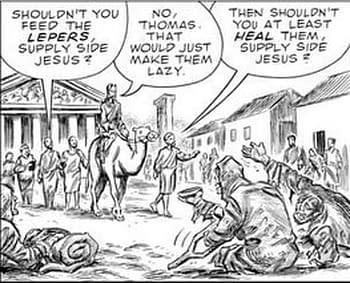 Punk Rock Jesus by Sean Gordon Murphy a few years ago managed to avoid any controversy, despite doing its best. It saw a clone of Jesus made with DNA from the Shroud of Turin, raised on an island with his entire life dictated and televised and viewed by nearly the entire world. Faced with these stresses the young Jesus ultimately becomes a rebellious punk rocker. And in The Savage Sword Of Jesus Christ written by Grant Morrison for Heavy Metal Magazine, he took on a Conan look…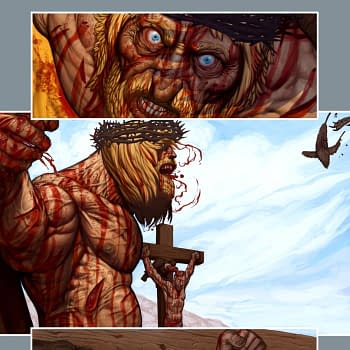 It took Second Coming, a light satire with Jesus returning to Earth and rooming with a Superman-analogue to get any fuss and Bleeding Cool followed the trail as to how that happened. As a result, with a risk-averse DC Comics in the shadow of the fuss over Batman: Damned, the comic would have had to have so many edits made it it, was dropped by DC and has now been picked up by Ahoy Comics.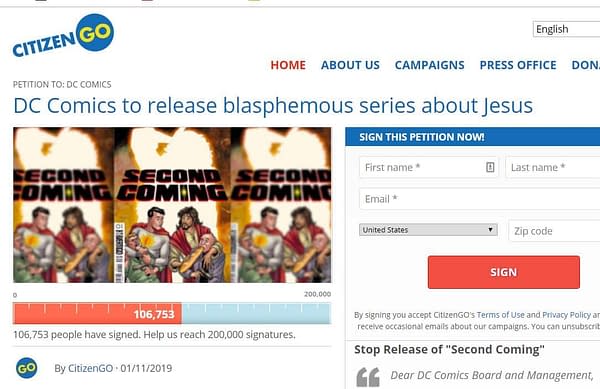 And now we have Jesusfreak coming from Image Comics which FOX News recently tried to seize on in a similar fashion to Second Coming to try and get the same amount of outrage.
While over a quarter of a million people signed the petition against DC's Second Coming, they have only managed to get a few thousand for what is ostensibly a far more 'offensive' comic, with Jesus as a mass murderer.
But it's not like any of the other comics over the decades actually got any fuss… this is not new. But maybe the news can treat it like it is, every time from now on?
Jesusfreak will be published by Image Comics on Wednesday.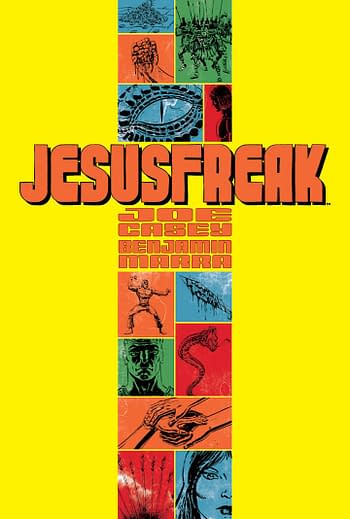 JESUSFREAK HC
(W) Joe Casey (A/CA) Benjamin Marra
The year is 26 C.E. A young Nazarean carpenter is having some trouble adjusting to the violent world around him-and finding his place within it. He knows he's different, but he doesn't know why. Not yet, anyway. A bloody, two-fisted tale of historical heroic fiction brought to you by JOE CASEY (SEX, BUTCHER BAKER, THE RIGHTEOUS MAKER, MCMLXXV) and BENJAMIN MARRA (Night Business, Terror Assaulter: O.M.W.O.T.).
In Shops: Mar 20, 2019
SRP: $17.99