Mac's Books Reviewed – Hushers: A Very Victorian Apocalypse & The Mysterious Mustafa Khan No. 2
By Olly MacNamee
A monthly review spotlighting the best titles the industry has to offer. Well, has to offer me anyway. Other comic-book titles are available. Hushers: A Very Victorian Apocalypse (Markosia)
Writer: Andy Winter
Artist: Manuela Bassu Lebrino
This may well be a very Victorian apocalypse, as Earth is threatened by impending doom at the hands of a rogue comet, Asterea, but the overall plot lends from the more contemporary spy-thriller genre and to great success. Transplanting the tropes of a good James Bond story onto early Victorian era England, what writer Andy Winters and artist Manuela Bassu Lebrino delivers is a fast-paced, action-packed thrill a minute as quaint, genteel Sarah Buckman, our hero, is caught up in a conspiracy not of her making, all the while growing and developing into a strong willed independent woman railing against the sexist standards of the Victorian norm. Women should be seen and not heard is not a philosophy Sarah has much truck with by the end of this graphic novel as she grows into herself. A forerunner of the Suffragettes before there was such a thing. There are the gadgets – or rather the utilization of Victorian technology – so, rather than an Aston Martin, the resistant forces led by the charismatic and charming Frenchman known merely as Jaques, have a hot air balloon, as the action escalates as Jaques and his band of anarchists, the Lambeth Rats, attempt to reveal the truth to an unsuspecting public. And, at a time when even our own governments seem to embody all that is bad about the megalomaniacs that make up Bond's own rogues gallery, it is not too surprising to find that the big bad of Hushers is the elite, the powerful, the greedy who try to control the ideological discourse of the day, surprising the undeniable truth of an impending apocalypse as they prepare their own salvation and sod the rest of us. The 'Bobbies' of this England are genetically modified 'Identicals' that are obedient to Queen and Country too literally. Sound familiar of modern political machinations?
The artwork, all water painted over pencils by Lebrino, is delicate, defined and appropriate for a story of skullduggery and deception set in 1848 England. The attention to period detail, especially in the backgrounds, is stunning and helps to define a believable world of rural tranquility contrasting with the hustle and bustle of London's busy streets.
James Bond, or should that be Jane Bond, meets The League of Extra-Ordinary Gentlemen wouldn't be too far off the mark, and that's a compliment. What Winters and Lebrino deliver is a period drama offering up a strong female lead fighting quite literally against a society that would rather she keep quiet and stay at home. Something she simply won't accept. As a bonus at the end of the book, hidden behind the sketchbook and notes that reveal to readers the gestation and development of this graphic novel, is a little extra strip, The Comeback Kid, written by Winter and illustrated by Jim Lavery, which is a delight to read and a completely different kind of strip to the main feature. It imagines a world in which Dracula has been taken to the cleaners. He is down and out and looking for a big comeback gig, offering up such gems as "Vlad Men", 'about an advertising agency with a twist….' to which an unimpressed agent knowingly adds, 'Is the twist that they're all vampires?' A great extra treat to sink your teeth into. A humorous strip to round off a well-presented, satisfying package that is out now.
Available now directly from Markosia, or ask at your local comic book store. They can always order a copy in, I'm sure.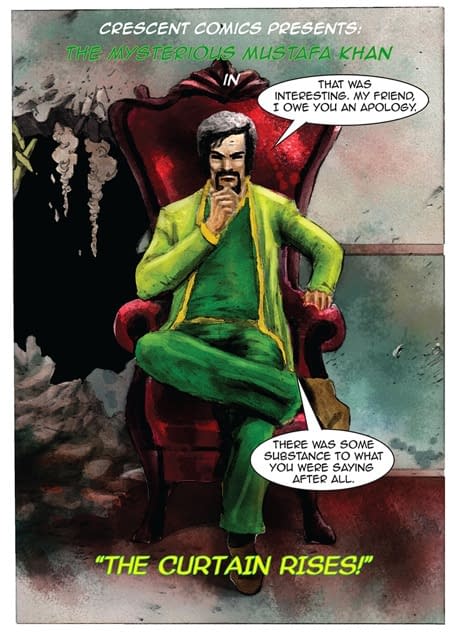 The Mysterious Mustafa Khan No. 2 (Crescent Comics)
Writer: Abdul Qadim Haqq, Abdul Rashid and Rick Wade
Artists: Leonardo Gondim and Abdul Qadim Haqq
After Bleeding Cool's recent coverage of possibly the most racist comic available at the moment, Pig Man, it's good to be able to readdress the balance and shine our spotlight onto a relatively new publisher coming out of Detroit, Michigan; Crescent Comics who offer a pantheon of superpower Islamic centric superheroes from the mind of Abdullah Qadim Haqq. His mission statement is simple: to offer comic book readers from all backgrounds a, 'positive counter narrative to the ever growing negative sentiment towards Muslims, particularly portrayed by the media and elsewhere from people who are driven in spreading Islamophobia.
'We put our heads together and decided that something had to be done, realizing that it was our duty to try to inspire people to listen to an alternative narrative through our passion of art. It was out of this belief that Crescent Comics was born and our vision of introducing people to a new generation of Muslim superheroes that will inspire, entertain and bring enlightenment to those that choose to listen to a universal message of peace.' The Mysterious Mustafa Kahn is one such character. A mystical sorcerer supreme of sorts, Khan has just survived an assassination attempt by an evil Djinn as issue 2 opens and looks quite calm about it, all things considered. I imagine this sort of thing happens to him a lot. Surrounded by his kick-ass harem of wives and assistants, including the powerhouse known as Jihad, the story unfolds in this issue to reveal that Khan may very well be older than his looks would suggest, he may well have been fighting the forces of darkness for some time. His wives are anything but quiet and are themselves a fighting force of female who share a mystical connection with their husband, Khan.
As implied, this is not too far removed from Dr Strange, but in mining the rich and varied tapestry of both Islamic literary heritage and beyond (before the Q'uran there were the 1,001 Nights) there are vast differences. After all, Dr Strange is just another archetype when boiled down. Khan is no different; he's cut from the same cloth. And besides, if you are setting to establish a new superhero universe based on an exotic culture and history that does embrace the magical, the mystical and the Middle East then of course it's going to reflect these elements. After all, Marvel's captain Britain was at its best, I felt, when it embraced the Arthurian legends of Britain. Nothing wrong with a bit of cultural appropriation if done right and, The Mysterious Mustafa Khan does it well with the growing threat of a djinn army growing through the issue to be an all too real threat to our reality.
This is but one title offered by Crescent Comics, and I suggest you look on their website for further information about their growing stable of characters.
That's my recommendations for this month.
Be seeing you.
Olly MacNamee teaches English and Media, for his sins, in a school somewhere in Birmingham. Some days, even he doesn't know where it is. Follow him on twitter @ollymacnamee or read about his exploits at olly.macnamee@blogspot.co.uk. Or don't. You can also read his articles fairly frequently at www.bleedingcool.com too.