Renegade Commits To Five Years Of Dept. Of Monsterology Graphic Novels Renegade are collecting the four issue series of The Dept Of Monsterology, along with the prologue that appeared in USA Today and Judge Dredd Megazine, as well as a new 22 page strip called 'The Trouble with Harry' that will also be available digitally as a single issue. Expect the book and the digital single on October 8th. But that's not all.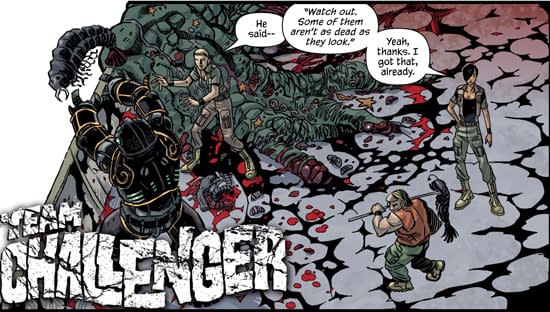 Renegade have committed to publishing five years worth of Dept. Of Monsterology graphic novels additional with at least a 128 graphic novel release each year. Gordon Rennie tells us "Dept of Monsterology was always envisaged to be be a sprawling beast of a thing, sprouting tentacles and field teams of characters in all directions, so the news that we've got five years of time to colonise and consume is great news. There's no shortage of monsters out there, so no shortage of stories."
Artist PJ Holden joins in the love "I'm amazingly happy to say that Dept of Monsterology has a long term future with Renegade Arts. Over the next five years we're going to be taking readers to the depths of the ocean, the ends of the earth and the farthest edges of the universe and finding out exactly what scary beasties lurk there. Frankly I can't wait to start drawing them all."