Name Nemesis – The Mark Millar Auction Kicks Up A Gear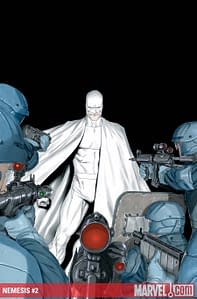 The auction to name the hero character in Mark Millar and Steve McNiven's upcoming Marvel comic book Nemesis went for $8400 to art director Blake Morrow, helping to fund Mark Millar's brother's attemps to buy a bus for disabled children he works with.
Well now the main character in the book, the villain, the what-if-Batman-was-the-Joker, Nemesis is also up for grabs to complete that purchase.
Already over $500, this three day eBay auction using Dynamic Forces's account will see the winner gain infamy and destroy their vanity Google searches foever.
And if Mark Millar's hints about the kind of people who want to make a Nemesis movie come to fruition, just like Dave Lizewski on Kick Ass, it could be an even bigger change than that.
Okay I'm going to bid. There, I've bid. $1000. Bargain if I get it…
UPDATE: I have been outbid at $1500.