Numbercrunching Marvel June 2011 Solicitations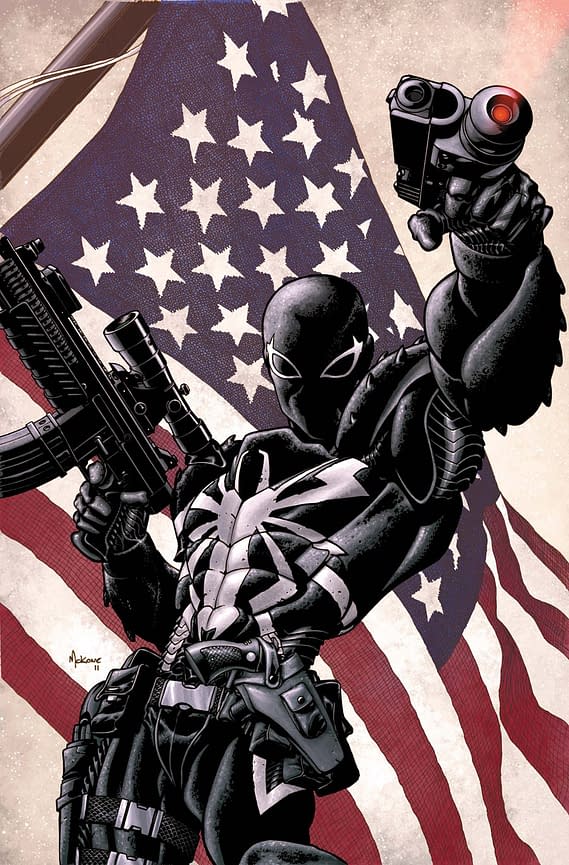 Here's the numbercrunching headlines, based on Marvel Comics solicitation information for June, for their Marvel character comics, including Marvel Universe, Marvel Adventures and Ultimate lines. Licensed, creator owned and separate imprints are not counted.
Marvel is sticking at an average of 13.7 cents a page, this month again just better value than DC .
As with DC, an increase in books is down to this being a five week month. However it's a big jump back up to December levels – this winnowing of books that was promised has just not happened.
However the price point has shifted considerably, even from last month, with the 22 page $2.99 book becoming standard it seems and the 22 page $3.99 book being the exception. The Fear Itself spinoff books take this price point, which helps.
The cancellation of Spider-Girl is, sadly, the latest in a series of All Ages books that have bit the dust at Marvel. These kind of entry point books are essential for young readers, especially the young childrfen of comic book readers like myself, and right now DC is clearning the floor. It Marvel don't want the next generation of comic readers to be DC readers, this is where it starts.
On with the numbercrunching!
June: 91 comics – 52 at $2.99 (22 pages of story), 28 at $3.99 (22 pages of story) 7 at $3.99 (30 pages of story), 2 at $4.99 (40 pages of story), 1 at $4.99 (54 pages of story) and 1 at $5.99 (48 pages of story).

Complete cost: $316.09 for 2152 pages of story (14.6 cents a page)
December: 93 comics – 20 titles at $2.99 (22 pages of story), 55 $3.99 (22 pages of story), 16 titles at $3.99 (30 pages of story). 2 comics $4.99 (44 pages of story)

Complete cost: $353.07 for 2218 pages of story (15.9 cents a page)

January: 75 comics – 28 at $2.99 (22 pages of story), 38 at $3.99 (22 pages), 8 at $3.99 (30 pages) 1 at $4.99 (44 pages)

Complete cost: $273.25 for 1736 pages of story (15.7 cents a page)

February: 72 comics – 37 at $2.99 (22 pages of story), 26 at $3.99 (22 pages), 9 at $3.99 (30 pages) 1 at $4.99 (70 pages)

Complete cost: $255.27 for 1726 pages of story (14.8 cents a page)

March: 87 comics – 44 at $2.99 (22 pages of story), 28 at $3.99 (22 pages), 13 at $3.99 (30 pages) 1 at $3.99 (38 pages), 1 at $4.99 (90 pages)

Complete cost: $304.13 for 2101 pages of story ( 14.5 cents a page)

April: 71 comics – 34 at $2.99 (22 pages of story), 23 at $3.99 (22 pages of story) 8 at $3.99 (30 pages of story), 2 at $3.99 (38 pages of story), 1 at $3.99 (46 pages of story), 2 at $4.99 (38 pages of story) and 1 at $4.99 (46 pages of story).

Complete cost: $258.27 for 1782 pages of story (14.5 cents a page)

May: 69 comics – 37 at $2.99 (22 pages of story), 18 at $3.99 (22 pages of story) 9 at $3.99 (30 pages of story), 2 at $3.99 (38 pages of story), 1 at $4.99 (30 pages of story), 1 at $4.99 (38 pages of story) and 1 at $7.99 (66 pages of story).

Complete cost: $244.31 for 1690 pages of story (14.5 cents a page)