Ike Perlmutter Under Spotlight Over VA Role in Trump's Administration
ProPublica has published an article looking at the activities of Marvel chair Ike Perlmutter as an advisor to the Department of Veteran Affairs.
---
ProPublica has published an article looking at the activities of Marvel chair Ike Perlmutter as an advisor to the Department of Veteran Affairs, alongside two other members of Donald Trump's Mar-a-Lago club whom Ike drafted in, lawyer Marc Sherman and doctor Bruce Moskowitz. None of them have served in the US army, though Perlmutter is an Israeli veteran.
Bleeding Cool has been mentioning for a while now that Perlmutter, along with his wife Laura, was one of Trump's largest donors during the presidential campaign. Laura worked on Trump's Inauguration Committee, and Ike became involved with Veteran Affairs at the White House almost immediately. As a result, he sacrificed his long-held photographic anonymity and appeared in venues where he would be publicly seen and identified for the first time. The ProPublica piece goes into much greater detail, looking at how the Mar-a-Lago Three have been shadowing the activities of the department and have been taking on policy decisions, hiring and firing, micromanaging, and keeping in contact at all levels — like CEOs demanding results. It states that their advice is interpreted as direct orders by the department, and presentations to the President have to go through them first. It appears that what began with an attempt to provide private healthcare for veterans — Perlmutter makes significant donations towards cancer treatments, and Moskowitz specialises in finding the top healthcare specialist for any ailment — has now grown far beyond that.
The article states that such is the influence granted to them by Ike Perlmutter that VA staffers have to fly out to Florida to consult with them.
However, in a statement to ProPublica, Perlmutter, Sherman, and Moskowitz said:
"At all times, we offered our help and advice on a voluntary basis, seeking nothing at all in return. While we were always willing to share our thoughts, we did not make or implement any type of policy, possess any authority over agency decisions, or direct government officials to take any actions… To the extent anyone thought our role was anything other than that, we don't believe it was the result of anything we said or did."
Meanwhile, White House spokeswoman Lindsay Walters says that the three "have no direct influence over the Department of Veterans Affairs."
However, the article reports otherwise, stating that they…
"… spoke with VA officials daily, the documents show, reviewing all manner of policy and personnel decisions. They prodded the VA to start new programs, and officials travelled to Mar-a-Lago at taxpayer expense to hear their views."
… and quoting a former VA official as saying:
"On any veterans issue, the first person the president calls is Ike."
The piece also alleges the three cause issues by not following government procedural guidelines and by taking measures that might benefit them individually financially — something that is also denied by representatives of the three, who say:
"None of us has gained any financial benefit from this volunteer effort, nor was that ever a consideration for us."
One case is highlighted: Karen Donnelly, whom Bleeding Cool readers may recall manages the tennis courts in the Palm Beach private community where Perlmutter lives. She was also the subject of billionaire Harold Peerenboom's attempt to see her replaced, which started the war between Perlmutter and Peerenboom that is playing itself out in the courts with allegations of slanderous smear campaigns, DNA theft, FBI-recovered hate mail kits, and Marvel Comics employees drafted in.
The piece states that Karen asked Ike to help her son access his military medical records, and Ike put pressure on his compatriots to do so — even though it would have been a Department of Defense matter.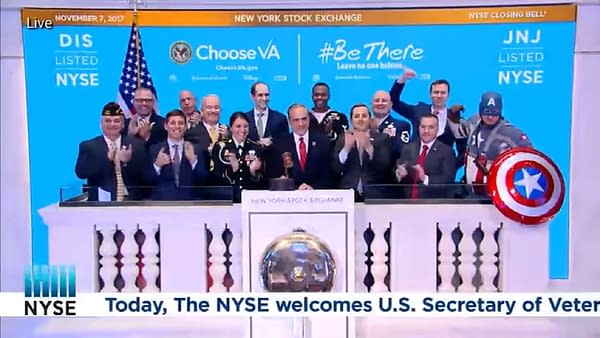 And then there was the public awareness campaign about veteran suicide, promoted by ringing the closing bell at the New York Stock Exchange around the time of Veterans Day.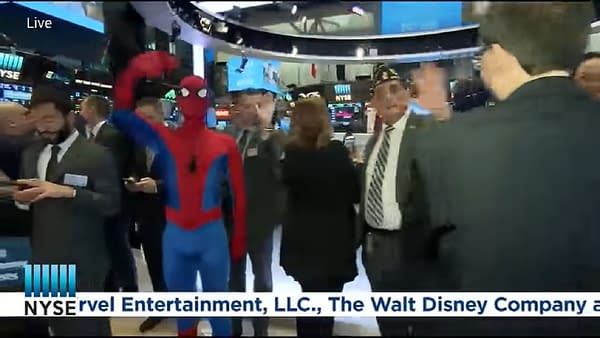 This was attended by Marvel and Disney execs, with actors in Captain America and Spider-Man costumes hired for the event and Marvel promotional material handed to attendees.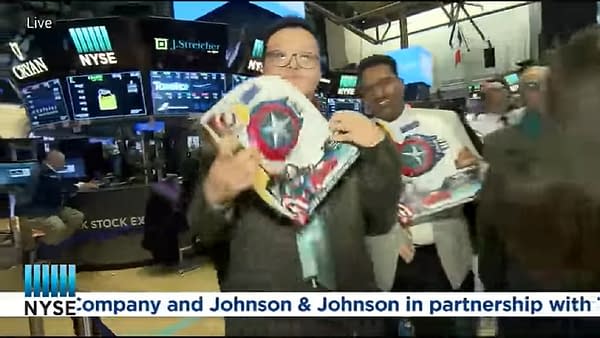 The link between Perlmutter, Marvel, and the campaign looked a little too obvious for some, given the nature of the campaign.
We can expect more scrutiny in months to come.