Peter David Vs. Nick Barrucci Vs. Daniel Herman Over The Rights To Phantom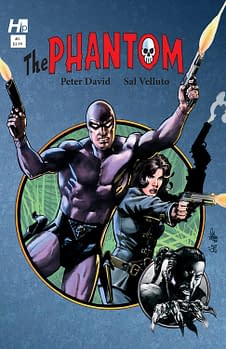 Hermes Press has just launched a new comic book featuring The Phantom, written by Peter David. Dynamite are also publishing comics featuring The Phantom with the new Kings crossover series launching in January.
On his Facebook page while promoting his version of The Phantom, Peter David was asked,
I'd ask how Hermes Press can have the license when Dynamite also has the Phantom license but then I realize it's King Features Syndicate, and they'll license their characters out to DC and Marvel at the same time if they thought they could get away with it and collect the money.
David answered,
Evan, Dynamite doesn't actually have the license. It's expired. They're just ignoring the law and doing it anyway.
Well, Dynamite publisher Nick Barrucci told me,
Our policy is to not respond to these matters in public, but Peter is a wonderful talent of whom I have great respect and wish to clear this up, including giving out wrong information and accusing us of ignoring the law. Again, Peter is a wonderful talent, but is misinformed. We have a wonderful relationship with King Features and also have the licenses for Flash Gordon, Mandrake, Prince Valiant, Jungle Jim and more to be announced. In regards to The Phantom, our current license for The Phantom licensee in solo books runs through December 31st 2014. King Features expressed to us how passionate of a fan that Dan [Daniel Herman, publisher of Hermes – Rich] was for The Phantom, and we were swayed by this, and were fine to arrange for a different agreement following our expiration on December 31st of this year. As an aside, I thought that the Hermes series was launching in 2015 after our current license expired, but chalked it up to a miscommunication so never brought it up. Following that our upcoming license beginning January 1st is to have The Phantom in cross-overs. The Kings event has The Phantom in a major event cross-over, and Mandrake and others appear in his series. While it's disappointing to be accused of such in public without all of the info, Peter is a passionate and talented creator and these things happen. I have a lot of respect for Peter and look forward to his series.
I contacted David in case he wanted to clarify things. He told me.
I have been informed by Hermes that Nick's book is called The Phantom and is in violation of the license.
So, time to talk to Hermes Press. Daniel Herman told me,
I've had an opportunity to read over Dynamites's comments regarding its Phantom series. They are not entirely consistent with the facts as have been related by King Features Syndicate to Hermes Press. I would suggest that rather than depending on representations from Dynamite you check your information with the Vice President of North American Licensing for King. As for Hermes Press gaining the license to produce stand alone Phantom comics, it was our understanding that no other company including Dynamite would be able to produce stand alone Phantom stories in the North American market. I would also point out that Dynamite's license was not renewed for reasons other than those stated by Mr. Burucci. Indeed, it would be most useful to have Dynamite's position reviewed by King Features Syndicate. As a responsible journalist, and having been a professional journalist myself, I think it is incumbent on you to get the actual facts in this matter rather than "versions" of the facts. I would, accordingly recommend that you contact King Features in New York. If necessary I can provide you with contact information. I would also point out that never has Hermes Press been contacted by Dynamite prior to or after its announcement that it would be releasing a Phantom #1. At no time did Dynamite ask for clarification of our license despite that fact that in May we announced our new license with publicity art, and premiered portions of the new book at the San Diego Comic-con in July 2014. Our announcement was covered all over the comics press. There was heavy press coverage of our announcement in May as well as the announcement that we would release our book in October/2014. We were approached by writers associated with Dynamite to work on this project, but we already had a team assembled. So it seems unlikely that Dynamite was unaware of what we were doing.
And while I have spoken on the phone and e-mail to representative of King Features, over several days, I have yet to receive any usable response, though I am told they are considering one. Hopefully I will get that response soon…