In the back of today's Spawn #305 – which sees Todd McFarlane and Jason Shawn Alexander working on the same Spawn pages in some places – Todd says goodbye to Jason, as he is off to pastures Killadelphia. And welcoming Philip Tan to the series, with some preview pencil cover art by Tan. Which I have chosen to overexpose so you can get a better look at whoever this new character is. Here's the images, alongside the solicits for each issue.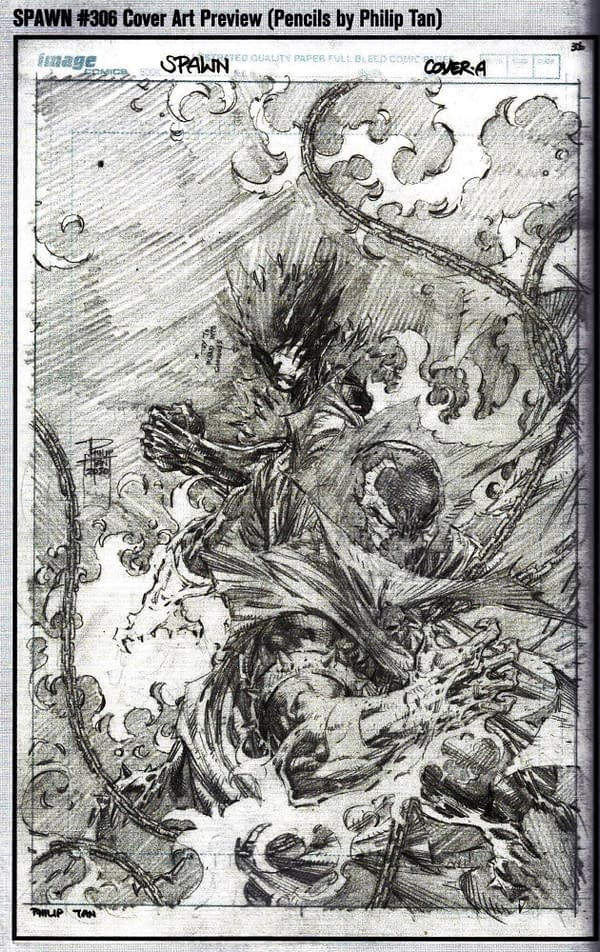 SPAWN #306 CVR A TAN & MCFARLANE
(W) Todd McFarlane (CA) Todd McFarlane (A/CA) Philip Tan
NEW STORY ARC!
Fan-favorite artist PHILIP TAN returns to illustrate a dark vision of the future!
"PROPHECY OF DEATH," Part One-The future is full of terrors, all unleashed by Al Simmons! A strange new threat unravels as the origin of the all-new Ninja Spawn begins.In Shops: Mar 18, 2020
Final Orders Due: Feb 24, 2020
SRP: $2.99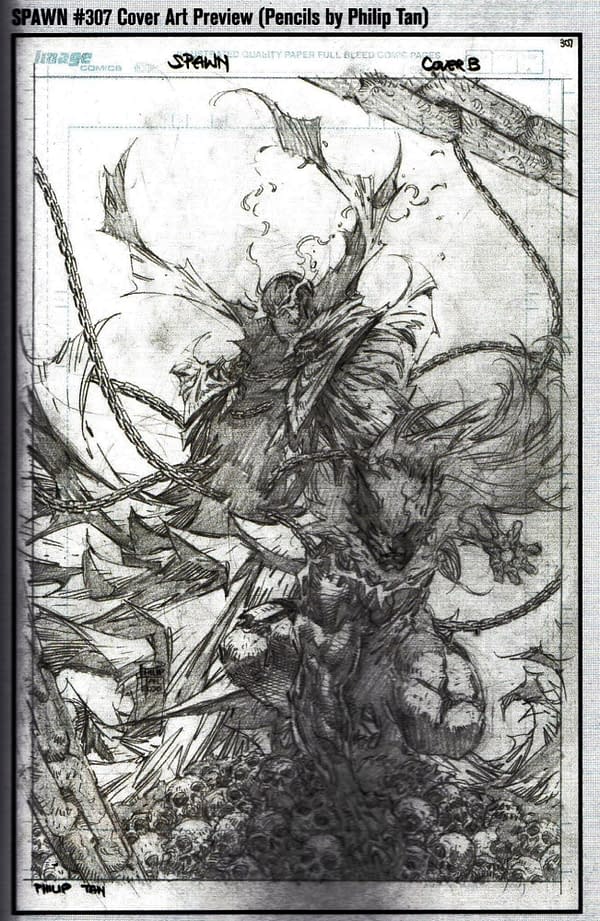 SPAWN #307 CVR A MCFARLANE
(W) Todd McFarlane (A) Philip Tan (CA) Todd McFarlane
"PROPHECY OF DEATH," Part Two: SPAWN like you've never seen it before! Fan-favorite artist PHILIP TAN and SPAWN creator TODD McFARLANE explore an epic tomorrow. The ramifications of Spawn's war with Heaven and Hell have created a nightmare future…
A future that threatens to destroy everything Al Simmons has fought to defend.In Shops: Apr 15, 2020 SRP: $2.99
Must be an interesting discussion with your hairdresser to get that look.
SPAWN #305 CVR A MATTINA
(W) Todd McFarlane (A) Jason Shawn Alexander, Todd McFarlane (CA) Francesco Mattina
END OF STORY ARC "HELL HUNT," Part Four. Jessica Priest struggles with her new powers. Eddie Frank fights against the influence of the Redeemer. And Spawn has a final showdown with Medieval Spawn that will alter the course of the war between Heaven and Hell. With this gripping story arc finale, featuring a special 5-page bonus comic drawn by TODD McFARLANE, the hunt is on, and a new era of SPAWN has begun!In Shops: Feb 19, 2020 SRP: $2.99
Yeah, that's not exactly what happened in Spawn #305, out today from Image Comics… I bought mine from Piranha Comics in Kingston-Upon-Thames. Piranha Comics is a small south London comic store chain with a small south-east store in Kingston-Upon Thames's market centre, which runs Magic The Gathering nights on Fridays, and a larger south-west store in Bromley, which also runs Magic nights and has an extensive back issue collection and online store. If you are in the neighbourhood, check them out.
Enjoyed this article? Share it!