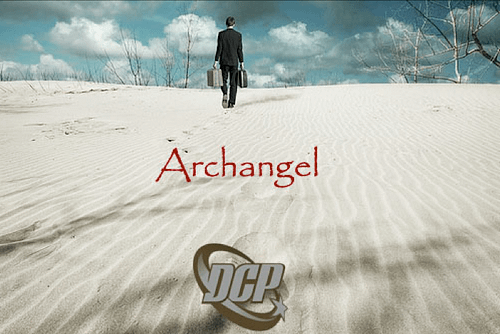 On Wednesday I received this e-mail. With it, was attached a CBR file of Iron Muslim #1. It read;
Dear Rich,

Been a HUGE fan of your comics since Civil Wardrobe. Brokeback Mutant, that was some funny shit dude. And don't worry Rich, there is no virus in this. Just all comicky goodness. Love what you have written about me in the past. :) I'm still retired though. And not only did I buy the digital book, I bought a paper copy too. :)

Your Friendly Neighborhood Archangel.
I reported on Archangel's decision to retire as a comic book pirate three years ago. He was one of the most prominent scanners and uploaders in the game and his name was attached to a large amount of the files that could be downloaded or torrented illegally
And then one day, he stopped. Still highly knowledgeable and involved with the scene, but his name stopped appearing on the files.
Clearly he had decided to make an exception for me. I asked him a couple of questions. I got some answers. We kept going. And I found myself with an interview with the Blackbeard of comic book pirates.
How did you usually get copies of comics you scanned, and what ws the usual scanning and uploading process? How long does it take? How has that changed with the rise of digital comics?
I bought every book I scanned, including variants when they were available in my area. Any books I edited for another scanner, they had bought. I spend on average between $35-$70 per week on comics, between paper & digital comics. That doesn't even get me close to buying everything that I want to read.
The usual scanning and upload process varied. When I first started it took me about 90 minutes to scan and edit a book. However, as I got more proficient at it, I could scan and edit a 36 page book, without any 2 page spreads, in about 30-40 minutes. Black and white books could be done faster than that. Once I was done with the book, I would upload it and let other people distribute it.
Digital comics have changed the landscape in that it takes far less time to get collated into a CBR and distributed. I think that's the problem with anything digital. Someone will always figure out a way to break the security.
What are the biggest incorrect preconceptions people have about comic pirates?
The biggest incorrect preconception, as I see it, is people think we don't love the books we scan. Every scanner, editor, uploader with the exception of 1 or 2, are die-hard comic fanatics.
Why did you choose to retire from the game?
My choice to retire was born out of a couple reasons. Let me say this, I'm a recovering addict. I got into scanning comics as a way of keeping myself from using and because I loved them. I couldn't afford to buy anything and I happened across a scanned comic one day. I was hooked from day one. I transferred my addiction from dope to scanning comics. Like any addiction, I wanted to quit long before I actually did. To all scanners, scanning is an addiction, whether they admit it or not. It's hard to stop once you start. I'm not using this as an excuse. I was an active participant. However, I didn't like the way I was feeling about it. It wasn't until after a long conversation with a comic creator for Vertigo that made me take a long look at what I was doing and why I was doing it. So I made the decision it was time to stop. I have, since I quit, relapsed on scanning twice. It really just convinced me that I have no desire to go back to it.
You seemed to come out of retirement to scan and upload a comic book every now and then, such as Iron Muslim, which appeared to go up at about 10.15am ET. How did you get a copy up so fast?
It's from a digital source. As I said earlier, digital sources take a lot less time. Plus, the digital versions get released before most of the comic shops are open, with the exception of DC. Marvel digital is now available around 8 a.m. on release day. Image and other publishers are usually available around 9:30. DC is available around 1:30.
What purpose did getting Iron Muslim up as a pirated comic so fast serve, do you think?<
Truthfully, I could make something up like it got your book more exposure because it gets overshadowed by the flood of releases from DC and Marvel on Wednesdays. But honestly, I don't know that it served any purpose other than allowing people to try it. I'm one of those people that tries out a comic before I buy it because they have gotten so damn expensive. For me, a five page preview of a book is not enough to tell if I should put down money on it. I've wasted a lot of money on books that just plain sucked. *cough cough* Claws *cough cough* I love the smaller companies and the work they do. I buy very few books from Marvel or DC. Well, I only buy 1 book from DC since the reboot ( *shameless plug cause I don't want to see the book get cancelled* Resurrection Man). I prefer the independent/smaller publisher stuff. Not all of which is available in my local stores usually unless I pre-order it.
We've seen Marvel's print files site accessed for pirate uploads and Dark Horse's files security also seems to have been compromised. How common is this kind of source for a pirated file, rather than a scanned print copy or a digital file?
It is not common for Marvel. I have no idea about Dark Horse. Anything I know about the Dark Horse stuff is just from rumor and/or supposition. However, if I was to hazard a guess, the Dark Horse stuff either came from an advanced review copy or someone who works there.
What proportion of actually scanned comics do you believe come from being bought from a comic store, and how many from comic shop workers who get them the day before.
That's really a hard question to answer. I think it has changed a lot. It used to be they were all bought except for issues that were sent out in advance for review. Now I would say probably about 50% are bought the day of release, 40% bought the day before and 10% are borrowed and returned. I know where I live, a couple of shops let their regular customers pick up their comics the night before release day.
Why do you think it took a week for copies of Avengers Vs X-Men #1 being in shops (but held back for a week by stores) to be uploaded? Is there an attempt, when a book has been acquired early, to wait until it has been on sale for a few minutes before actually uploading it?
Well, the short answer is none of the scanners shopped at that shop. ;) But seriously, most of the scanners will not release books until the day they books go on sale officially. They wait for the comic book stores to open to release. Most shops open at 10, that is when most of the scans get released. There is a comic book shop in the U.S. that opens at 8 and a few that open at 9. But a majority of shops open at 10.
When I was scanning, there were times when we did get books really early, for example, Action #900. We had that two weeks before its release date. But we didn't release it until its actual release date. I used to have subscriptions to several Marvel titles, they would arrive the day before to 3 days before the release date usually. They would be scanned and edited but not released until their scheduled release date.
Do you believe any of the scanners actually work in comic stores?
Yes. I think one does. I also think a couple have set themselves up as internet bidding site retailers. Do I know for sure? No. Though, I did believe for a while one guy worked for Diamond. I don't think that now. I think that guy just spends a fortune on ebay.
How many people do you believe are involved in scanning and uploading comic books today?
Scanning? Well over a 100. Uploading? Who knows.
Are there any books that you believe succeeded because they were pirated?
Without a doubt I do. I think its mainly been the smaller publishers that have benefitted. E.g. How many people would have gotten to read Civil Wardrobe? I remember you saying it only had like 2500 copies printed. I think Jonathan Hickman benefitted from it with the Nightly News. Four issues of that had been out before it was ever scanned. That was the first book I ever scanned, by the way. It was buried in the shop I bought it from. I asked them if they had read it and they said they hadn't. So I bought it, read it and was blown away by it. I am in no way claiming credit for its popularity but I think I helped get it noticed. Maybe that's an illusion or just a rationalization for scanning it. I think it's the best written book in the last 10 years. It deserved to get noticed. Another example is the guy from AiT/Planet Lars who wrote Black Diamond. (and just as an aside to that guy, Yes, I bought the TPB of it). And now, certainly, Diamond has made it more difficult for the smaller publishers. So I think they still benefit. I could go on listing books I think have been helped because I think there have been a lot.
Enjoyed this article? Share it!