Priest's Justice League Arc Is Not Called "Lost", It's "The People Vs. The Justice League"
Today sees the much-anticipated publication of Justice League #34, the first of Christopher Priest's run on the series, with Pete Woods as artist.
The series has been solicited as "Lost" – and we'll run the solicitations below, but on publication it's called "The People Vs The Justice League". And with this issue, dubbed "Three Rooms", we start to see why…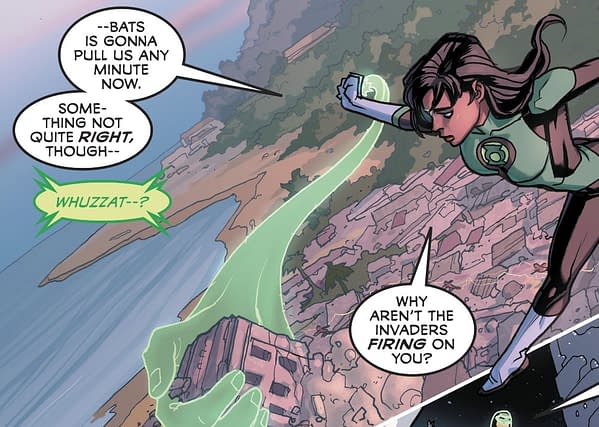 A perfect storm of three major events hit at once, a cosmic attack and a natural emergency and a hostage-taking incident. And a Batman who hasn't slept for three days running the show.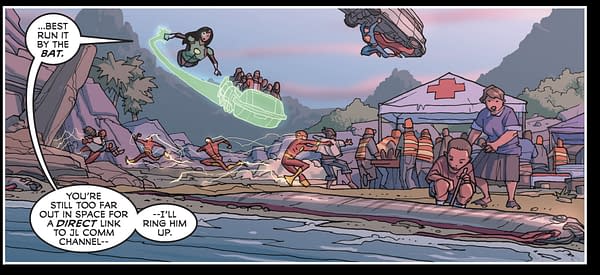 And running into interference from the general population…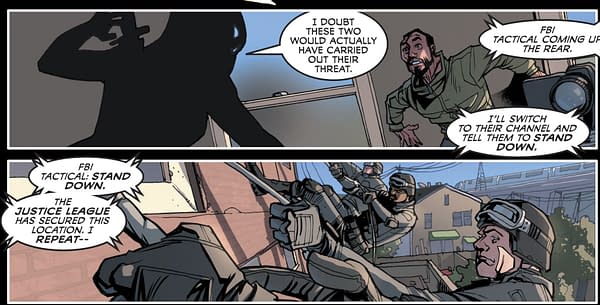 And the next issue? Teased as "The breaking of Batman continues…"
JUSTICE LEAGUE #34
(W) Christopher Preist (A/CA) Pete Woods
"LOST" part one! When the Justice League is confronted by three concurrent threats, a sleep-deprived Batman makes a crucial error that causes an unthinkable-and potentially unforgivable-tragedy. Legendary Eisner Award-nominated writer Christopher Priest (Deathstroke) is joined by artist Pete Woods for a brand-new must-read Justice League story like you've never seen before!
RATED TIn Shops: Dec 06, 2017
SRP: $2.99
JUSTICE LEAGUE #35
(W) Christopher Preist (A/CA) Pete Woods
"LOST" part two! Still greatly affected by the shocking events of the previous issue, the Justice League attempts to regain its balance when an alien infestation threatens the Earth. But nothing can prepare them for an attack closer to home… one that will reveal devastating truths about the League itself!
RATED TIn Shops: Dec 20, 2017
SRP: $2.99
JUSTICE LEAGUE #36
(W) Christopher Priest (A/CA) Pete Woods
"JUSTICE LOST" part three! Footage of a major Justice League failure ends up on an extremist website, going viral across social media and prompting a Congressional investigation of the team. As public debate explodes over America's trust in the Justice League, the team faces a crisis of confidence in Batman and his methods, which ultimately highlights fractures within the team over civil rights and methodology.
RATED TIn Shops: Jan 03, 2018
SRP: $2.99
JUSTICE LEAGUE #37
(W) Christopher Priest (A/CA) Pete Woods
"JUSTICE LOST" part four! As public confidence in the League continues to fall, strained relationships within the team are set aside when Simon Baz is kidnapped by the mysterious figure known as the Fan: a zealous Justice League acolyte who was inspired by the team as a youth and who now deals death to the League's enemies. The Fan knows literally every detail about the League membership's powers and tactics, and easily turns their own systems and resources against them "for their own good."
RATED TIn Shops: Jan 17, 2018
SRP: $2.99
JUSTICE LEAGUE #38
(W) Christopher Priest (A) Marco Santucci (CA) Paul Pelletier
"JUSTICE LOST" part five! Alone on the Watchtower, The Flash must find a way to save an astronaut drifting out into space. Meanwhile, Batman's obsession with redeeming himself for two critical failures feeds a growing crisis of confidence in his leadership.In Shops: Feb 21, 2018
SRP: $2.99