EXCLUSIVE: Runaways: Absent Without Leave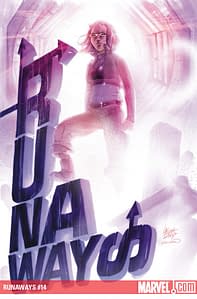 There has been much concern on the internet message boards over the lack of solicitations for Runaways from Marvel for the last two months. Some fans think it might just be late, some that it's being revamped, others that there's a big surpise coming. And everyone else accepting the inevitable.
I understand that at tomorrow's Fan Expo in Toronto, Canada, Marvel are preparing to tell people, if asked, that the book is on hiatus, until at least Summer 2010. The last issue, #14, will be released next week.
But as of earlier today, at least one of the creative team hadn't been told the current situation and was waiting on Marvel to tell them what exactly was what.
Runaways was a new Marvel property launched by Brian K Vaughan. It told the story of a group of young children who discovered they were the offspring of the world's greatest supervillains. Leaving home, they banded together to form their own identity, even though a traitor was in their midst. Created as part of Bill Jemas' Tsunami line, intended to create new and exciting Marvel books, or modern revamps of existing characters, the book was written with an eye to being collected in manga-sized digest format. And, despite various sales problems, the series has continued, with revamps, relaunches and even Joss Whedon writing an arc of the series when Vaughan wrote the Buffy comic.
Runaways is currently created by Kathyrn Immonen and Sara Pichelli, with the books most manga-style look to date. And while collection sales have been solid (I've plumped for the oversized hardcovers myself) the single issues sales have never been exactly stellar. However, as a property, there has been significant possible movie interest in the comic, with Kevin Feige of Marvel Studios naming the comic as his preferred post-Avengers choice for a Marvel film, a script being worked on right now.
It is possible that any announcements about a Runaways movie might coincide with the title's return to the stands.
UPDATE: Marvel did not choose to comment on this story. But I understand that as a result of enquiries, the situation regarding the current creators of Runaways has been rectified.