SDCC '15: Dynamite's Spirit Panel With New Series Writer Matt Wagner
Will Eisner's The Spirit is front and center at this years SDCC with Michael Cho's amazing SDCC souvenir book cover celebrating 75 years of The Spirit, and also several panels spotlighting the character. This specific panel not only celebrated the history of The Spirit but also looked at the characters present, focusing on the current book from Dynamite Comics, written by Matt Wagner with art by Dan Schkade, who both appeared on the panel. Along with Wagner and Schkade, also on the panel was Nick Barrucci, CEO and Dynamite publisher, Michael Uslan, writer and producer, Keith Davidson, Dynamite Marketing Manager, Paul Levitz, former President of DC Comics, and Alan Kistler was the panel moderator.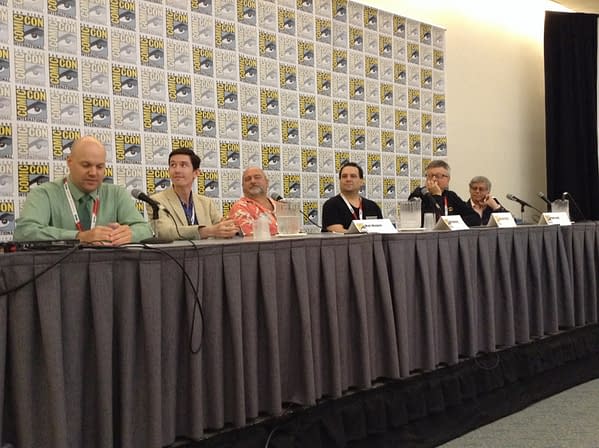 Uslan started the panel by stating that Will Eisner was the greatest graphic storyteller in history. Levitz agreed, stating that the level of work produced by Will Eisner on the The Spirit is unmatched by many creators today and that The Spirit archive series that was released while he was at DC is one of the things that he is most proud of.
Wagner went on to discuss how Eisner would produce The Spirit stories in 7 page increments, and yet he would manage to get a complete story in with the full range of emotions. Wagner said the first issue of the new series begins with The Spirit having been missing for two and assumed by many to the left of the main story.
There were a number of questions regarding the Frank Miller directed 2008 film version of The Spirit. There was not much love in the room for the movie, but Uslan shared an interesting story. He said he saw Miller at Eisner's memorial and asked before it began if he would ever do a movie of The Spirit. He stated Miller said he couldn't do it. Miller then approached him when the service was over and told Uslan that he now felt he had to do it.
Issue one of Will Eisner's The Spirit is currently available with issue two soon to follow. As someone who has not really had much exposure to The Spirit but has always been a fan of Wagner, I am looking forward to checking it out.
For further musings from Joshua Stone you can follow him on the Twitter @1NerdyOne