"Stumptown" Team on Portland Influence, Deviating from Comics, Importance of Representation & More [INTERVIEW]
One of the great thing about the explosion of comic books on the big screen and on television has been being able to see comics that are not about superheroes being given a chance to have their stories jump out of the comic books and appear elsewhere. Stumptown falls firmly into that category. Based on the Oni Press comic book of the same name from writer Greg Rucka and artist Matthew Southworth, Stumptown follows Dex Parios (Cobie Smulders) – an unapologetically sharp-witted Army veteran who works as a private investigator (and working through issues) in Portland, Oregon.
Before the roundtable interviews, I attended the panel with Rucka, Smulders, Jake Johnson, show creator Jason Richman, Michael Ealy, Cole Sibus, Tantoo Cardinal, Camryn Manheim, and Adrian Martinez. The panel kicked off with the airing of the show's first trailer:
https://youtu.be/HwynrxEPSQk
Based on the graphic novel series, "Stumptown" follows Dex Parios – a strong, assertive and sharp-witted army veteran with a complicated love life, gambling debt and a brother to take care of in Portland, Oregon. Her military intelligence skills make her a great PI, but her unapologetic style puts her in the firing line of hardcore criminals and not quite in alliance with the police.
The panel started off with Rucka saying that the comic was inspired by the The Rockford Files and Magnum P.I. Smulders discussed going to see an expert on PTSD and read about women in combat, to help her develop how she played the character. She also talked about the fights that Dex will be getting into, saying they will be really dirty fights – as her character is finding out ways to even the playing field against men 100 pounds heavier than her.
Rucka said the series deviates from the comic by necessity. He said the first six issue miniseries comes out to about 35 minutes of television – and it's dull. He said he plans to get back to the book this year, and with the series coming out he has more impetus to do so. Smulders said she read the books when she heard aboyt the show and loves that the world is so fleshed out.
When it came time for the interviews, beginning with some brief takes from Manheim, who plays Lieutenant Cosgrove, and Ealy, who plays Detective Miles Hoffman. Ealy talks about his role on the series and past playing law enforcement. Both shared how the script for the pilot drew them in because they didn't know where things were going for the show, which is refreshing:
Next round of interviews was Rucka, Martinez, who plays taco stand owner Tookie, and Cardinal, who plays Sue Lynn Blackbird (who runs the operations for a local Tribal Casino). We talked about Portland as a character on the show, how all the characters (not just Dex) have trauma that they deal with and shape their characters:
Next up were Smulders and Richman. In what you will be able to tell was a very "lively" and "active" interview room, we discussed Smulder portraying another comic book character without superpowers, as well as the importance of having an actor with Down's Syndrome play a character with Down's Syndrome on the show:
Last round included Johnson, who plays bartender Grey McConnell (which fans of New Girl will know is not Jake's first time being a bartender on television); and Sibus, who plays Ansel Parios – Dex' younger brother who has Down's Syndrome and is under Dex's care. We talk about Johnson bringing the gravitas of having recently starred in an Academy Award-winning movie to the rest of the cast, how they got into acting, Sibus being a role model for others, and the importance of having a diverse cast.
I'm was already excited about Stumptown being turned into a television show, and that excitement never waned the entire convention – and in fact increased from the moment I parked on Wednesday at the Bayfront Hilton and saw a Stumptown ad covering a substantial portion of the side of Petco Park: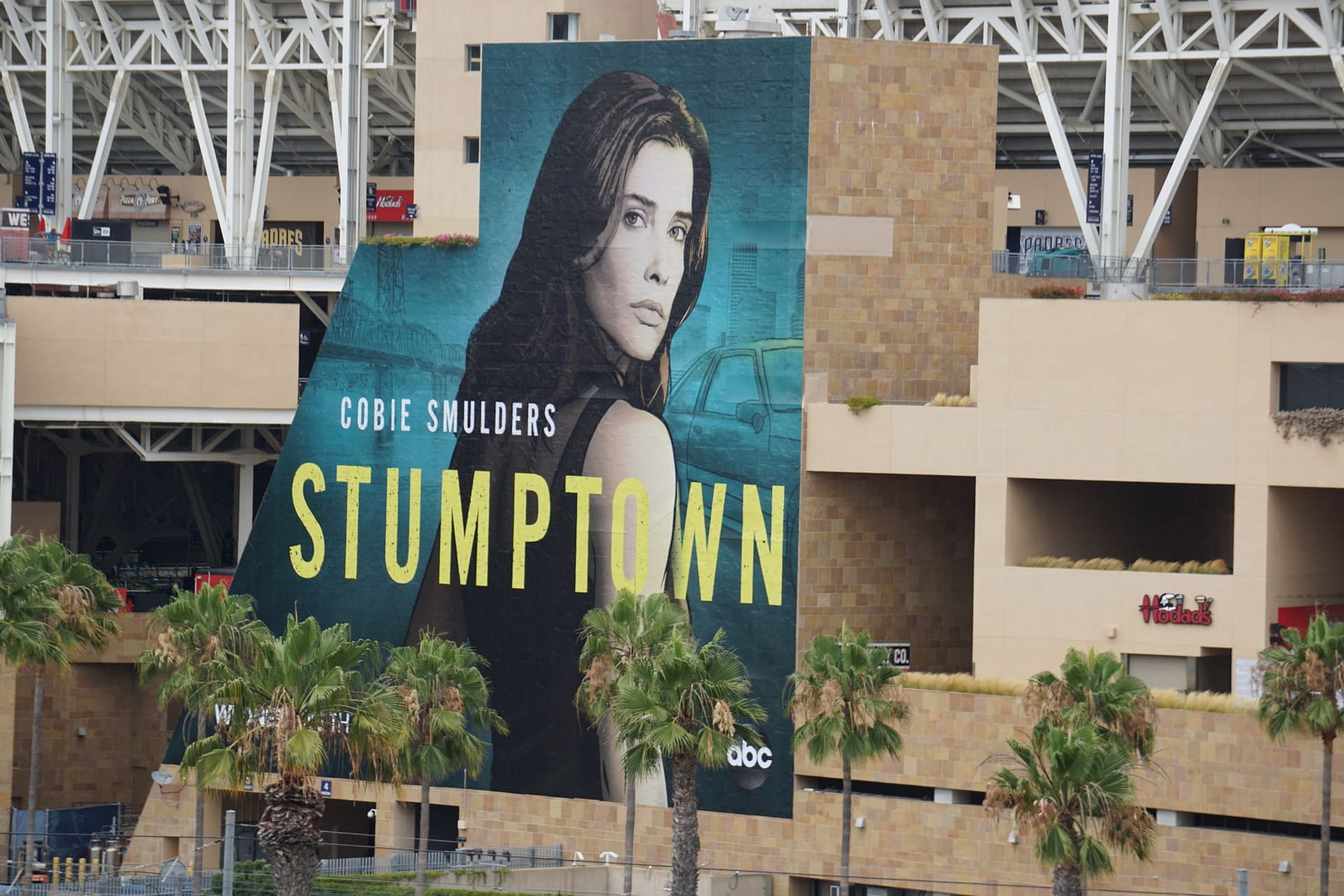 Stumptown is set to premiere on ABC on Wednesday, September 25, 2019, at 10 p.m. I cannot wait to see these characters on my television every week for what we're sure they hope will be a very long run.