Readers Criticise Marvel Comics For Shoe-Horning Racial Politics Into Silver Surfer
Marvel Comics has come under a lot of criticism on recent years for shoe-horning radical left-wing propaganda into its pages – and sometimes they get called out for it. Examples include having Spider-Man fight alongside antifa protest crowds, when there were clearly good people on both sides. Or radical feminist identity politics, even in the titles of some comics, such as Ms Marvel, being called out in the letter pages. Or publishing letters from those woke millennials who see a lack of Asian protagonists, and cultural appropriation in comics like Iron Fist. Or the hideous Tumblr-style artwork used in Squirrel Girl. And obviously have access to some kind of time-travel technology. Of late, in a move to placate a left-wing radical audience, Donny Cates has even had to make Silver Surfer black, and it seems that Marvel have been forced to address similar in their letters pages.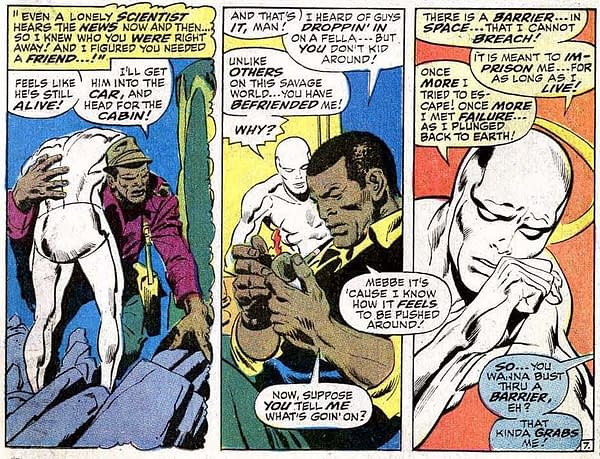 The latest example is Silver Surfer, who has recently become the Black Surfer in Marvel Comics titles. And has received letters objecting to such pandering on behalf of the creators of the comic book. One Tim Sullivan has made his views clear on these political matters being forced into such comic books even though, as he assures us, he is not racist and is all for Marvel putting 'the Negro in the spotlight'…
Clearly the makers of this Marvel comic book are betraying the principles of good storytelling instilled by the likes of Stan Lee and Jack Kirby and this comic book will probably be cancelled by issue #18. Get woke, go broke as they say.
That is why, again, I am going to boycott all the Marvel Comics I actually like, in order to persuade Marvel to only publish Marvel Comics I like. I will continue to purchase the Marvel titles I don't like so I can continue to make videos about how much I don't like them though. And we'll see how long it take for Marvel to capitulate to my demands.
UPDATE: I've gone and done it again, apparently this is actually from a nineteen sixties issue of Silver Surfer by Stan Lee and John Buscema, when everything was fine and this clearly wasn't an issue and any cancellation with issue 18 could be explained without offensive slogans. Apologies. Still doesn't explain the Black Lives Matter subtext of recent Silver Surfer though, someone should really get on that.