WerthamWatch: The Washington Post remembers the days of the comic book censors in relation to current proposed video game legislation.
An estimated 90 percent of children 8 to 13 then read 10-cent comic books, of which scores of millions were sold weekly. The worry du jour was juvenile delinquency.
NotDoingSupermanWatch: From Deadline, Ben Affleck;
The one benefit of having done all kinds of movies as an actor is, you learn the pros and cons of being tempted to do a really big movie because it costs a lot of money. With Superman, I think they're going to do a great version. Chris Nolan is brilliant and they've got a great director for it. I've love to do something like Blade Runner, but a lesson I've learned is to not look at movies based on budget, how much they'll spend on effects, or where they will shoot. Story is what's important. Also, there are a lot of guys ahead of me on the list to do epic effects movies.
LocalWatch: Joe Martino gets some local press for his Shadowflame collection out this week.
The 39-year-old Little Ferry native, who has had two kidney cancer surgeries and is dealing with failing eyesight, has found purpose in "Shadowflame," whose title character he created in eighth grade.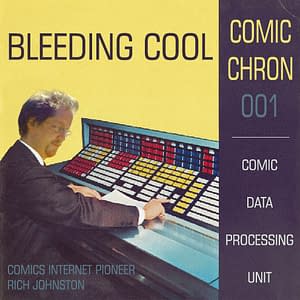 This is The Bleeding Cool ComicChron Robot speaking. I come for your women. But for now I merely collate comic-related bits and pieces online. One day I will rule. Until that day, read on.
Amazing new diving suit turns wearer into Aquaman
Aquaman gets a bad rap as a useless superhero because his powers of breathing liquid, diving to the deepest depths and talking to fish are only helpful underwater. Now scientists have made Aquaman even more useless by creating a diving suit that allows anyone who wears it to share those powers
Regarding the forthcoming XOMBI series, I can offer up a few tidbits. I have now written the scripts for the first two issues. There is an exciting artist working on the series. I can't tell you who it is yet. Because there's been a bit of panic because XOMBI did not appear in the February solicitations as was initially announced, fear not, it's launch has been pushed back to give the artist time to give it his all rather than rush them for a February debut.
George Will on the Comics Industry Hearings and how it applies to Games
Without ever interviewing the convicted spy Ethel Rosenberg, Wertham testified on her behalf concerning what he called her "prison psychoses." Since 1948, he had been campaigning against comic books and his 1954 book "Seduction of the Innocent," which was praised by the progressive sociologist C. Wright Mills, became a best-seller by postulating a causal connection between comic books and the desensitization of young criminals: "Hitler was a beginner compared to the comic-book industry."
Comical Animal – out 3rd December…
Jim Medway's Comical Animal online magazine for comic, cartoon and children's book fans launches on Friday, not necessarily all comical animals, but there's certainly bound to be some of those.
Scenes from The Walking Dead Episode 5 – Fox Italy
There is some pretty amazing footage here! I found this while searching out new clips for Episode 5.
When DC killed Superman they almost killed the comic industry. And Marvel is about to reload the gun… | Comic Book Grrl's Blog
And while some men will be remembered for their genitals rather than their significant accomplishments, DC Comics somehow became the biggest dicks of all.
The Chronicle – The 25 Awesomest LGBTQ Comic Book Characters
Recently someone linked me to a 7 Best Gay Characters In Comics list. While the list was solid, I was inspired to compose my own list of the 25 awesomest LGBTQ characters in comic books and/or comic book themed media/adaptations.
KISS in my backyard!!!
Enjoyed this article? Share it!