Swamp Thing: Jennifer Beals Joins DC Universe Live-Action Series
Jennifer Beals (Taken, After) is being tasked with bringing a little law and order to DCTV, cast in a key recurring role alongside Crystal Reed and Maria Sten in DC Universe's Swamp Thing, the streaming service's upcoming drama series adaptation built around the DC Comics character created by Len Wein and Bernie Wrightson. Written by Mark Verheiden and Gary Dauberman, and directed by Len Wiseman (The Gifted, Lucifer), the series is expected to premiere on the new streaming service in 2019. Produced by James Wan's Atomic Monster in association with Warner Bros. Television, Swamp Thing is executive prodcued by Wan, Verheiden, Dauberman, Wiseman, and Michael Clear.
Beals' Sheriff Lucilia Cable is described as tough as nails, pragmatic, and fiercely devoted to her son, Matt, her sworn duty to serve and protect the town of Marais. As the community she has dedicated her life to defending finds itself beset by strange forces, Lucilia must double down in her efforts to safeguard everyone she holds dear.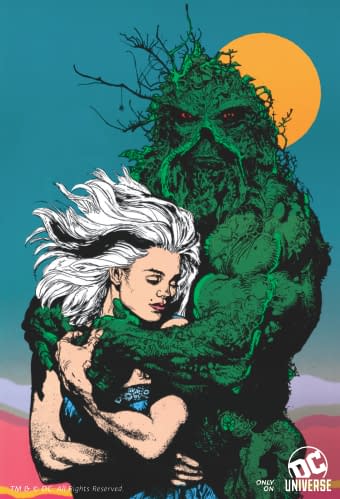 Here's an overview of DC Universe's Swamp Thing as well as a look at Sten's Liz Tremayne, Reed's Dr. Abby Arcane, offering some clues as to what viewers can expect from the upcoming series:
DC Universe's Swamp Thing follows Abby Arcane as she investigates what seems to be a deadly swamp-born virus in a small town in Louisiana but soon discovers that the swamp holds mystical and terrifying secrets. When unexplainable and chilling horrors emerge from the murky marsh, no one is safe.

Smart and caring, CDC Doctor Abby Arcane's (Reed) strong sense of empathy puts her at the center of a horrific life-threatening epidemic in her hometown, where she faces emotional demons from her past… while a chance meeting with scientist Alec Holland takes her into a world of horror and the supernatural, and of the elemental creature known as Swamp Thing.

Liz Tremayne (Sten) is a close childhood friend of Abby Arcane's, who splits her time between reporting for the local paper and bartending at her aging father's roadhouse bar. Her no-nonsense attitude belies a deep compassion for her friends and family as she sets out in her uncompromising quest to expose the secrets that threaten her beloved hometown.