Sweet Release! Ultra Street Fighter IV, Crawl, Sacred 3, August's Free Games
By Jared Cornelius
Hey gang, before we get started this week just a bit of housekeeping news, I've decided to retire the Live(ish) From The Games Shop moniker. Without getting into the boring specifics, I got tired of my ego stroking Google searches turning up results for bait shops. It's also made less sense since our beloved EIC isn't doing a regular Live From The Comic Shop column, so without further ado, Welcome to the first edition of Sweet Release! This week we celebrate more games hitting retail shelves again, as well as another interesting downloadable title, and break down this month's freebies for the premium services.
Ready to buy Street Fighter IV again? Good, because Capcom has assured the public that Ultra Street Fighter IV will be the last iteration of the popular 2D fighting game under the number 4. If you haven't been keeping tabs, Capcom has released Street Fighter IV in three different incarnations before this with the original version, Super Street Fighter IV, and Super Street Fighter IV: Arcade Edition. This update features 5 new characters, 6 new stages, additional gameplay modes and character tweaks. For the hardcore Street Fighter faithful, the option to download the update has been available since June, but this week marks Street Fighter IV's box copy send off to last generation. Ultra Street Fighter IV is releasing on PlayStation 3, Xbox 360, Steam, and other download services Tuesday.
I don't think it's a secret that indie games were the summer's most consistent and interesting releases. Titles like Cyrpt of The NecroDancer, Rogue Legacy, and Gods Will Be Watching all helped fill the summer retail void. The week we have another interesting indie contender in the multiplayer centric dungeon crawler, Crawl, from developer Powerhoof. Described by Powerhoof as, "bullet-hell beat-em-up meets old school RPG" Crawl is another mash-up of genres. One human character traverses a dungeon fighting up to three friends who control the dungeons monsters and traps try to kill you, with the player scoring the killing blow taking over the human character. Crawl also boasts a randomly generated dungeon system, so no two games play alike, the usual host of RPG elements like unique loot and spells, and bot play for those who don't want to get annihilated. The pixelated dungeon diver was supposed to hit Steam last month, but got pushed off to this week thanks to the IRS and some red tape. Crawl releases on Steam Early Access Wednesday. If you're dying to play an isometric hack and slash game, but can't wait two weeks for Diablo III on the new consoles, maybe give Sacred 3 from Deep Silver a try. Sacred 3 follows the series hack and slash roots, with 5 character classes, with branching skill trees, an indistinguishable fantasy story, and online and couch multiplayer. Honestly Sacred 3 seems pretty unremarkable especially considering Diablo III is right around the corner, not to mention the other litany of hack and slash games available like The Witch and The Hundred Knight. I included Sacred 3 mostly because Sacred 2: Fallen Angel was a pretty good game so just seek that out instead. A brand new month means new free games if you subscribe to PlayStation Plus or Xbox Live Gold. For PlayStation 4 it's puzzle month as you'll get Polytron's quirky platform puzzler Fez, as well as Spry Fox's new title, Road Not Taken. PlayStation 3 users can preemptively morn Crytek studios by downloading Crysis 3, then go all art school with first person art game Proteus. Finally PlayStation Vita users get the brand new puzzle game Metrico and the beautiful Vanillaware brawler Dragon's Crown. Xbox 360 sees Avatar compatible racer Motocross Madness free until the 16th to be replaced by first person steam-punk stealth game Dishonored. On Xbox One players will be "treated" to the spiritual successor to Panzer Dragoon, Crimson Dragon and interstellar space suit combat game Strike Suit Zero. Fair warning on Crimson Dragon, it's free but everything I've been told about it points to it being terrible and littered with microtransactions.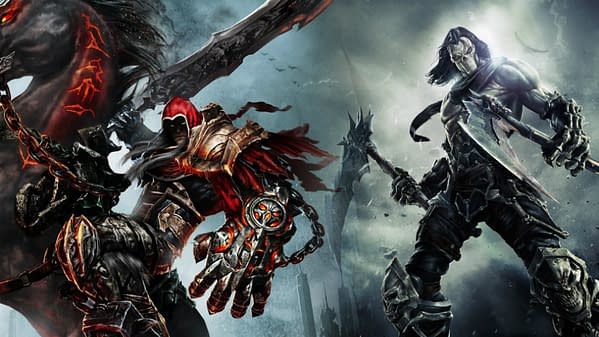 In some more catch-up news, I highlighted the Darksiders Collection from publisher Nordic Games a few months ago. Unsurprisingly it got delayed and is reportedly being released on Thursday alongside the Red Faction Collection. Both titles are $40 on PlayStation 3 and Xbox 360 and while Darksiders gets an immediate thumbs up for its interesting take on Legend of Zelda meets doomsday concept, Red Faction may be a wait and see. While the Darksiders Collection features two great games, the Red Faction Collection has the unspectacular original and Armageddon, with the much better Guerilla being packed in as well.
In other things you should buy, why not go out and give Brace Yourself Games some cash and buy into the Early Access on Crypt of The NecroDancer. If you've ever had reverence for rhythm games or rogue-likes stop what you're doing and buy it, I can personally confirm it's excellent even in Early Access. That's all for this week, if you want to find out more about what I'm doing, contact me @John_Laryngitis on Twitter. I reply to every tweet so stop by and say hello. You can also check out my other regular column Typing on The Dead: Bleeding Cool's Walking Dead recap, where I analyze each new issue. Until next week, Stay Gold.
Jared Cornelius is some guy from New Jersey's coast who's not an ego maniac, he's a super-ego maniac. Contact him on Twitter @John_Laryngitis if you'd like to Google search with him.