By Mike Federali
Hi, I'm Mike Federali. I asked Bleeding Cool to let me talk about my Bigger Plan for Tidewater Comicon so let's get right to it.
To get you up to speed, here's a brief history of Tidewater Comicon:
I put together the first Tidewater Comicon in April 2014 with a pretty simple plan. Book a hotel space, get some vendors, a few artists and then hit the streets non-stop to promote it. At first a lot of people weren't interested in getting involved with a new show but after copious amounts of begging, friends got involved. Then volunteers and before you know it we were a tiny army trying to build something great on virtually no budget.
In order to make the convention happen I had to say goodbye to most of my comic collection. I sold a lot of it off at flea markets and comic shops. I even sold a Hellboy Prop on AMC's Comic Book Men. My good friend Jacob let me have a garage sale at his house and with that I was finally out of red for the show. We stuck to the plan and got Ethan Van Sciver for our first guest (for which I will forever be grateful).
The simple plan was a success. By all accounts it was TOO succesful. A lot of people said we would be lucky if 200 people showed up and by the end of the day I proudly posted a photo of our trusty little clicker at 3,503. We were the talk of the town and I even made a little money, emphasis on little. The plan worked. We proved we could do it. The day after the show I checked out our Facebook page and saw all the great images people were posting. Parents with their kids posing with some of the best cosplays I've ever seen in person. I was burnt out from all the work of the show and told myself I'd take a break I was already jotting down ideas. A bigger show means a bigger plan. Last month we started all over. What little money I had from the show and my savings went into the new bigger location. 38,000 square feet just waiting to be filled with comics and fans. More space means more guests. More guests means… more money.
So again we held a garage sale selling more of my collection and books donated by shops like Fantasy Escape and Comic Kings. We even had volunteers who made Deadpool and Batman cookies. (For the record the Batman cookies sold out first). We opened the doors to a crowd of people that didn't stop for hours. By the end of the garage sale, we had some start up money to start booking some guests.
Today I am happy to announce our first round of guests for the fall show. Sam Huntington (Being Human, Superman Returns), Joel Hodgson (Mystery Science Theatre 3000, Cinematic Titanic), Nancy Collins (Vampirella, Swamp Thing) and Rachel Autumn Deering (IDW's In The Dark). We're already working on events (game room, contests) for the show that no one has ever done. All top secret of course.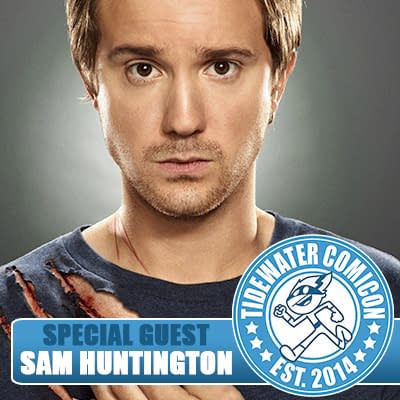 Despite how well we did in April, we're still the new kid in town and that makes booking a bit of an uphill struggle. Every day I wake up early and go to bed late to make the next show unforgettable. A month of phone calls, facebook messages, tweets and emails and we are still in the awkward position of having no Guest of Honor Comic Artist for the October show.
This is where we need help. I'm still out there every day trying to get things moving but I could use a Superhero. Someone to swoop in and save the day. Someone who wants to come out to a new show and meet thousands of enthusiastic comic book fans who finally have a show of their own.
Between the guests we already have booked and the venue we don't have much of a budget, but I promise this, I will gladly sell every last comic I own to make it happen.
And for anybody wondering, the last part of the Bigger Plan is this:
EVERY DIME from the October show will fund the first 2 day Tidewater Comicon in Spring 2015.
Thanks to every artist, vendor, cosplayer and fan for making Tidewater Comicon a success and thanks to Bleeding Cool for letting me do this.
Mike Federali is a comic book writer, podcast host and the Organizer of Tidewater Comicon. Find him on Twitter @mikefederali
Enjoyed this article? Share it!